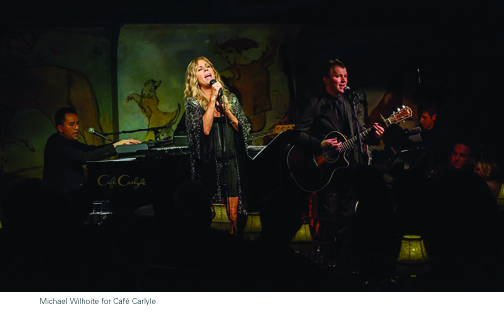 Rita Wilson told a funny story about having worked with Bobby Short, resident star singer pianist at this special supper club back in the day. "It was a commercial," she laughed and sang a few notes from the Charlie ad, and we never really met. That was my brush with greatness." That statement seemed odd given that she's married to Tom Hanks who had Barry Diller, David Geffen, and Mike Nichols at his table to hear her perform her songs on opening night. But in many ways the charm of Rita Wilson's Café Carlyle act is to confess just how hard it was to get there, given she's risk averse. When she asked how long it took the audience, one man said, two and a half hours. Well, it took me decades, countered this actress, movie producer, and accomplished songwriter, who had some formidable risks to overcome: her parents fled oppressive regimes in Greece and Bulgaria. "You want to talk about risks!" Raised in Los Angeles, Rita Wilson idolized the musicians, songwriters and singers from Laurel Canyon: Carole King, Linda Rondstat, James Taylor, and especially Joni Mitchell; their influence on her music is resonant: "Joni" is an homage. But her themes are evident in the original numbers, "What You See is What You Get" and "Grateful."
Backed by Andrew Doolittle's vocals and guitar, Alex Navarro on keyboards, Lee Nadel on bass and Rich Mercurio on drums, she sang songs she collaborated on with an assortment of writers. She also covered "Will You Still Love Me Tomorrow," "River," and "Come See About Me," leaving the opening night crowd in a warm glow of familiarity.
A version of this post also appears on Gossip Central.