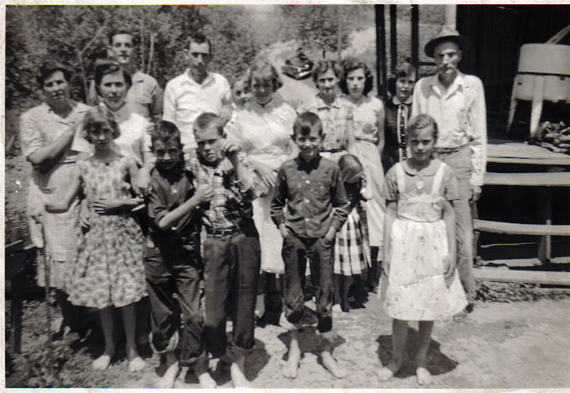 My mother's family taken sometime around 1952. My mother is standing next to her grandfather on the right in the dark colored dress. My grandma is on the far right.

I want to tell you a story about my mom long before Alzheimer's took over her life, even before becoming the wife and terrific mom that she would later become. This story left me in awe. You see mom never told us stories of her life just the basics of growing up extremely poor, helping to cook dinner at the young age of 5 or 6. Now that she no longer has to be a role model and Alzheimer's has arrived I have been on a mission to learn more about the woman she was before she was known as mom.
In the early 1950s mom lived in a holler in Eastern Kentucky's coal country. She was born and raised here with 9 brothers and sisters. Her father was the local preacher. Mom had traveled to a couple of places to babysit for relatives and she went to Berea College for a year before returning home. Once she had gotten a taste of the life that was out there, coming home and living in the mountains no longer held the appeal to her that it had before. She had even begun to think of ways to move away. The dates are a little foggy for her, especially now that she is suffering from Alzheimer's Disease, but I am estimating this was around 1954 and she would have been about 18. Her parents were uneducated barely able to read or write and when a letter would come from her brothers living in northern Kentucky they would have her read it to them. This gave her the idea she needed.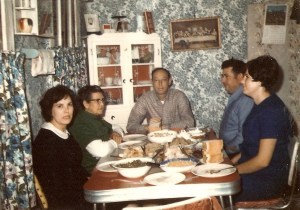 My Grandma, Uncles and Aunt and momma
This story came as a great shock to me if you only knew my mother. She is almost 79 years old and had never as far as my knowledge done ANYTHING wrong. As I said, her father was a preacher and my father was a preacher (before five kids came along and he changed careers). She has never touched alcohol in her life, not even a taste. She has never smoked a cigarette and until recently I had never heard her utter a curse word except once or twice she might have said "shit." Of course, if you have read my earlier posts she has added quite a few to her repertoire.
So back to the story... She had gotten a piece of paper from her father's things and wrote a letter. Now this letter was written to her parents but it wasn't from her. She wrote it as if it had been written by her brother. I still can't believe my mother was that sneaky! She wrote the letter THEN stole a penny out of my grandma's "grocery fund" and walked to the store to "get the mail." When she got to the store she picked up the mail and bought a stamp which she placed on the letter she had written.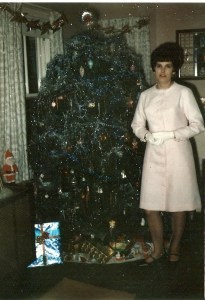 My mom circa 1966
Mom then went back home and reported that they had gotten a letter from her brother which her mother wanted her to read immediately. In this letter (written by mom) it said that they really needed (my mother) to come to northern Kentucky to help out. They needed someone to help watch the kids while they worked. The next thing mom knew she was on a bus headed toward freedom.
She showed up on her brother's doorstep with her explanation and after begging and pleading he let her stay AND kept her secret. This is where she lived for most of her life. She got a job and then an apartment. She met my father and married him in 1958. He died of a heart attack at the age of 46. She lived in Kentucky up until 2011 when she moved to South Carolina with my husband and I.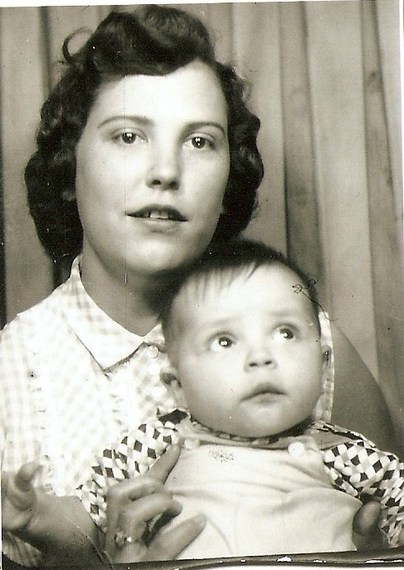 My mom holding her nephew circa 1956.
Since mom came to live with us we have had more time to talk and share stories. This is the best part of being a 24/7 caregiver. I am learning so much about the girl she was before she was "mom." I think this girl and I would have been great friends. I have had my own adventures that I now share with her and it turns out we are a lot more alike than I ever thought! Remember Appreciate the good, laugh at the crazy and deal with the rest. I love you momma!