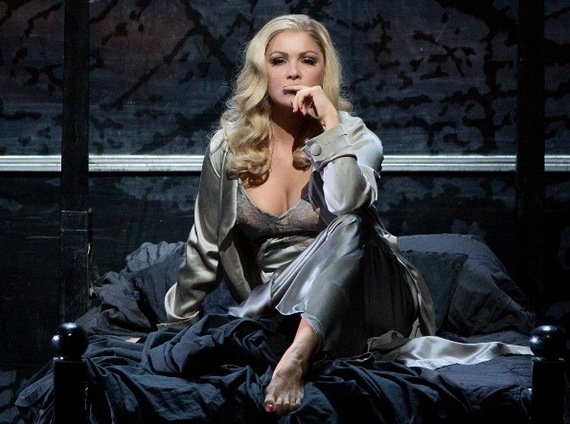 If you've seen San Francisco Opera's Norma with its great voices beached like giant wales in an absurd production, take a leap to the Met and enjoy the very opposite: a production supporting and driving another top cast to excellence. Wilbor Hampton has written enthusiastically about the production in these pages, and I want to add a few notes on the Lady in the play.
Met director Peter Gelb is a clever fox. When he spotted young Russian soprano Anna Netrebko and invited her in 2002 to sing in War and Peace, he realized he had struck gold. Here was the potential super diva who could make you dream of legends. A beauty whose face doesn't show any strain in singing, who moves like a dancer, acts like a star is born and has a voice that in a few years evolved from light, lyric soprano to belcanto agility (I Puritani, Lucia di Lammermoor, Romeo and Juliette, etc.) and now -- miracle of having given birth to a child -- is expanding into the dramatic range. In the dramatic fach, plum roles are waiting for a vocalist and actress of Anna Netrebko's caliber: Norma, Tosca, Elsa, Sieglinde... But Netrebko, intrepid as always, went straight to Verdi's Macbeth. She said in an interview that she never had that many people make "googly eyes" and trying to warn her off this choice, perhaps sensing a danger in the combination of beauty and beast. Netrebko is known for the artistic intelligence in the way she works and develops her career. Having studied with another great actress of the opera stage, Renata Scotto, Lady Macbeth must have seemed like the perfect challenge to sharpen her acting appetite. She is clearly keeping one eye on her declared role model, Callas.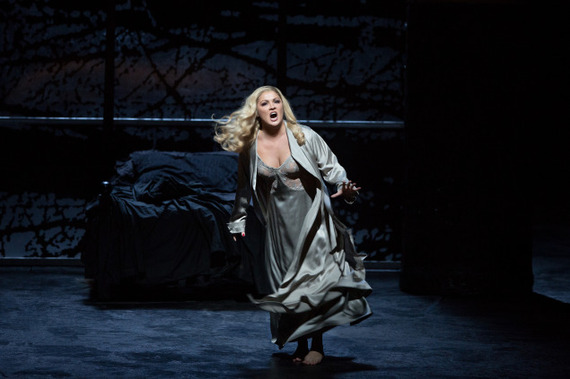 Early on, Gelb gave Anna Netrebko prime status at the Met, letting her have the season opener of several Met Live in HD series, getting school kids excited over Romeo and Juliette by using her beauty on the Met Poster, and even showing her off twice in a single season like no other star of his roster. He seems to know where operatic excitement is still to be found.
The gamble of the perhaps most beautiful woman of the opera world taking on the dark, beastly Lady Macbeth paid off. Verdi wanted her voice to be "hard, stifled and dark," the voice of "the Devil." Netrebko was nervous this time. "She confessed to some opening-night jitters at the Met in her first scene, when she appears in a bed, hidden at first by black sheets," the NY Times reported. "'I was under these black sheets, and I was scared, thinking: 'Come on, I've got to become Lady now. Just come to me, come into my body, come into my mind. And once I opened this black sheet, I was there.'"
Yes, no doubt she is the Lady. Her "new" voice comes without strain, still with the same smoky plushness and seductive pearl shimmer in her high notes, just with more force and ample volume. She still uses her daring way of launching into full-out, unguarded, "uncovered" singing, and she characterizes Lady Macbeth without shrillness, but with just enough snarl, enough meanness and ferocious greed to make the character fascinating and horrible. During the live in HD performance, you heard the New York audience rave and shriek as if beside themselves over Netrebko's performance.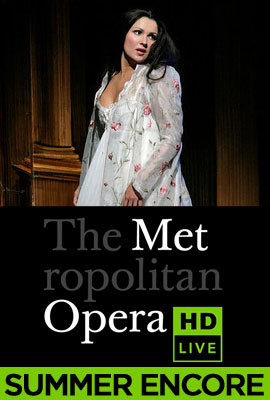 To get the measure of what she is accomplishing here, you can go to the Met Archive and rent the same production with a different cast. Maria Guleghina is another Russian, coming from the same school of operatic acting. To a certain degree she is even a look-alike of Anne: you could say, here is the homely sister. She is a top-notch Lady Macbeth, dramatic, harsh and forceful.
She acts well. But with Netrebko you get the real thing. You don't see acting, you see an embodiment. Netrebko disappears into the role, leaving behind shreds of her beauty, giving up beauty for the demented intensity opera needs for its cathartic effect. With the blond wig she herself had chosen, she looks at times vulgar like Anna Deavere Smith, making a statement: don't underestimate trophy wives -- you might get a surprise. With her boxom ampleur, Netrebko also looks like a Goddess, having not just Macbeth, but the entire court and the audience at her feet with one turn of her shoulder, strutting the "guess who's boss" in a black pants suit, exuding a natural, unforced sexual power.
In her unique mixture of aristocratic arrogance and daring vulgarity, Netrebko brought the role right into the modern setting of Adrien Noble's production. The degree of pleasure she was able to convey in the character kept the Lady human instead of turning her into a demon, and this humanity gave her mad scene a touch of sadness, her voice at times a luminous thread of broken, childlike despair. I personally wish she'd not go on gaining weight but follow more closely in the footsteps of Callas and not lose the look, the archetypal look of the romantic, tragic heroine -- a heroine with no extra fat on her cheeks and waist. But for Lady Macbeth the weight served her well, and many of her fans argue that if anybody could pull off romance and tragedy against the odds of a cultural stereotype, Netrebko could.