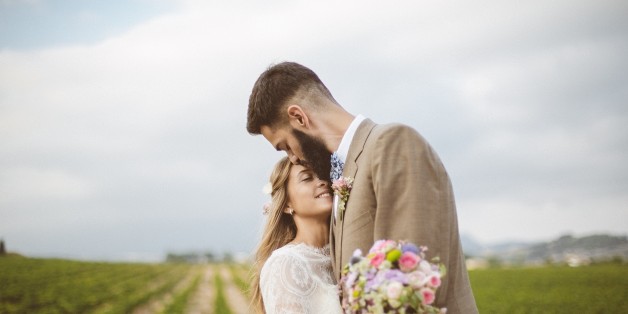 You're engaged and planning a wedding. Yet, it appears that you and your fiancé couldn't be farther apart on your visions for your Big Day. You like shabby chic, while he likes architecturally modern and stark. You adore strawberry filling, but he's a coconut man all the way. You dream of pinks and ivories, yet he likes silver and black for your color scheme.
Rather than let these major departures bother you, see your differing concepts as the perfect opportunity to incorporate compromise and set boundaries all at the same time. Learning how to come together and plan this special day is an ideal way to practice your communication skills --these tools will unlock many doors in your lives for years to come.
Here's a five-step plan for getting on the same page -- or at the very least creating a day that makes you both happy.
Gather some visuals.
It's no secret that men are visual creatures. Start by doing your homework and pulling images from everywhere: magazines, Pinterest, websites, wherever you can. Then, put together a presentation for Mr. Wonderful of both types of weddings you're considering (well, some may not be what you're considering, but he is) and set a time to go over what you've found. His vision may change (or yours may) when you see some examples.
Ask him to be specific.
Using those images, find out what he likes about both your vision and his own -- and ask him to be very detailed in his feedback. You may have interpreted his liking of geometric lines, stark contrast, and black and silver as some kind of a mirrored balls ablaze, disco-themed party. But, actually, he may have been describing the whole rather than breaking it down to the parts -- he may respond favorably to a specific pattern on a tablecloth, or a particular decorative item, or the shape of a cake.
Use your discussion to create your own individual compilation of specific wants item by item. It may help to make a list of all the details -- flowers, food (all courses, as well as dessert), entertainment, wardrobe, and so on -- and divide up what are the most important items to each of you. Then, see how the wedding would look if you each had it your way within those categories -- there may be more similarities than you think!
Find areas in which you can blend styles.
Once you have compiled a detailed, itemized list of your combined ideas, enlist your trusted wedding planner, florist, and caterer to illustrate your vision further so you can find out what's doable and at what price point. These professionals have seen and done it all -- they will be able to guide you and provide suggestions on how to create a day that reflects both of your wants.
Give him ownership of details that matter to him.
Perhaps you won't be able to come together on every last detail. That's okay. Building on the discussion you had of what matters most to each of you, ask your husband-to-be to select some of his most important wedding aspects himself. You can also remind him about the tradition of the groom's cake--a great opportunity to do something out of the box and totally in his style -- or even ask him to plan the entire rehearsal dinner (with his parents, if they are paying). That way, he feels like this is his event, too. It is, after all!
Be proud of your ability to compromise.
Truthfully, many brides run the show when planning their Big Days because this is simply what's accepted as the norm. But as more and more couples pay for their own weddings and choose to marry later in life, the idea that the bride (and, typically, her mother) should have the final say in every last detail is a bit outdated, to say the least. By giving your fiancé the chance to show off his personality and tastes, you're setting an example to your friends and family that you two stand on equal footing in every aspect of your relationship -- and this is a wonderful message to project on your wedding day.