Our country has been on the short end of the trade deficit for so long, it sounds odd to call the widening trade deficit "good news." But in April import expenditures outpaced exports by $40.3 billion and the gap, although it has increased, was less of a hike than expected, about $3 billion.
Globally, people are buying again. Yet, in the United States, consumers continue to purchase cars, computers and phones not made in America. It is past time that consumers recognize the emerging power of "Made In America" products and services. The nation's shopping list needs this header: Check out what is made here before you "go" overseas. The innovation revolution is strong in our country, particularly in California. The Bay Area is certainly our state's center for turning great ideas into products and services that make life more efficient and enjoyable.
Each year at my Make It In America exhibit at the San Mateo County Fair, I ask area companies to show the public what I mean by "California innovation to the rescue." I was excited that House Democratic Whip Steny Hoyer, the architect of the Make It In America campaign in Congress, joined me this year. One of the exhibitors was San Francisco-based Type-A-Machines, maker of a 3-D printer. The printer allows you to create cheap plastic models of parts and try if they work together before you invest big money into building an actual machine. For example, the company brought a model of a fan blade for a Rolls Royce jet engine to the exhibit.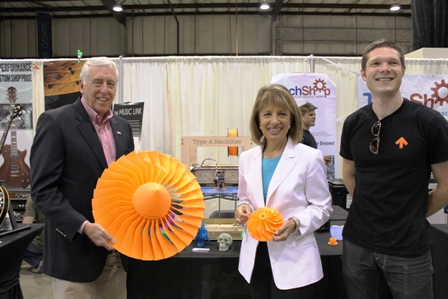 Other ideas on display at the Fair were:
• A startup incubator -- the birthplace of Type-A-Machines -- that offers cutting edge technology tools to entrepreneurs on a shared basis;
• A toy manufacturer that turns discarded plastic milk jugs into colorful, safe toys;
• The world's newest high performance desktop computer made in Silicon Valley.

Current U.S. manufacturing on its own would be the 10th-largest economy in the world. There is simply no truth to the rumor that our once great manufacturing sector is now a museum of shuttered factories. According to the National Association of Manufacturers, average annual compensation in manufacturing in the U.S. is 28 percent higher than average compensation in non-manufacturing jobs. American manufacturers account for 66 percent of all R&D spending. As of 2011, 1.2 million Californians and 12 million Americans were directly employed in manufacturing. Indirect employment boosts that number to 17 million.

But Congress and the president need to take four steps to boost American jobs and manufacturing:

• Train a twenty-first century workforce
• Adopt a national manufacturing strategy
• Promote the export of U.S. goods
• Encourage companies to bring jobs and innovation back to the US

And each of us can do more. ABC News estimates that if every American just bought $64 more per year of American-made products, we could create 200,000 more American jobs -- good and well-paying jobs. It's more important than ever for America to rededicate itself to manufacturing at home. When we make more products in America, more American families will make it.