On November 25, Judge Carlton W. Reeves struck down Mississippi's ban on same-sex marriage in a 72-page decision in Campaign for Southern Equality v. Bryant. The opening to his ruling reads, in part:

In reviewing the arguments of the parties and conducting its own research, the court determined that an objective person must answer affirmatively to the following questions:

Can gay and lesbian citizens love?

Can gay and lesbian citizens have long-lasting and committed relationships?

Can gay and lesbian citizens love and care for children?
Judge Reeves continues:
Without the right to marry, are gay and lesbian citizens subjected to state-sanctioned prejudice?

Answering 'Yes' to each of these questions leads the court to the inescapable conclusion that same-sex couples should be allowed to share in the benefits, and burdens, for better or for worse, of marriage.

The court concludes that Mississippi's same-sex marriage ban deprives same-sex couples and their children of equal dignity under the law. Gay and lesbian citizens cannot be subjected to such second-class citizenship. Mississippi's same-sex marriage ban violates the Due Process and Equal Protection Clauses of the Fourteenth Amendment.
This ruling didn't just strike down a discriminatory, unjust law. It also affirmed basic truths about the dignity and wholeness of LGBT people of Mississippi -- things that have, of course, been true all along, but that have also been systematically denied by state law.
As a minister with the Campaign for Southern Equality, I have had the honor of meeting many LGBT families all across the state -- from Gulfport to Hattiesburg to Tupelo. We have shared meals and together, we have prayed for that day to come when all people in Mississippi will finally be equal under the law, just as they are equal in the eyes of God.
An estimated 3,484 same-sex couples live across Mississippi, with 26 percent of them raising children. These families -- like the plaintiff couples in this case, Becky and Andrea, and Carla and Joce -- are part of the fabric of Mississippi. They conduct their lives with the kind of courage and resilience that are forged when one has endured constant discrimination and stigma from cradle to grave.
But it takes more than courage and resilience to dismantle an entrenched system of discrimination. "I never thought this would happen in my lifetime," a friend in Mississippi said when the ruling came down. This analysis was shared by many, including national pollsters who predicted it would be 2024 before marriage equality reached Mississippi.
Indeed, in recent years some within the LGBT movement have argued for a slow, incremental approach in the South, citing focus group results that suggest we tread cautiously when calling for full equality.
I could not disagree more. On the ground in the South, I am reminded time and again how much of our work is about the human spirit, the power of which cannot be measured by focus groups or polling data. In the face of daily injustices, LGBT Southerners are speaking the simple truths of our lives and calling for full equality in every sphere of life, and nothing less. To do so is an act of courage, hope and faith. And to do so is to be unafraid of the fact that some people -- including family members, neighbors and co-workers -- oppose marriage equality. When you get clear with your own truths, you can approach those who oppose you from a posture of clarity and empathy.
We also know that Southerners are ready to talk about marriage. In fact, when you bring up any equality issue -- employment rights, health care, youth homelessness -- the conversation quickly circles back to marriage. The inverse is also true: When someone brings up the issue of marriage, it creates an easy segue into another equality topic, like employment. Most people I talk with are shocked to learn that you can still be fired for being gay in every single Southern state.
The families who are plaintiffs in Campaign for Southern Equality v. Bryant -- Carla and Joce, Andrea and Becky -- show us what courage in action looks like. And Judge Reeves ruling speaks to what is possible in the South when LGBT people get a fair day in court. Across the South -- from Arkansas to North Carolina to West Virginia and now Mississippi -- courts have ruled that laws banning same-sex marriage are unconstitutional, finding that there are no valid legal arguments to defend such laws. For that reason, same-sex couples in Mississippi must be allowed to marry as soon as the 14-day stay set by Judge Reeves expires on December 10.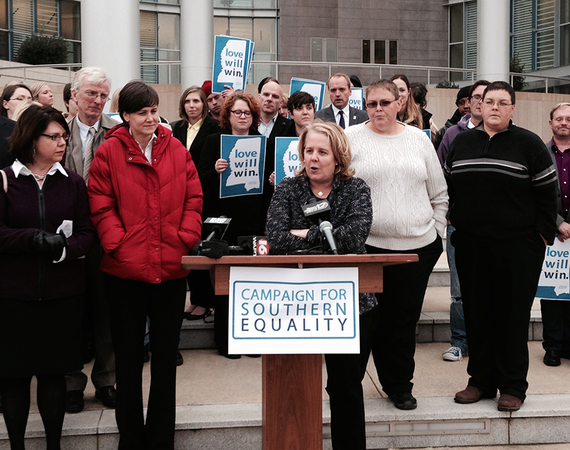 (Roberta Kaplan, lead counsel in Campaign for Southern Equality v. Bryant, flanked by the plaintiff couples.)
The South is home to fully one-third of LGBT Americans, but their numbers do not translate into meaningful political power. The argument advanced by those opposed to rights for LGBT individuals and families, that the courts should refrain from striking down discriminatory laws and that we should instead rely on the legislative process to achieve equality belies the political realities facing LGBT people in the South. Introduce an employment equality bill in my home state of North Carolina or in Mississippi and you can bet that it will die in committee. We just don't have the votes. The courts offer recourse when other democratic institutions fail to fulfill the fundamental American promises of equality for all.
Yet even there, opposition remains. The state of Mississippi has appealed Judge Reeves' ruling, and is straining to make credible legal arguments for why a discriminatory law should be preserved. The 5th Circuit Court of Appeals will now consider this appeal. Parallel to this, political and religious leaders across the South continue to condemn LGBT people and argue that we should wait an undetermined period of time for equality.
Our work is far from over, but this ruling has changed Mississippi. An unjust law has been struck down, ensuring that elders will live out their final years knowing they are equal in their home state, ushering in an era in which a gay kid growing up in Mississippi will be able to envision a future in which she marries the love of her life in her hometown.
This case will continue to progress through the courts and, as it does, we will keep having a public conversation across Mississippi, asking people to consider the LGBT people and families they know. To hold them in a clear gaze as their neighbors, their friends, their co-workers, their families. I have seen people's hearts and minds change and know it to both a deeply personal process, and also a process that happens because of and through relationships with others. We will continue to call for full equality, ready to have the conversation, ready to speak the truths of our lives.
Rev. Jasmine Beach-Ferrara is a minister in the United Church of Christ and executive director of the Campaign for Southern Equality, which promotes LGBT equality across the South and is a plaintiff in Campaign for Southern Equality v. Bryant.