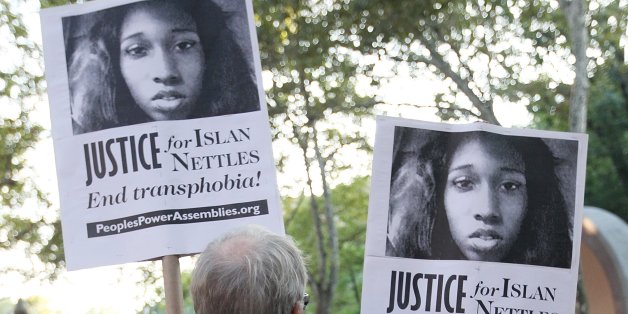 Dorothy Allison wrote, "Two or three things I know for sure, and one of them is just this -- if we cannot name our own we are cut off at the root...."
I use this quotation each year for my church's Trans Day of Remembrance service, an event I am tired of observing. I'm weary of counting our dead, and weary of reading the ways we die -- beaten, stabbed, shot, strangled, sexually assaulted, tortured, beheaded, dismembered, run over with cars, thrown from buildings and bridges. God, I am bone-tired of opening the computer to read that more of us have been attacked.
Last week Janell Crosby and Tyra Woods were assaulted, kicked, and stripped on an Atlanta train.
Last year it was Islan Nettles; in 2011, Chrissy Lee Polis; in 2001, Amanda Milan; and in 1995, Tyra Hunter. And in just this sampling of our names and stories, again and again we hear the refrain, "Nobody helped. Nobody helped, and the crowd or restaurant employees or paramedics called to the scene mocked and laughed and exposed or left exposed the women's bodies." More recently, the violations are being videotaped -- but not to aid the target with evidence, not as an indictment of the brutality, but to broadcast the attack so that a broader audience can join in the mockery and humiliation.
Again and again, the stories reveal that these women are not considered people worth supporting, not worth saving. And I think of Helvecio Mendes' poem, and the inside of my head screams with the words, "[A]bove all / I want to wake up in the morning and hear / Everybody shouting / WHY? WHY? WHY?"
I am tired of hegemonic masculinity and its entitlement to the bodies of women and trans women and gay men (and inmates and disabled people and people with mental illness). I am tired of persecution as sport. I am tired of all the institutional and systemic deflections of the conversation and redirection of blame and the false choices and zero-sum scenarios that divide and pit trans women and non-trans women and lesbians and women of color against one another to fight for the support and attention of a put-upon and easily distracted dominant culture.
And while I am tired of the blatant animosity of bigots, I am tired, too, of the suppressed and unexamined bigotry of good people.
A popular feminist website wrote a piece summarizing the attack on Crosby and Woods. It was filled with all the right indignation and condemnation of the attack. And yet the piece had a flip tone of cocky sarcasm that felt inappropriate for a description of verbal harassment toward, physical assault of, and ripping the clothes off of women.
In an unscientific and anecdotal study of my Facebook feed, I found that in the two weeks since the attack on Crosby and Woods, a handful of posts referenced the Atlanta story, whereas dozens upon dozens of friends and news sources posted the video of a 6-year-old trans boy embraced by his family.
I know that allies can become overburdened by the volume of horrible things happening around us and to people we care about. I know that, for all of us, our responses are sometimes shaped by self-defense and coping. And I still believe that we can take care that our language isn't cavalier. I believe that we can galvanize support around these women in May and June rather than waiting to add their names to our list in November. I still feel that we must be as enraged and undone by attacks against adult trans women of color as we are stirred and inspired by a family's acceptance of their white trans child.
I believe we must examine what deep, secret-to-ourselves biases are harbored by even those of us who consider ourselves allies. Even those of us who believe in the dignity of all persons. How many of us nevertheless think these women should have passed better? Should have dressed differently? Should have had thicker skins or acted more ladylike or not engaged? How many of us nevertheless think that the bodies of these women are confirmation of their assigned gender? That genitals and vocal pitch and shoe size and balding patterns, in themselves, indicate gender? Who among us thinks, in deep-down and unacknowledged ways, that these women are not women? That sexually assaulting these women wasn't as serious as when non-trans women are sexually assaulted? That #YesAllWomen and the Violence Against Women Act are diluted by including them?
Each year, at our Trans Day of Remembrance service, I quote Dorothy Allison, who wrote, "Two or three things I know for sure, and one of them is just this -- if we cannot name our own we are cut off at the root.... Two or three things I know for sure, and one of them is that change when it comes cracks everything open."
It's time to stop just naming our dead and start naming our own -- while we and they are still alive, and while we can still make "name" and "our" and "own" words that mean more life and less death for us all.