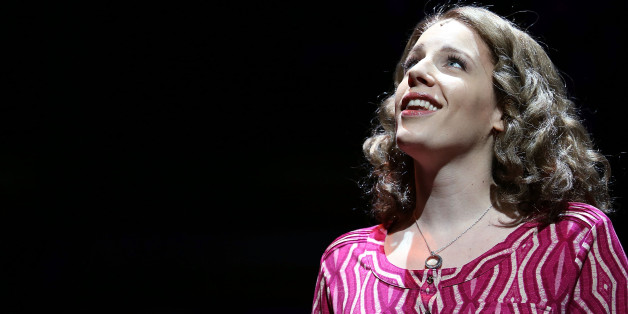 Beautiful is the latest in a long string of jukebox musicals devoted to the pop and rock tunes of one person. Unlike the others, this one at least attempts to uncover some kind of story about the person it celebrates, in this case, hit songwriter Carole King. Sweet, uncomplicated and squeaky clean, it's for the kind of people who can sit through Mamma Mia! without gagging. Considering the fact that King's life story is bland as a Communion wafer, this is a remarkable achievement, due in no small part to the soaring voice and triumphant down-to-earth realism of Jessie Mueller in the starring role. This girl is dynamite.
Named after one of King's many pop hits (staged as she sits alone at the piano in her first big sold-out concert at Carnegie Hall), "Beautiful" is in the show, of course, but far from one of the standout numbers. Those honors go to "On Broadway", "Walking in the Rain" and "You've Lost That Lovin' Feeling", and they were written by the husband-wife team of Cynthia Weil and Barry Mann, not Carole King. This is the essential problem: Beautiful divides its time between parallel stories of two marriages between King and her lyricist-husband-writing partner Gerry Goffin, and their best friends, the Weil-Mann team, illustrating their personal and professional highs and lows with two dozen songs that end up competing with each other even when the four songwriters don't. The result is a modestly engaging musical parade down Tin Pan Alley with a plot thin and transparent as a lemon slice.
Douglas McGrath, who co-authored the screenplay for Bullets Over Broadway with Woody Allen, is a polished writer, but he doesn't have much material to work with here. His job: to enhance the singer's glossary of chartbusters and tell us something about her private life, too. The problem is, it's such an uneventful life story that all attempts to collage the biographical details just seem like song cues. After the emotional angst of shows about Judy Garland, Charlie Chaplin and Fanny Brice, as well as the behind-the-scenes turmoil of Jersey Boys, the rise -- and rise -- of nice, 16-year-old Brooklyn bobbysoxer Carole Klein from Neil Sedaka and American Bandstand fan to an exalted spot in the pop chart firmament with her first album, the best-selling Tapestry, seems entertainingly unremarkable. The show charts her cloudless course through the corridors of the record-publishing offices at 1650 Broadway with the matter-of-factness of old Billboard clippings. Starting out to write sturdier songs at the time of the Platters, Drifters and Bobby Vee, she naively tries bogus tempos, pedestrian beats and missing harmonies until she meets and marries slick, sexy Elvis clone Gerry Goffin, compromising her career with an unfaithful husband and a needy child. Weaving in and out of their story is the love affair of their close friends, songwriters Barry Mann, who wants to marry, and Cynthia Weil, who fears it would diminish their power as a writing team. By the time King launches her solo career in Act Two, the Weils are happily wed, King walks out on Gerry after he takes up with a black singer, and she sobs her way through another hit song. The show peters out after the divorce, when she moves to Los Angeles at age 28. The End. Nothing here to send you out in tears, but you will definitely leave humming.
The show's attributes include sketchy but vigorous turns by Jake Epstein as the adulterous but likeable lyricist Gerry Goffin, Anika Larsen as independent, marriage-resistant Cynthia Weil, and impish Jarrod Spector as dependent, neurotic hypochondriac Barry Weil. They are skillfully directed by Marc Bruni so that all three get an electrifying turn at the mike without hogging the show or stealing the thunder from each other. But make no mistake. The centerpiece from start to finish is dazzling Jessie Mueller, who, I'm convinced, can say and sing anything that comes her way with heart-stopping greatness. In the misguided revival of On a Clear Day You Can See Forever, she sang jazz with the cool, smashing dynamics of a vocalist from the big-band era. Now, in Beautiful, she knocked me sideways with ballads, brassy riffs and bold Tin Pan Alley twirls. Reserve for her the kind of star-making applause that turned Merman and Martin into Broadway legends. Jessie Mueller. Write down the name and remember it. She is simply sensational.