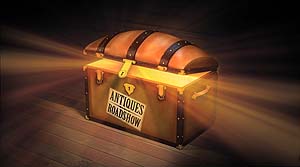 Antiques Roadshow is on the hunt again, this time for your home videos.
Antiques Roadshow has an open call for viewers to submit home videos of their
treasures they've inherited, or items they own that has a significance to the filmmaker.
If you have something with great history, they want to hear about it. Something unusual you inherited? Tell them all about it! Ok, not really ALL about it, but the most important facts in under 2 minutes.
You can submit your video starting now thru June 1st, 2010. The public will be invited to vote on which is their favorite. The top 3 video submissions will be awarded with a pair of VIP tickets to attend a live taping of Antiques Roadshow this summer! (and let me tell ya, it's an adventure!)
The final shorts will be aired online and might be broadcast on WGBH and other PBS stations nationally. This could be your video making debut! So what are you waiting for????
Eligibility, Guidelines and Rules can be found at:
http://wgbh.org/lab