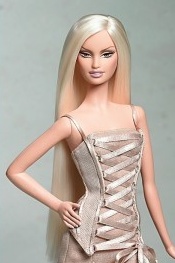 This year Barbie turned 50 years old, and she is as popular as ever!
Barbie, originally named Barbara Millicent Roberts was designed by Ruth Handler 50 years ago and made her debut at the American International Toy Fair in New York City on March 9th, 1959.
In her first year she sold over 350,000 dolls. Much like McDonald's, in 2010 there will be more than 1billion served in 150 countries around the globe.
The original Barbie sold for $3. That same Barbie today in mint condition sells for $25,000 +
One of the great things about Barbie is her dress and role as a woman is only limited by the owners imagination. The accessories often represented the kinds of things little girls (and big girls too!) dreamed of. The three story townhouse, the Corvette, and the very cute boyfriend, Ken.
And at 50 years old, Barbie still looks amazing (sans the Botox and lip plumper!)
Way to go Barbie! Let's hope she's around another 50 years!