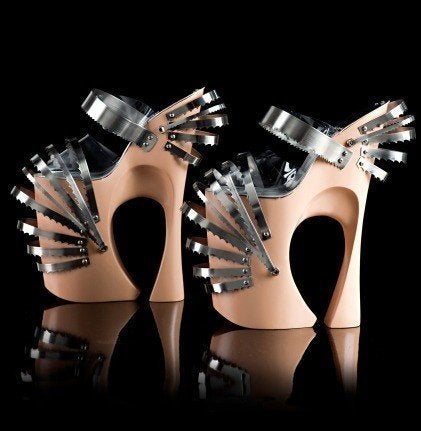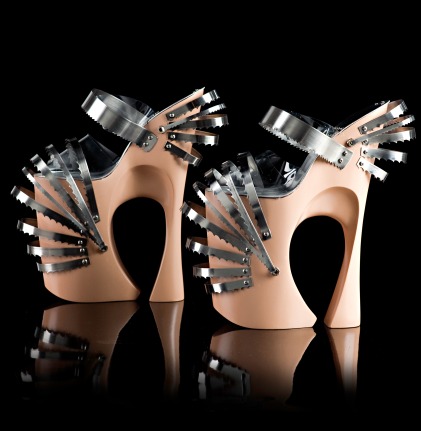 (Photo Credit: Katharine Landmier)
The longer I am on Facebook, the more interesting things I stumble across. Recently, I noticed a link to an upcoming museum exhibition posted by Omar Perez, a furniture designer I follow. He had noted, "Excited to be part of this exhibit!"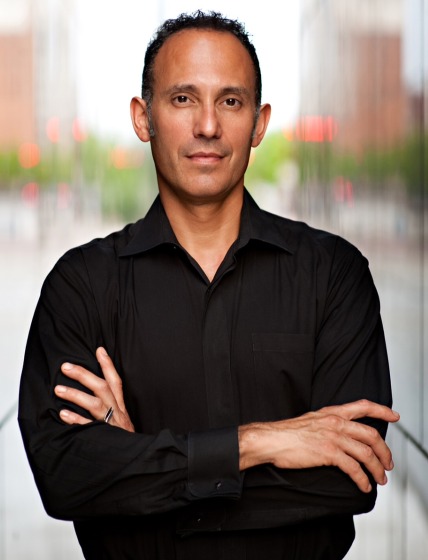 (Omar Perez. Photo Credit: Katharine Landmier)
When I clicked the link, I was assuming I would see an exhibition of exquisite handmade furniture from designers around the globe. Instead, what I saw were images of shoes. Yes, shoes... and styles I had never seen before. There were 150 pairs of shoes made by international designers ranging from the architecturally inspired to creations of audacious irony and socially-motivated footwear.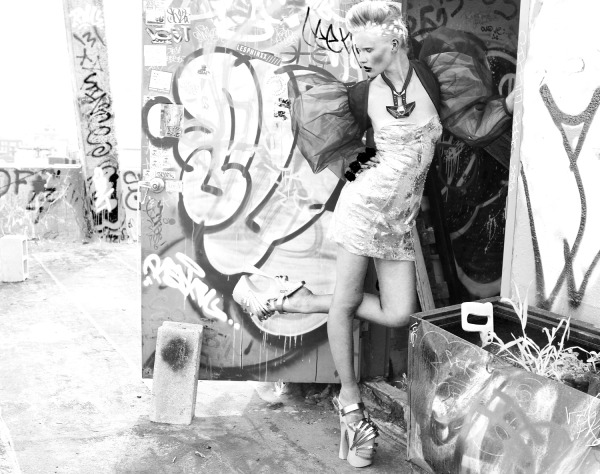 (Photo Credit: Cari Paige, Model: Jelena Salikova, Hair: Chi Shay)
The museum described the exhibit as follows:
The special relationship which exists between people and shoes and in particular women and shoes is a popular source of fascination. The mystical attraction they exert is felt not only by the female of the species, but also to an increasing extent by designers and artists who are thinking outside the shoebox and falling head over heels for footwear.
I spent the next hour clicking on images and my mind racing with questions. What does a furniture designer know about creating shoes? Of course, I asked...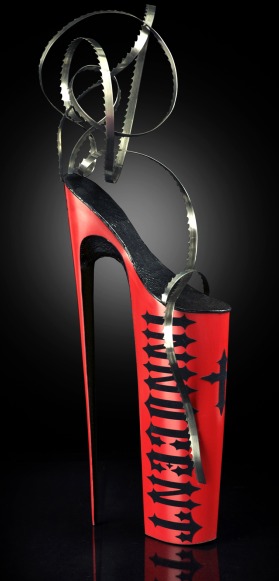 (Photo Credit: Katharine Landmier)
RH: By day a furniture designer, but a fashion designer too? Interesting combination. How did this come to happen?
PEREZ: My Stilett"O" sculptures are an extension of the kind of furniture I like to create; sexy mixed with a bit of drama and exquisite materials. That's why in my heels you will find many of the same techniques and processes that I use while creating furniture. Hand-carving, laminated veneers and metal work, for instance.
I'm a self-taught woodworker, and I guess you would say I'm a self-taught fashion designer as well. The inspiration for my furniture designs comes from many different fields including nature, architecture and art, so the transition from woodworking to fashion design is not a hard one for me. I create sculptures to excite emotions and change your environment, whether you dine on my work or you wear my work, it's all art to me and I approach the design process in much the same way.
RH: Who are some of your favorite fashion designers and why?
PEREZ: I take creative cues from many different fashion icons as well as up and coming designers. Tom Ford's sophisticated elegance is probably at the top of my list. His genius is how he takes a simple, timeless garment -- a man's suit, perhaps -- and with somewhat minimal detail, changes it into a fresh and modern silhouette. At the other end of the spectrum is Alexander McQueen, who's over-the-top color and energy really charge your mental batteries. Other designers on my list, like Paulina Bojᅢᄈr or Valentim Quaresma, create wearable sculpture that has no boundaries.
RH: What was your vision when you made your first pair? Wearable art, or more for fun?
PEREZ: My Stilett"O"s started as a joke actually. Most of my friends know I'm a "leg man" and appreciate what a pair of heels do to a woman's attitude... and altitude. So I created the first heel, "My Shoes Are Killing Me," to show the extremes you go through to wear them, like a 14" heel and band saw blades for straps. Your sacrifice does not go unnoticed.
RH: How did you get involved in the exhibition at the museum?
PEREZ: I'm fortunate that my heels have generated interest around the world. I was first approached by Liza Snook, creator and administrator of www.virtualshoemuseum.com, who featured my heels on her internationally known website. She, along with Sabine Epple, curator of Modern Design for the Grassi Museum, have put together this exciting exhibition. I am so excited to have been chosen.
RH: I heard Lady Gaga's stylist contacted you for a commission. How did she find you?
PEREZ: Lady Gaga's stylist approached me to create two pair for the cover shoot of Born This Way. Ultimately, my heels were not used but the whole experience was a roller coaster of excitement and work. Many months before this happened, I found my heel sculptures constantly being associated with Gaga and her over-the-top fashion. At that time I had never created an actual, "wearable" pair -- only individual pieces -- but I thought I would send some images to her high-profile stylist and get some feedback.
Of course, I never expected to hear from her, but out of the blue I got an email saying she wanted to commission two pairs of a very specific European size and color. Oh, and the whole project was to remain secret and I only had 12 days to design and create them. It was not until a few day later that I discovered they were for Lady Gaga and her new album. Needless to say the following days were spent locked in my workshop and with very little sleep.
RH: What is the future of your stiletto creations? Where do you see them being exhibited?
PEREZ: Hollywood! I would love to create a pair for a character in a movie. How cool would that be? I can envision a futuristic leather and metal wardrobe with my heels as a compliment, the whole persona would be extreme.
I can think of many Hollywood darlings that would love a pair. But can we start with me first!