Walmart and Costco are famous for cutting costs to the bone and knowing a great value when they see one. That's why they are deploying massive amounts of solar on their facilities. In fact, they are America's top two corporate users of solar power.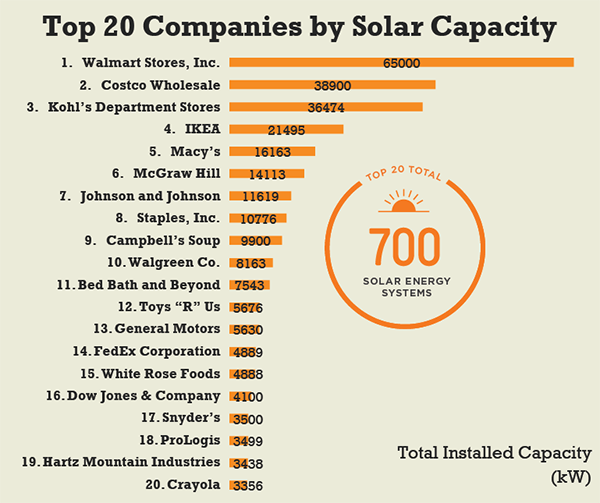 Many of the best-managed companies in America are among the top users of solar, and that's no coincidence. Together, the Top 20 corporate solar users will generate an estimated $1.2 billion worth of electricity over the life of these systems. No wonder then that in addition to Walmart and Costco, companies like Kohl's, IKEA, Macy's, McGraw-Hill, Johnson & Johnson, Staples, Campbell's Soup, and Walgreens are the largest corporate users of solar (in terms of on-site solar capacity deployed), according to a report by the Solar Energy Industries Association and the Vote Solar Initiative.
The Top 20 corporate solar users have installed more than 1.2 million photovoltaic (PV) panels; combined, these arrays would cover more than 544 acres of rooftops. Together, Walmart and Costco have more solar PV panels installed on their store rooftops than all of the PV panels installed in Florida, the Sunshine State. After installing 144 solar systems across seven states, Walmart now generates 65 megawatts of electricity, enough to supply all the electricity needs of 10,000 households, at facilities serving 3 million customers a week.
Altogether, U.S. commercial solar installations have reduced those business' utility bills by millions of dollars annually while generating enough electricity to power more than 390,000 homes. America's Top 20 corporate solar users are now deploying solar in northern states such as Michigan, Wisconsin, and Massachusetts -- strong evidence that solar now makes business sense in nearly every U.S. region and climate.