On loan from NFL.com for these 12 paragraphs...
In between the stunning Week 17 finale of the NFL regular season and the most exhilarating Wild Card weekend in history, I broke entertainment news.
Don't come for my job, Mary Hart. I didn't mean to. I swear.
It all happened on my weekly Tuesday podcast on NFL.com -- the first official podcast of the National Football League. You see, when I first got started in the sports television business 15 years ago, I once ran into this prematurely grey-haired Australian guy named Julian and he told me a valuable secret: Always have a hook. (He also said something about stockpiling bail money; I never understood that one.)
Ergo, upon launching my internet show in September on NFL.com and iTunes, I made sure I had a hook: pop culture.
Why not? I mean, what's the best reality show on television? The NFL. What's the highest rated show on television? The NFL. What sport helped win an Academy Award for Sandra Bullock? Football. So, what could be more representative of our quilted popular culture than the NFL? So, in addition to having the best of the NFL as guests on my weekly podcast (Tom Brady, Aaron Rodgers, Ray Lewis and LaDainian Tomlinson have all been guests) I decided to invite on celebrities and those interviews have proven to be the most enjoyable ones.
For instance, who knew Larry David could be an offensive coordinator? Larry David, that's who. In addition to talking about his love of the New York Jets and his heretofore unknown faculties to break down a 3-4 defense like Rex Ryan, Larry came on my podcast and also played judge and jury on how we should all act in certain social situations. (If we attend a destination wedding, are we still obligated to get a gift for the couple?) When Will Ferrell phoned into the podcast, I couldn't resist asking him about the genesis of, in my opinion, the funniest skit in SNL history: The Cowbell sketch. Apparently, it left a mark on Christopher Walken. Another week James Caan called in and told fantastic stories about training with Dick Butkus and the Bears while shooting "Brian's Song." Of course, I also had to quiz him uncontrollably on the greatest movie of all-time: The Godfather. He politely obliged me.
One guest after another, I realized... celebrities love the NFL just as much as the guy who paints his face every week.
Billy Bob Thornton loves the Colts. Mark Wahlberg loves the Patriots. Hank Azaria is another Jets fan. Jon Hamm grew up in Saint Louis and still has a soft spot for the Cardinals. John Legend grew up a Bengals fan and can't get enough of fantasy football.
Then came last week. Steven Soderbergh came on the podcast, but not to break down the possible Super Bowl matchups. No, who better to serve as my podcast's official sports TV media critic than an Academy Award winning director? After Soderbergh brought his famously keen eye to the world of sports broadcasting, I felt compelled to ask him about a story I read here on Huffington Post a couple weeks ago. Apparently, according to Matt Damon, Soderbergh is thinking of hanging up his director's cleats (are there such things?) after only two more years of filmmaking.
Soderbergh's answer, apparently, broke entertainment news. On NFL.com. Same when he talked about the films he does have remaining in his hopper.
Who knew?
Thus, a very high standard has been set for Adam Carolla when he joins my podcast this week. C'mon Adam. Say something to make Maria Menounos jealous. Let's keep this momentum flowing.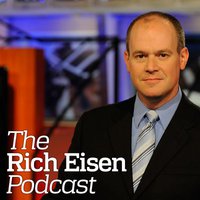 Rich Eisen is the host of NFL Network's Total Access and NFL GameDay Morning as well as its Thursday Night Football pre- and post-game shows. He can be followed on Twitter @richeisen and on facebook.com/richeisen