For a time in my youth, the era of rock-star authors, Norman Mailer, Ken Kesey, and Tom Wolfe, it seemed everyone aspired to be a novelist. After Woodward and Bernstein investigated Watergate to its vital denouement, it seemed everyone wanted to be a journalist (and I followed that path for a spell).
When I moved to Los Angeles it was apparent everyone in town wanted to be a screenwriter. Then after Mark Zuckerberg, Jack Dorsey, Reid Hoffman, and Rich Barton, everyone wanted to found a tech start-up.
Through all this, though, one ambition has persisted... to host a travel show, an exercise where profound human foolishness becomes a form of grace.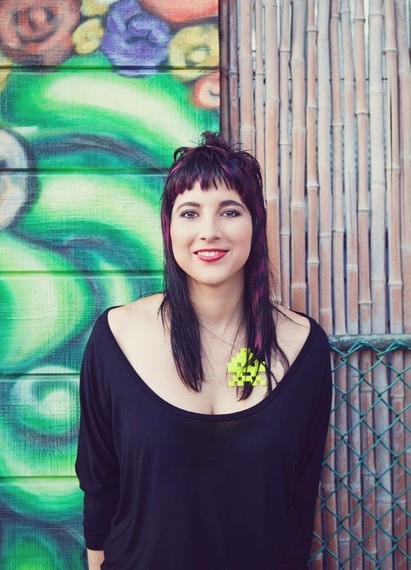 I've been fortunate enough to have produced and hosted a series of travel specials for public television over the past several years, and probably because of that presence I've been approached by scores of folks who wanted to get into the biz, and chat and chew on camera in glamorous places. There have been models, vagabonds, trust-fund travelers, poets, even politicians and investment bankers. But, in my tendentious opinion, none wore the right cloth for such an endeavor... until I met Joan Jetsetter, nᅢᄅe Skye Mayring, managing editor of TravelAge West, and a rock star traveler.
Skye looks a bit like Joan Jett, similar hair style and attitude, and so a while back friends, who envied her peripatetic lifestyle, began to call her Joan Jetsetter... and it took. So, she grabbed the Twitter handle @JoanJetsetter, and started thinking about a travel show with the fitting nom de guerre. And she became Director of Social Media at Millennials in Travel, allowing her to delve into bleeding-edge communications and technologies, touching new generations of travelers.
But more than that is the Q factor, the natural charisma that springs through a screen, the authenticity and savvy audiences can detect, and be drawn into.
In my mind, a good travel presenter, to be genuine, must act as a vehicle to liberate geography, history, art and culture from their academic moorings. She must be a guide and interpreter, but one with passion, insatiable curiosity and mental crackle. Skye combines style with elaborate erudition at almost every turn. She's a generalist and a specialist at once, drawing on vast travel experience to bring to audiences the irreducible essence of people and places.

And these impressions came from a few meetings at industry functions and coincidental collisions in airport lounges. So, I challenged Skye to create a sizzle reel to show what she could do, and suggested she cover my home town, Venice, California. She agreed, expressing that Venice could be the ideal model for the travel show she had been developing. But she also bid that it include interactivity, live chats, contests, and other robust elements of social media, one of her areas of expertise, with topics that speak to millennials, and others who know, as Ellen DeGeneres quipped at the Oscars, " that the most important thing in the world is youth."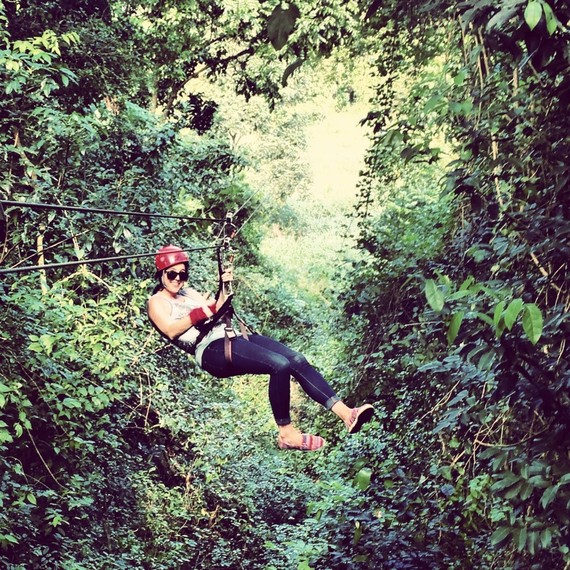 When I ask her target demographics, she is quick with reply: "Millennials. There are more than 80 million of us living in the U.S. alone, outnumbering the Baby Boomer generation, and man are we different. While the symbols of success for Boomers might have been fur coats, Rolexes, and a corner office, the ultimate status symbols for millennials are travel experiences. We are seduced by experiential travel and borderline-obsessed with sharing travel stories and photos on our social networks. The truth is that our generation feels travel is a birthright, and this will be a travel show that actually gets us -- one that is participatory, intelligent, and harnesses the power of social media."
Skye is the daughter of wanderlust. Her dad was an hotelier, her mom a flight attendant for TWA. "The best education is travel," her father counseled. She turned 20 on a plane over the Atlantic, on her way to Europe, where she spent a year exploring the architecture, art, fashion, theater, festivals, clubs, raves, chocolateries, and pubs. She recorded her discoveries in napkin sketches, scribbles in journals, and even made a short film about the bizarre characters and odd sights she found along the way.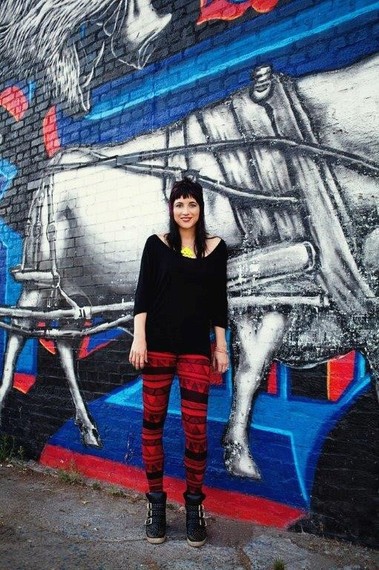 She returned to the U.S. to graduate magna cum laude from UCLA with a degree in English Literature, which sent her on a publishing path at Robb Report, URB (where she blogged and interviewed bands and DJs), and finally TravelAge West, which has sent her on assignments all over the world and shaped her travel philosophy: "Always say 'Yes.' And try to discover something new every day."
The result of her sizzle reel is the cartouche for the next great travel host, with each detail, like a torch held up to a bas-relief in a cave, jutting through the screen. Somehow, she discovered and served up lucid alcoves of meaning, scooped out of the neighborhood where I sip and sup almost every day, turning the town into a magical sphere into which we agreeably fall. I can only imagine the delights when she carries her laptop and smart phone across borders.
When I ask Skye about her favorite travel show host, without a fallow beat, she cites Anthony Bourdain. "He's the kind of guy you want to have a beer, or a six pack, with."
And, if the travel gods smile on Joan Jetsetter, Anthony may be thirsty and ready for that brew.