I've written several times about my work with an international anti-Nazi movement, World Without Nazism, which has included a trip to Latvia to oppose a march by surviving members of the Waffen-SS, a trip to Strasbourg, France to meet with anti-Nazi elected officials from over 30 countries, and two trips to Moscow to meet with WWN's President. Now WWN is coming to Washington, D.C.
Coming face-to-face with surviving Nazis -- in uniform, in 21st century Europe -- was disorienting.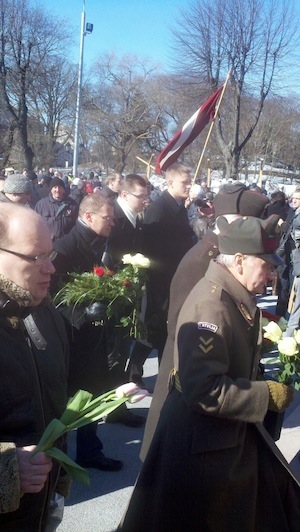 It's been an article of faith that we beat the Nazis in WWII, once and forever; but take a look at the two photos I took in RIga. They're back.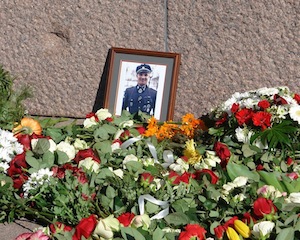 Globally, World Without Nazism has identified more than 1,000 resurgent Nazi movements. While the U.S. has not been immune from outbreaks of terrifying right-wing violence, the real action is in Europe, where dozens of political parties have become part of the mainstream while identifying with and emulating the genuine Nazi movements of 70 years ago. It may be Golden Dawn in Greece or Russian and Ukrainian ultra-nationalists or organized anti-immigrant, anti-gay, anti-Semitic street and parliamentary outbursts, but it's real and it's growing.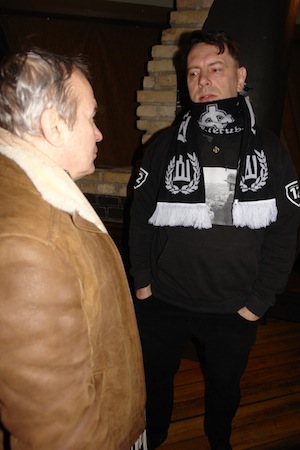 There needs to be a carefully considered American response, and that response cannot be to write off these movements as Hogan's Heroes' fringe expressions of the economic downturn. There's some of that, to be sure. But these folks have taken root in the body politic of many nations.
This Tuesday, June 4th, in our Capitol, America Without Nazism will bring together Members of Congress with an elite international delegation to consider just that response. The Conference is scheduled for 10 a.m. at the Rayburn Building, Room 2013. Attending from Europe will be a set of European elected officials, Members of the European Parliament, former Cabinet Members from Russian, Parliamentarians from Estonia and Latvia,and Greek and Hungarian leaders of anti-Nazi movements. Attending from America will be Members of Congress, including Hakeem Jeffries, Michael Grimm and Eliot Engel of New York, representatives of the State Department, state legislators, and a wide range of American anti-Nazi activists who are part of America Without Nazism.
If there's a lesson from 70 years ago, it's that we're much better off responding at the beginning. The consequences of underestimating the importance of resurgent Nazi movements would be unbearable. We will not let that happen.