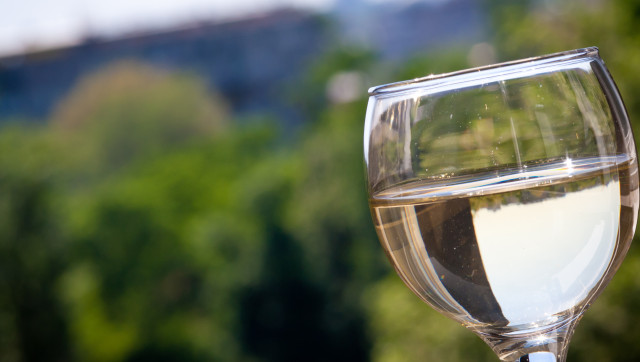 Top rated Riesling vineyard in Germany's Pfalz region
As you might have gathered if you've followed my blog for awhile, I'm a lover of fine wines in general. I appreciate nearly everything that's made with skill and passion, regardless of variety, region or style.
But even though I enjoy and appreciate virtually all types of fine wine, I have to admit there's one type in particular that I don't just enjoy and love -- I revere. That wine is German Riesling.
Riesling is an incredibly versatile white grape, capable of being produced in virtually every form wine can take -- from sparkling and very dry, to off-dry and very sweet. Grown in ideal locations, like Germany's cool climate hillside vineyards, where the grape has been cultivated for over 600 years, Riesling also beautifully expresses the unique character of the site in which it is nurtured. In this way, it has transparency and can convey a pure expression of place, soil, sun exposure and climate -- those multitude of factors that give a wine that sense of what the French call "terroir."
For me, the red grape counterpart of Riesling in this regard is Pinot Noir, especially in its ancestral home, Burgundy, where it has been grown and studied for centuries as the Germans have done with their Riesling.
Nearly ripe Riesling grapes
Since I've admitted I revere German Riesling, you can imagine how thrilled I was to have the chance to spend several days last month exploring some of Germany's terroirs and comparing side by side the latest vintage of Rieslings from many of the country's greatest vineyards. My trip was organized by the German Wine Institute for a group of about 17 wine, food and travel writers from all over the world.
In this first post on the trip, I want to report what I learned about Germany's unique national organization of leading producers -- the VDP. I also want to share with you my new found appreciation of dry German Riesling -- the style that's currently most popular in Germany itself.
First, the VDP. This is an organization that is now over 100 years old, having been launched in 1910. VDP stands for Verband Deutscher Prädikatsweingüter, which translates as Association of German Prädikat Wine Estates. Prädikat is an umbrella term used to denote the highest category of quality wines produced.
The VDP's membership currently stands at 197 wineries or wine estates, representing all of Germany's winegrowing regions. In this respect, the organization is unique as compared to all the quality oriented winery associations and quality classifications elsewhere, in that it is not simply limited to one region -- like St. Emilion's recent reclassification in Bordeaux, or Burgundy's vineyard classifications. Instead, it is nationwide.
What is also fascinating to me is that the VDP has, in a process that has literally taken over 100 years, tried to merge the Bordeaux method of classification with that of Burgundy. In Bordeaux, the classifications within each commune of Bordeaux are based on designating the top estates, regardless of their vineyard holdings. In Burgundy, by contrast, it's the vineyards that are classified, regardless of which producer owns them, or pieces of them.
VDP President Steffen Christmann meeting with our group of writers
The VDP essentially identifies top producers from each growing region by admitting to membership only those producers that it deems to meet certain criteria -- which include maintaining lower yields and practicing sustainable viticulture. The vineyards in each region are then separately classified, much like those of Burgundy, by looking at a number of factors, including historical designations of superior vineyards, the vineyard's hillside location and exposition, and whether wines of that vineyard are ageworthy and consistently expressive of distinctive traits and characteristics.
Under the latest version of the VDP's governing charter, adopted in January of this year and effective for the current vintage, vineyards in most of the wine growing regions represented within the VDP are designated by four tiers: grosse lage (the top level, comparable to Burgundy's grand cru), erste lage (the equivalent of Burgundy's premier cru), ortswein (equivalent to Burgundy's villages) and gutswein (basically regional wine).
VDP members' wines are distinguishable by a seal showing an eagle with an inverted triangle of grapes on its chest. Wines from vineyards designated as Erste Lage also display a logo consisting of a numeral one that partly frames a cluster of grapes similar to that on the eagle's chest.
To give you some sense of the amount of wine produced by VDP members, and the relative numbers of vineyards designated as top tier, here are a few statistics. The VDP's 197 member estates harvest about 2.6 percent of Germany's total annual crop, cultivate about 5% of the country's total vineyard area and account for more than eight percent of German wine sales. Wines from VDP-classified Erste Lage, the top vineyard locations, amount to a mere 3.2 percent of VDP estates' production.
To clearly indicate what the VDP considers the very best dry wines from the top vineyard sites in each region, they have adopted a system by which a dry wine from a VDP grosse lage vineyard may be designated as Großes Gewächs.
On our first full day in Germany, our group had the opportunity to participate in the second day of an annual two-day "preview" tasting, primarily for media and major wine merchants, of the 2011 Großes Gewächs that were to be released starting September 1 of this year. This event, which takes place in a large, modern facility in Wiesbaden, is known as Vorpremiere Wiesbaden.
Richard at Vorpremiere Tasting
In a full day of tasting, starting about 9 a.m. and ending around 5:30 p.m., I managed to taste 114 Rieslings, almost all of them Großes Gewächs.
This was certainly the largest number of high quality dry German Rieslings I've ever sampled at one tasting, and the experience, coupled with further tastings, food pairings, winery visits and discussions throughout the week, gave me a lot to think about.
Up until this trip, I have tended to avoid dry Rieslings in my purchasing decisions, and have greatly favored German Rieslings with some level of sweetness, balanced by the grape's remarkable and persistent acidity. I have simply found Rieslings with some sweetness to be round and very food friendly, with buoyance provided by their underlying acidity. Few other whites -- with the exception of off-dry Chenin Blancs from France's Loire Valley -- tend to have that combination of sweetness, complexity and good acidity. That combo, for me, makes them wonderful to pair with Asian food, somewhat spicy food of all kinds, and my summer staple, heirloom tomatoes. I find that dry Rieslings simply don't embrace and surround the acidity of tomatoes in the harmonious way that sweet Rieslings do.
What I came to realize during this trip, however, is that dry Rieslings from Germany do possess the same wonderful minerality -- and, from top sites, the expressive sense of place -- as the sweeter wines. And though they may not pair so well with the kinds of foods I'm used to matching with sweeter wines, they go perfectly well with other dishes -- like chicken, seafood, and straightforward vegetable dishes -- just like other great dry white wines (e.g., Chablis, Muscadet, dry Chardonnays and Sauvignon Blanc). So rather than discriminating against dry Rieslings because they are not my beloved sweet German Rieslings, I learned on this trip that they could be high quality additions to my arsenal of dry white wines for food pairings. And, like most German wines, the dry Rieslings continue to be excellent values, especially when considering their high quality level.
The top producers of dry Rieslings at this event for me, with scores of 91 points or higher on at least one wine, were August Eser, Domdechant Werner, Dönnhoff, Dr. Loosen, Friedrich Fendel, George Müller Stiftung, Grans-Fassian, Künstler, Prinz, Prinz von Hessen, S.A. Prüm, Schloss Schönborn and Wegeler.
For the complete report on this tasting, including all my tasting notes and brief profiles on each of the producers listed above, see my blog here.