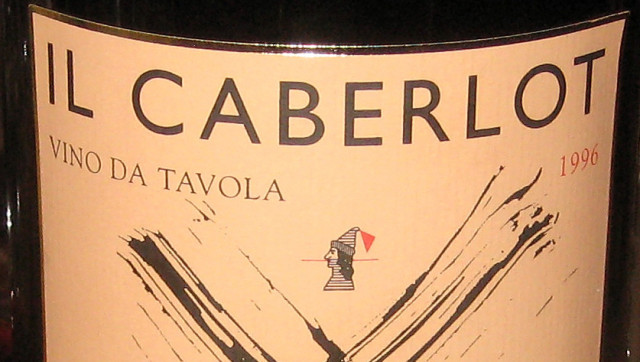 In the week we celebrate Valentine's Day it seems only fitting for a wine blog to acknowledge that the key ingredient in many of the world's most extraordinary wines is love.
This important truth was brought home for me again last week in the course of sampling a 10-year-vertical of one of the world's very rare wines. Not only is it the exclusive wine made from a particular variety--the Caberlot grape--it is also made in small amounts. It is then bottled and labeled by hand, with artistic flair, only in magnums.
This wine--Podere Il Carnasciale's Il Caberlot--was the project of an extraordinary couple whose love story began in 1963.
That was the year Bettina Schnabel, a statuesque young beauty, met husband-to-be Wolf Rogosky in Berlin. Later that year, Bettina remembers seeing Jack Kennedy make his famous "Ich bin ein Berliner" speech. Only a few months later, she found herself joining thousands of other Berliners in the streets to mourn Kennedy's death.
Bettina is the daughter of Ernst Schnabel, a German writer and pioneer of the radio documentary who wrote the first book about Anne Frank. Wolf was also an aspiring writer.
Wolf ultimately became the creative director for GGK, an international advertising agency. The couple moved to New York City in 1976 where they stayed until 1982. IBM and Swiss Air were among Wolf's accounts. He also came up with a very successful and long running campaign for Jägermeister ("I drink Jägermeister because . . .").
In 1982, the couple returned to Europe, settling in Paris. They bought property though, on top of a hill in Tuscany that was full of olive trees, and started to think about making wine there.
They had met an Italian enologist, Vittorio Fiore, who introduced them to an agronomist, Remigio Bordini, who had identified what he believes to be a natural crossing between Cabernet Franc and Merlot that was discovered in an abandoned vineyard near Padua in the 1950s.
On learning of this grape the couple thought it might be the perfect basis for a wine of unique character that they hoped to produce. They never tasted wine from this grape prior to reaching the decision to plant it on their property, as no wine had yet been made from it. They simply had faith in Dr. Bordini's description of the grape and its characteristics. Dr. Bordini ultimately agreed to raise the necessary vines in his nursery for the Rogoskys to plant.
The couple then sought permission from local authorities to install a small vineyard in place of some of the trees on their property. Their request for a permit was denied. Ultimately nature stepped in when a severe frost in the winter of 1985-1986 destroyed dozens of their trees. They now had room to legally plant less than an acre of vines.
In 1986, Fiore helped them plant the vineyard with Bordini's vines. For luck, Wolf placed in the ground under the first vine an unopened bottle of 1985 Sassicaia, then the greatest of the so-called Super Tuscan wines (wine made in the Chianti region of Tuscany without following the then prescribed appellation rules).
The couple lavished tremendous attention and care on the vines, doing everything in their small vineyard by hand. They used no chemical fertilizers or pesticides. When harvest time came, the grapes were picked in several passes over as long as three weeks. They carefully selected only the individual berries that were ready to be picked. As Bettina explains, their philosophy was, and is, "What you would not put into your mouth will not go into the wine."
The wine was very gently vinified and then aged in French barriques, spending additional time in bottle before the wine was sold.
In 1996, after they finished bottling their 1994 vintage together, Wolf and Bettina went to town to have dinner. Right outside the restaurant, Wolf suffered a massive heart attack and died.
Wolf's ashes were buried in the garden outside the kitchen window. Bettina looks to that spot regularly, sometimes seeking guidance as to what Wolf would do.
With Wolf gone, Bettina says she knew the wine would be her legacy, and that she would continue with the same team to produce wine from the vines on which she and Wolf had lavished so much care and attention.
Having now tasted ten vintages that Bettina and team have made following Wolf's passing, beginning with the 1996 vintage, I marvel at the quality and complexity of the wine. Each vintage is distinct, with some showing more the characteristics of fine Merlot, or the Merlot and Cabernet Franc blends from Bordeaux's Right Bank, while others are more reminiscent of great Syrahs from Hermitage and Cornas, with intense white and black pepper aromas and flavors, along with truffle, mushroom and other delightful notes. All of them are excellent, and my favorite of all, the 1996--the first wine Bettina and team made following Wolf's passing--is just astonishingly good. I rated it 98+ points.
We sampled the wines over dinner at Murray Circle Restaurant at Cavallo Point, which is located just over the Golden Gate Bridge from San Francisco. Executive Chef Justin Everett created some beautiful dishes--like porcini tagliatelle with soft cooked egg, pancetta, grilled hedgehog mushrooms and black truffle--that added to the special quality of the evening. The stars of the night, though, were our rare magnums of this extraordinary wine, and the elegant Bettina Rogosky herself.
Bettina carried on with her plans made with Wolf to expand their tiny production by planting two additional vineyards further down the same hill, in 1999 and 2004, for a total of five planted acres. A third new vineyard, not yet in production, was planted in 2011. As of 2012, they now have a capacity to produce 3,000 to 3,500 magnums of Il Caberlot.
The couple's son, Moritz, a fashion designer who lives in Rome, assists with harvest and other duties. In 2002 Bettina found a winemaker experienced in Burgundy to make the wine, enologist Peter Schilling.
The distinctive Il Caberlot labels feature a handpainted "X," the work of a local artist friend, that varies slightly with each vintage. They have a color palette of 10 different colored papers for the labels, so each vintage also has its own color background. Bettina individually hand numbers each of the magnums.
Rare Wine Co. was named the U.S. importer for Il Caberlot and Carnasciale in 2005. RWC also imports a small allotment of the delicious and highly sought after olive oil that is made from the 600 olive trees remaining on the property.
As Bettina told us, she and her neighbors who make wine, including nearby Tenuta di Petrolo, carefully avoid making much comment on each other's wines. They reserve all their competitive spirit for praising their own olive oils.
I had to ask Bettina before the evening was over whether they were considering a DNA test for the Caberlot grape, so as to officially determine the variety's parentage. She said she and Dr. Bordini have considered it, but at this point, they're not sure they want to know.
I have to wonder whether almost any wine grape variety given this much care, attention and love might not also make exceptional wine. We have no other wine from this grape to compare it to, so it's impossible to know how much the high quality of Il Caberlot is attributable to the variety and how much is owing to the Rogosky team's loving ministrations. Personally, I'm betting that the latter is mostly responsible.
For my tasting notes on these wonderful wines, see the complete post on my blog here.