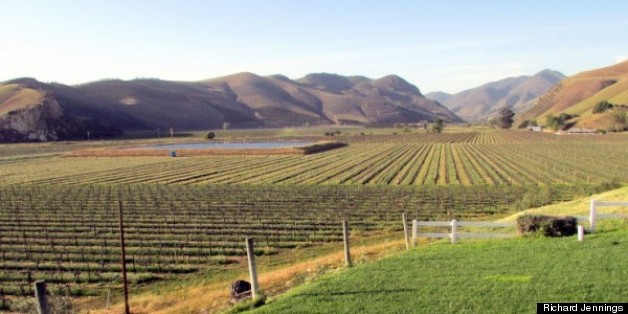 looking toward northern end of Santa Maria Valley from Bien Nacido
Santa Maria Valley is the country's third oldest official wine appellation, producing distinctive, balanced, cool climate Chardonnay, Pinot Noir and Syrah. So why do marketing consultants advise producers here that they need to highlight Santa Barbara County and/or California on their labels? Because, sadly, the vast majority of consumers don't know where Santa Maria Valley is or why it's so special.
This alluvial plain that was once an extensive bay extending inland from the ocean is bounded on two sides by mountains in one of the most geographically unusual orientations in all of North America. These mountains run east to west, unlike any other coastal mountains on the West Coast, not including Alaska. As a result, they funnel in a steady stream of cold ocean air from the Santa Barbara coast.
Thanks to this funnel effect, the region is typically blanketed with ocean fog all evening through mid-morning, and the temperature averages a mild 64 degrees. The growing season, an average of 125 days, is longer than pretty much anywhere in the nation. As a result, grapes that like it cool -- the Burgundy varieties Chardonnay and Pinot Noir, and the Rhone variety Syrah -- can really excel here, slowly developing complex flavors and retaining great natural acidity.
So why aren't the wines of this appellation better known? I think it has a lot to do with the fact that the vast majority of vineyard acreage here has long been owned by just a handful of companies, who originally planted and sold their crop mainly to well-known producers in Northern California.
One very large vineyard that has, by contrast, done a lot to raise the visibility and quality standards of this region is the justly famous Bien Nacido Vineyards.
Bien Nacido
In 1969, brothers Stephen and Robert Miller, the fourth generation of a California farming family, purchased two neighboring parcels totaling over 2,000 acres. They began planting grapes there in 1973.
The Miller Family, owners of Bien Nacido and Solomon Hills vineyards

Jim Clendenen of Au Bon Climat was an early purchaser of the Millers' Chardonnay and Pinot Noir grapes, and based on the quality of his wines, the Millers agreed to allow him to use Bien Nacido as a vineyard designation. Now grapes from about one-third of the vineyard -- largely from blocks grown on slopes and hillsides, and older vineyard sections -- are deemed eligible for vineyard designation, with the approval of the Millers.
Bien Nacido now encompasses about 800 planted vineyard acres, and the nearby Solomon Hills Vineyards, which the Millers planted in 1999, contain another 100 acres of vines.
I toured Bien Nacido with Vineyard Manager Chris Hammell during my trip last month to Santa Barbara County. The tour amounted to a graphic history lesson on the development of California vineyard management over the past four decades.
The latest vinous development for the Miller family is the production of small quantities of wine from their Santa Maria Valley vineyards under their own Bien Nacido and Solomon Hills Vineyard labels. In 2011, they hired Trey Fletcher, then assistant winemaker at Littorai and previously assistant winemaker at Domaine Alfred, to head the winemaking for both the Bien Nacido and Solomon Hills labels.
Winemaker Trey Fletcher and Vineyard Manager Chris Hammel at Bien Nacido
I got to taste through the latest releases under those labels with Trey in the project's aluminum sided winemaking facility. These are delicious wines with vibrant acidity that will add further luster to Bien Nacido's already excellent reputation. The 2010 Bien Nacido Chardonnay and 2009 Solomon Hills Pinot Noir are particularly strong, while the 2009 Bien Nacido Syrah is an absolutely delicious and peppery cool climate Syrah.
Another reason for this appellation's relatively low profile with consumers is that the area has been devoted much more to viticulture than to tourism. Until recently there were relatively few tasting rooms or facilities devoted to tourists here. That is changing in a dramatic way this year with a massive new winery, cave and visitor's complex about to be completed at Presqu'ile.
Presqu'ile
Presqu'ile is the project of Matt Murphy and his family. The Murphys hail from Arkansas, where their Gulf Coast family compound, called Presqu'ile after the Creole phrase meaning "almost an island," was essentially destroyed by Hurricane Katrina.
The family had been involved in wine ventures through partnerships, including Ambullneo Winery where Matt met South African Dieter Cronje. Dieter became Matt's best friend and the winemaker for Presqu'ile when that project began with the purchase of 173 acres on a hill in the cool southern end of Santa Maria Valley in 2007.
Working with vineyard manager Jim Stollberg, Matt and Dieter planned the vineyards to ensure each grape variety was planted in multiple locations, row directions and spacing, with multiple clones and rootstocks. Both Matt and Dieter are Burgundy collectors and fanatics, so the plantings are primarily Chardonnay and Pinot Noir, along with some Sauvignon Blanc, Syrah and an acre of Matt's next favorite grape after Pinot Noir, Nebbiolo. They have also made wine from purchased grapes, including grapes sourced from the Bien Nacido and Solomon Hills vineyards.
Their first commercial vintage was 2009. I got to taste wines from both the 2010 and 2011 vintages, and I think it's clear they've been quick learners, as I found the 2011 bottlings were all superior to their 2010 counterparts. The standouts for me were the 2011 Chardonnay from their first harvest of the new plantings and the 2011 Sauvignon Blanc, both relatively good values at $35 and $22 respectively.
The new winery and visitor complex, which was still under construction when I visited and which is scheduled for a June 20 opening, is breathtaking. There's truly nothing else like it in the appellation.
Riverbench
Riverbench is another longtime Santa Maria vineyard source that has more recently gotten into the winemaking business since the vineyard was purchased in 2004 by a group of local families. One can also now visit and taste the wines in their Santa Maria Valley tasting room, open daily in a newly restored Craftsman style house, or at their brand new tasting room in Santa Barbara's trendy Funk Zone.
The Riverbench Vineyard, where 260 acres are now planted, includes 120 acres of old vines planted in 1973. Clarissa Nagy, formerly assistant winemaker at Longoria and the Bonnacorsi winemaker since 2006, came on board as winemaker in 2011. The vineyard manager since 2006 is the same Jim Stollberg who is also vineyard manager at Presqu'ile.
Viticulturalist Jim Stollberg with 40-year-old vines at Riverbench
I particularly liked the Riverbench unoaked 2011 Bedrock Chardonnay and the 2010 Mesa Pinot Noir. They also make a small quantity of very respectable sparkling wine.
With the new developments at these three Santa Maria producers, I expect the appellation's profile will soon be rising. Savvy wine buyers already know that Bien Nacido on the label is a signal that the wine inside is bound to be good. Other producers who are making wonderful wines highly worthy of consumers' attention from grapes grown in this region include Chanin, Foxen, La Fenêtre, Paul Lato, Summerland and Tyler.
For my tasting notes on all the wines I tasted from these producers, along with notes on current releases from other producers based on Bien Nacido grapes, see the full report on my blog here.