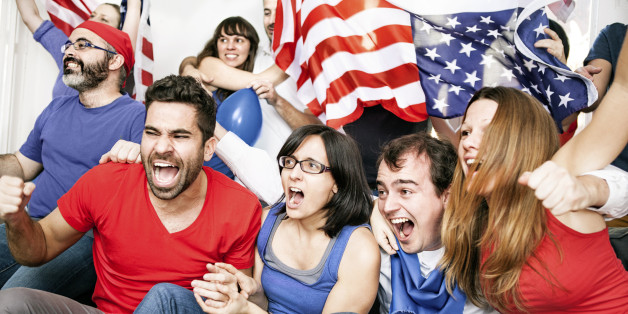 The energy is frenetic, the pace is furious -- one bounce off the post or ricochet off the crossbar and chaos ensues -- producing a pinball-like effect, sending players scrambling, sliding, diving, even hurling their bodies about -- anything to score or more importantly to protect their own goal.
Since early spring (and ending in mid-July) this high-quality, edge-of-your-seat and heart-stopping action has been taking place on the field, on the ice and on the pitch. While each of these sports is unique they possess a number of similarities. The most interesting being their coming of age in the U.S. sports world resulting in a dynamic shift in how Americans now perceive them amid the landscape of this multi-sports nation.
Lacrosse, hockey and soccer have been on full display over the past few months, captivating TV audiences, setting records and proving why they have been the choice of so many young athletes across the country for more than a decade. And it's easy to see why since these sports are built around speed, relentless pressure, wicked skill sets, modern-day grit and rabid fan bases.
For so long confined to specific geographical regions, these sports with foreign roots and Native American heritage have lived in the shadows of their more popular counter-parts: football, basketball and baseball. Yet each year they gain momentum, receiving greater exposure among the masses due in large part to expanded media coverage and the continuing evolution of social media.
The year 2014 has been kind to these sports, with ice hockey and soccer getting a huge adrenaline shot on the international stage thanks to the Sochi Winter Olympics and the World Cup in Brazil. Along with lacrosse and their respective national organizations and professional leagues a conscious decision was made in the late 1990s to infiltrate the sports culture by targeting early adopters -- otherwise known as kids. But to be successful it would require patience and money -- two precious and hard to come by commodities, especially when going up against the Goliaths of American sports.
Beginning at the grassroots level, soccer, lacrosse and hockey wove their way from coast to coast, stealthily maneuvering through the crowded field competing for the attention of America's youth. Bit by bit, town by town, city by city these three sports began making inroads -- often igniting a ground swell of interest with boys and girls in the most unlikely places. Lacrosse in the inner city, ice hockey in South Florida, soccer in cattle country, not only had this trio managed to score a relevancy trifecta they were becoming a force in determining the future of sports in this country.
Once hard-pressed to find schools, leagues and recreation centers participating in these sports, it is now difficult to find places where they aren't being played. In many states they've become the fastest growing sports with a large contingency of these athletes now playing year round and on elite travel teams. Youth soccer, lacrosse and ice hockey have thrived in this social media driven generation helping to propel them toward the forefront of teen and young adult culture. While sports they'd worked so hard to even be mentioned in the same breath with -- baseball, tennis and even football -- are now facing their own set of struggles.
Soccer, lacrosse and hockey have become big business from the local youth leagues to the professional teams many of these kids aspire to someday play for. Seeing the vast financial opportunities these sports present, television networks, global brands and Madison Avenue have jumped into the fray. Their popularity is no longer an aberration as all three sports continue to trend upward across all demographics and socio-economic classes.
Need evidence? Look no further:
World Cup 2014: To date both ESPN and Univision continue to set ratings records, according to Nielsen. The U.S. vs. Portugal game now ranks as the most-watched soccer match ever on ESPN. It also became the most-viewed soccer match ever in the United States across any network. (Germany vs. USA likely to deliver even greater ratings.)
Mexico vs. Croatia became the most watched group stage match ever for Univision Deportes.
Not surprisingly this is the most social World Cup producing an increase in followers of more than 80 percent. Brands like Budweiser, Adidas, Puma, Nike, Dunkin Donuts and Volkswagen have engaged in real-time digital and social marketing -- while sites like Twitter, Facebook and YouTube have registered more than impressive numbers when it comes to views, posts and tweets.
Multi-screen viewing and app downloads (favored by 12-17 year olds and 18-29 year olds) have already surpassed 2010 numbers along with early projections for 2014 according to Mashable.com.
Over 750,000 played lacrosse in 2013, according to U.S. Lacrosse, an increase of 25,000 plus from the year prior.
It is the fastest growing sport in both high school and college with over 36,000 athletes playing NCAA lacrosse on 60 different teams. Another 39 teams have been added to the 2014/2015 seasons.
ESPN continues to air more college lacrosse games than any other sports network. It also broadcasts the entire NCAA D1 Men's lacrosse tournament, the D2 and D3 Men's lacrosse championship and the Women's D1 lacrosse semifinals and finals.
NBC Sports Groups' airing of the 2014 Stanley Cup playoffs saw increased ratings according to Nielsen, across all rounds from those of previous years.
Ratings increased 57 percent from 2013 in round one play.
Game seven of the Western Conference finals was the highest rated non-Stanley Cup finals game since 1996.
NBC saw a strong ratings increase in the 18-34 year old demo across the entire Stanley Cup Playoffs. Can you say advertisers dream?
Stanley Cup Finals -- game one, game four and game five saw record ratings in local markets translating into strong national numbers.
These statistics tell only part of the story, as does the continued investment into these sports on the professional, collegiate, high school and youth league levels from heavy hitters like TV networks, top brands and advertisers.
Judging from the raucous crowds during the Stanley Cup playoffs, the 79,000 plus in attendance for the 2014 NCAA Men's Lacrosse Final Four and the unbridled excitement and emotion that has been on display for the US Men's National Soccer Team at the World Cup it's hard not to believe the real story is about what kids have known and parents have said for years... soccer, lacrosse and ice hockey are here to stay and they will continue to be influential sports for future generations.