With all the intensity in our domestic and political worlds lately, it's a fine time for an escape -- sunset glinting through the drink in your hand. Let's fantasize about the best seaside bars in Europe.
Whenever researching a guidebook chapter covering a port or seaside resort, I work hard to find the most romantic place to swizzle stick your vacation cocktail.
Feel the breeze, smell the sea, enjoy the cry of the gulls and let me share my favorites. These are each worth seeking out. (BTW, I'd love to read about your favorites. Please share.)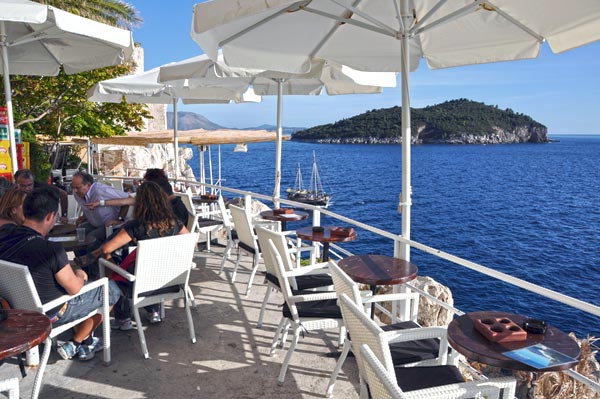 In Dubrovnik, Croatia
Cold Drinks "Buža" offers, without a doubt, the most scenic spot for a drink in Dubrovnik. Perched on a cliff above the sea, clinging like a barnacle to the outside of the city walls, this is a peaceful, shaded getaway from the bustle of the Old Town...the perfect place to watch cruise ships disappear into the horizon. Buža means "hole in the wall" -- and that's exactly what you'll have to go through to get to this place. Filled with mellow tourists and friendly bartenders, Buža comes with castaway views and Frank Sinatra ambience ($4-7 drinks, summer daily 9:00-into the wee hours).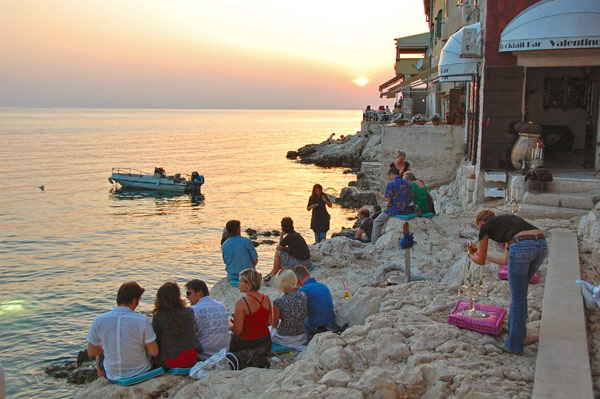 In Rovinj, Croatia
Valentino Champagne and Cocktail Bar is a memorable, romantic, justifiably pretentious place for an expensive late-night waterfront drink with jazz. Fish, attracted by its underwater lights, swim by from all over the bay...to the enjoyment of those nursing a cocktail on the rocks (literally -- you'll be given a small seat cushion and welcomed to find your own seaside niche). Or you can choose to sit on one of the terraces. Classy candelabras twinkle in the twilight, as couples cozy up to each other and the view. Patricia opens her bar nightly from 19:00 until as late as there's any action. While the drinks are extremely pricey, this place is unforgettably cool ($8-11 cocktails, Via Santa Croce 28).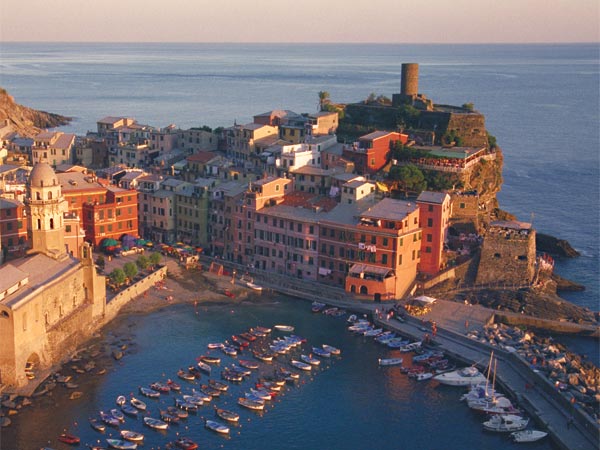 In Vernazza, Cinque Terre, Italy
Ristorante Belforte's tiny, four-table balcony lets you sip your vino della Cinque Terre overlooking the Mediterranean from the edge of a stony castle. You can feel the mist from the surf crashing below on the Vernazza breakwater. And the views of the ancient vineyard terracing all around you makes the experience a highlight. From the Vernazza breakwater, follow either the stairs or the rope that leads up and around to the restaurant.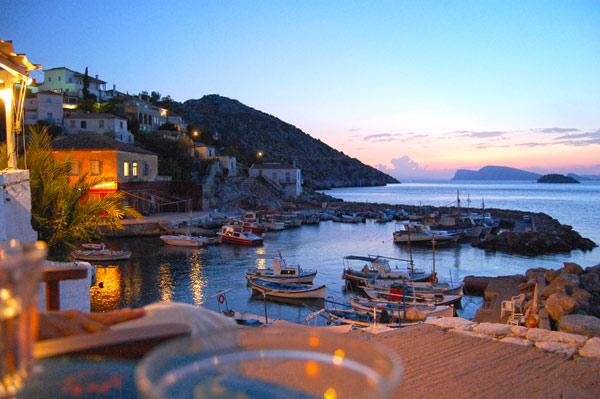 In Hydra, Greece
Kodylenia's Taverna is perched on a bluff just over Kaminia's pocket-sized harbor, which shelters the community's fishing boats. With a glass of ouzo and some munchies, as the sun slowly sinks into the Saronic Gulf and boats become silhouettes, you can drink to the beauties of a Greek isle escape. It has my favorite, irresistible dinner views on Hydra: This scenic spot lets you watch the sunset with Kaminia's adorable port in the foreground. Owner Dimitris takes his own boat out early in the morning to buy the day's best catch directly from the fishermen. For meals, you can sit out on the shady, covered side terrace above the harbor. For drinks, sit out front on the porch. Relax and take in a sea busy with water taxis, hydrofoils that connect this oasis with Athens, old freighters -- like castles of rust -- lumbering slowly along the horizon, and cruise ships anchored as if they haven't moved in weeks.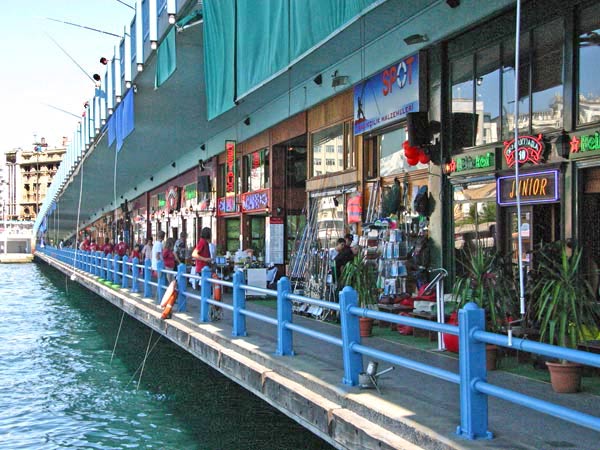 In Istanbul, Turkey
The double-decker Galata Bridge spans the Golden Horn, a historic inlet that separates the old and new towns of Istanbul. And all along both the horn and the bridge, you'll find dozens of inviting, no-name bars. Find a place to nurse some Turkish specialties: Drink an unfiltered, highly caffeinated "Turkish coffee" (which leaves a thick coating of "mud" in the bottom) or a cup of tea, and suck on a water pipe -- called a nargile (NAHR-gee-leh) -- filled with flavorful dried fruit. As you enjoy your drink and your hookah, be sure to play backgammon with (or at least among) the locals. If you're on the lower level of the bridge, you can look up for a fun view of dozens of fishing rods twitching along the upper railing. Watch your head -- sometimes an amateur fisherman carelessly lets his catch swing under the top deck. And keep an eye out for the flicker of a little silvery fish, thrashing through the air as it's reeled in by a happy predator.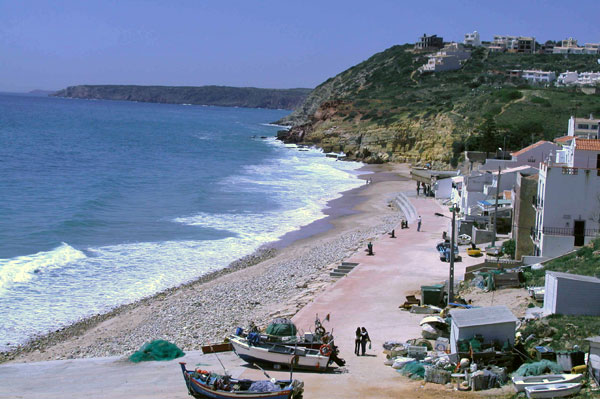 In Salema, Portugal
One bit of old Algarve magic still glitters quietly in the sun -- Salema. It's at the end of a small road just off the main drag between the big city of Lagos and the rugged southwest tip of Europe, Cape Sagres. Quietly discovered by British and German tourists, this simple fishing village has three beachside streets, many restaurants, a few hotels, time-share condos up the road, a couple of bars, English and German menus, a classic beach with a paved promenade, and endless sun. The Atlântico -- noisy, big, busy, and right on the beach -- has long dominated the Salema beach scene. It's known for fun drinks, friendly service, and a wonderful beachside terrace.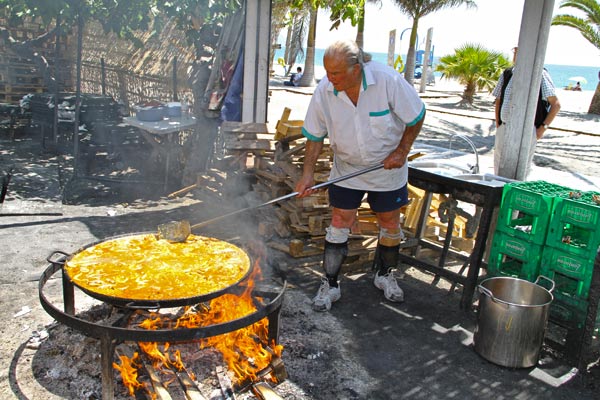 At Burriana Beach, Near Nerja, Spain
Ayo's is famous for its character of an owner and its beachside all-you-can-eat paella feast at lunchtime. For 30 years, Ayo -- a lovable ponytailed bohemian who promises to be here until he dies -- has been feeding locals. Ayo is a very big personality -- one of the five kids who discovered the Caves of Nerja, formerly a well-known athlete, and now someone who makes it a point to hire hard-to-employ people as a community service. The paella fires get stoked up at about noon and continue through mid-afternoon. Grab one of a hundred tables under the canopy next to the rustic, open-fire cooking zone, and enjoy the beach setting in the shade with a jug of sangria. For $7.50, you can fill your plate as many times as you like. It's a 20-minute walk from the Balcony of Europe, at the east end of Burriana Beach -- look for Ayo's rooftop pyramid (daily "sun to sun," paella served only at lunch).
In Villefranche-sur-Mer, France
In the glitzy world of the Riviera, Villefranche-sur-Mer offers travelers an easygoing slice of small-town Mediterranean life. Luxury sailing yachts glisten in the bay -- an inspiration to those lazing along the harborfront to start saving when their trips are over. The Chapel of St. Pierre, decorated by artist Jean Cocteau, is the town's cultural highlight. Le Cosmo Bistrot/Brasserie takes center stage on Place Amélie Pollonnais with a great setting -- a few tables have views to the harbor and to the Cocteau chapel's facade (after some wine, Cocteau pops). Manager Arnaud runs a tight-but-friendly ship and offers well-presented, tasty meals with good wines (I love their red Bandol).
In Conwy, Wales
This Welsh town, watched over by its protective castle, has a particularly charming harbor. Conwy was once a busy slate port (back when much of Europe was roofed with Welsh slate, Conwy was a boomtown). But today the harbor is a laid-back area that locals treat like a town square. On summer evenings, the action is on the quay (pronounced "key"). The scene is mellow, multigenerational, and perfectly Welsh. It's a small town, and everyone is here enjoying the local cuisine -- "chips," ice cream, and beer -- and savoring that great British pastime: torturing little crabs. Facing the harbor, The Liverpool Arms pub was built by a captain who ran a ferry service to Liverpool in the 19th century. Today it remains a salty and characteristic hangout.
In Staithes, England
A ragamuffin village where the boy who became Captain James Cook got his first taste of the sea, Staithes (pronounced "staythz") is a salty jumble of cottages bunny-hopping down a ravine into a tiny harbor. This refreshingly unpretentious town on the North Sea is gloriously stubborn about not wooing tourists. The town has changed little since Captain Cook's days. Seagulls seem to have picked the barren cliffs raw. There's nothing to do but stroll the beach and nurse a harborside beer or ice cream. The Cod and Lobster, overlooking the harbor, has scenic outdoor benches and a cozy living room warmed by a coal fire. In nice weather, the best option is to enjoy a drink, snack, or light meal (i.e., fish-and-chips) sitting at an outdoor table fronting the harbor.
In Solvorn, Norway
Walaker Hotel, a former inn and coach station, has been run by the Walaker family since 1690 (that's a lot of pressure on eighth-generation owner Ole Henrik). The hotel, set right on the Lustrafjord, has a garden perfect for relaxing and, if necessary, even convalescing. In the main house, the halls and living rooms are filled with tradition. (Patriotic hymns sit at the piano.) While great for its accommodations, the hotel also serves dinner and drinks. I love to savor my coffee and dessert on the balcony with a fjordside setting -- mesmerized by Norwegian mountains. Rather than jagged, they're bald and splotchy, with snowfields on top and characteristic cliffs plunging into inky fjords. One night I took my strawberries à la mode onto one such porch and sat there long after my coffee cooled and ice cream melted. After dinner, I strolled through the village enjoying the blond cherubs running barefoot through the stalled twilight. Cobbled lanes led past shiplap houses to rock cliffs -- their gullies and cracks green with trees.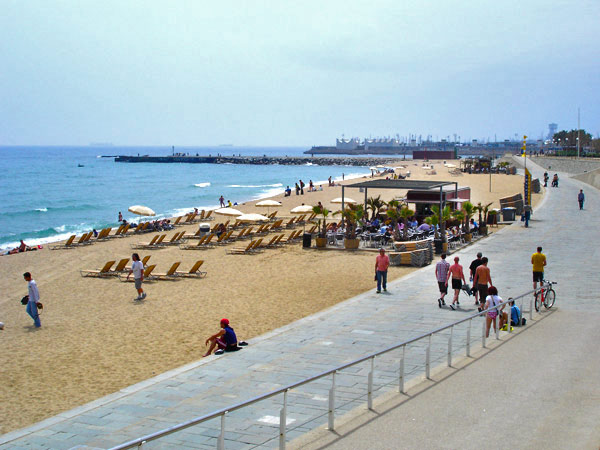 In Barcelona, Catalunya, Spain
Before the 1992 Olympics, Barcelona's waterfront was an industrial wasteland nicknamed the "Catalan Manchester." Not anymore. The industrial zone was demolished and dumped into the sea, while sand was dredged out of the seabed to make the pristine beaches locals enjoy today. The scene is great for sunbathing and for an evening paseo before dinner. It's like a resort island -- complete with lounge chairs, volleyball, showers, bars, WCs, and bike paths. Every 100 yards or so is a chiringuito -- a shack selling drinks and light snacks. Originally these sold seafood, but now they keep locals and tourists well-lubricated. It's a very fun, lively scene on a balmy summer evening. This is a nice way to escape the claustrophobic confines of Barcelona to enjoy some sea air and the day's final sunrays. A double-decker boardwalk runs the length of the beach, with a fine walkway up above. There's a series of great seafood restaurants and cocktail bars with romantic, candlelit, beachfront seating tucked down below.