I'm enjoying my visit to Coimbra. Just an hour from Lisbon, Coimbra is sort of the Oxford or Cambridge of Portugal --the home of its most venerable university. Here are a few colorful slices-of-life that I collected during my latest trip.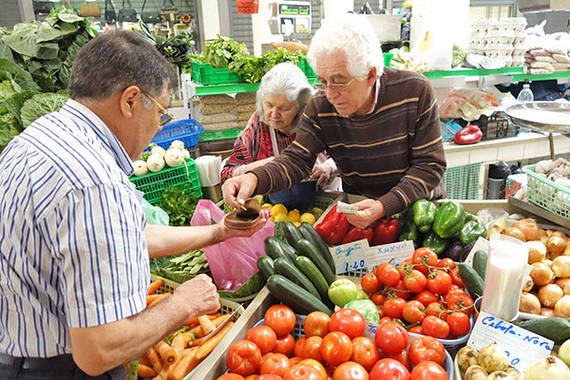 Coimbra Market -- In the EU, but Still Funky
Every city in Europe seems to have a vibrant market where visitors can feel the wrinkled and fragrant pulse of the town. The European Union has asserted itself, raising hygiene standards and, in many cases, messing up a lot of the character. But here in Coimbra, the color and twinkle survives.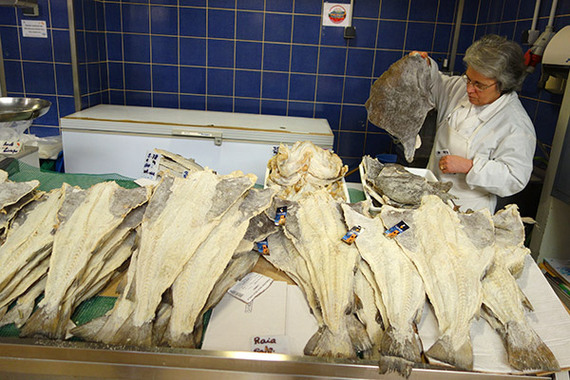 In Cod We Trust
Spain's cuisine is more rustic than France's. And Portuguese cuisine is more rustic than Spain's. But if you like seafood, Portugal is a tasty treat. While fresh seafood is abundant, the Portuguese favor cod -- salted cod, to be specific. Perhaps cod is in their collective DNA from the age when preserved-in-salt cod was the life-sustaining protein sailors filled the bilges of their ships with five centuries ago. Even in our age of refrigeration, and even when their own cod is fished out, the Portuguese continue to import dried and salted cod from Norway, stack it like wood, and -- when it's time to eat it -- soak it and cook it. Frankly, it's just the strangest thing: a nation's primary staple imported from far-away Norway. Here in the Coimbra market, it seems to be sold by the cord.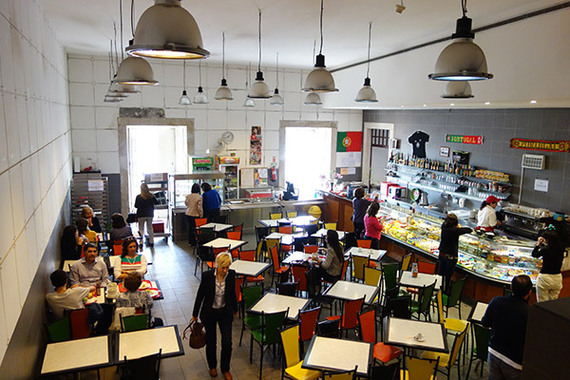 Munchies with the Students at Coimbra's University
When touring any city, it's fun to drop in on the local university. Coimbra's university is the city's leading attraction (with an amazing library and an equally amazing chapel). While visiting universities anywhere, you can generally enjoy the cheapest meals in town -- with the most interesting crowd of fellow diners in town (and, very likely, the locals most likely to speak English well) -- by eating at the university cafeteria. Here in Coimbra, the cafeteria welcomes tourists. During busy times, all seats are taken, and you're likely to find yourself munching with law students or their professors.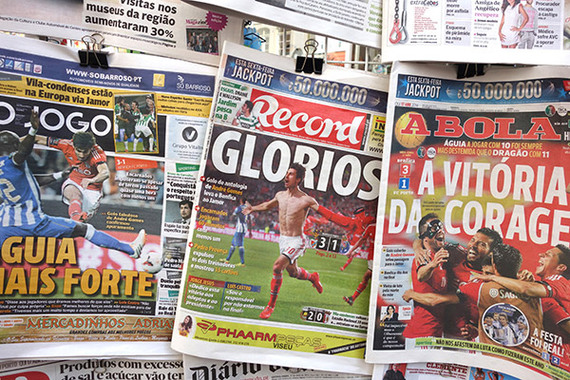 Three Dailies -- All Sports (Football)
I have to admit that with all the world's challenges, I sometimes think sports are a convenient diversion designed to distract the potentially restless masses. Many attribute Europe's ability to avoid wars in the last generations in part to how soccer (or "football," as it's known here) lets a society's working class blow off steam. The newspaper industry may be in turmoil. But at newsstands throughout Portugal, you'll notice there are three daily newspapers...and each is devoted to sports. And when they say "sports," they mean football. Each newspaper features one of the big soccer teams, and many locals marvel at how creatively they struggle to fill each daily edition with "news."