I capped my 2012 travels by finally enjoying a cruise in Alaska. It was a beautiful experience. This eight-part series is my report to you.
Living in Seattle with a view of Puget Sound, every weekend through the summer I watch giant cruise ships lumbering north to Alaska. I was determined that 2012 would be the last year that I would astound people by admitting I'd never been.
When I carved out a week for an Alaskan cruise, I just assumed that I'd be on one of those lumbering ships. But as I struggled with the various one-week itineraries, it occurred to me that, sailing north from the Lower 48, I'd spend too much time getting there and back. And, once in Alaska, the big cruise ships -- with 3,000-plus passengers -- spend more time in cities (letting shoppers shop) and less time with the glaciers and whales. I wanted to experience nature, both intense and intimate. My search quickly shifted to smaller ships, and eventually I booked a week with American Safari Cruises, sailing from Juneau on their good ship Safari Endeavor -- 43 staterooms, 60 passengers, and a crew of 30.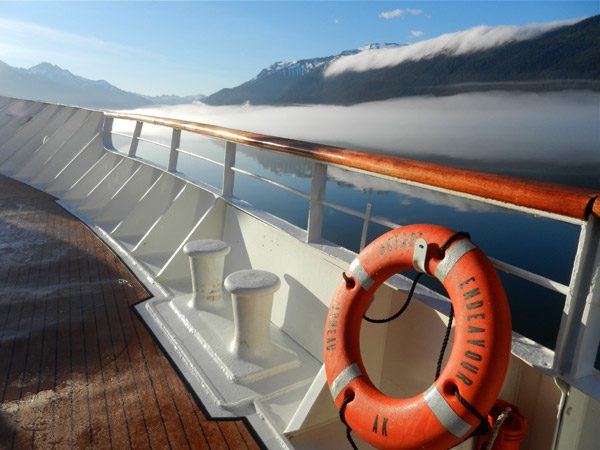 Cruising Alaska. (All photos by Trish Feaster)
Within a few hours of flying from Seattle to Juneau, my travel partner Trish Feaster and I found ourselves on the bridge of the ship with Captain Jill and several of the crew, scanning the sea for wildlife through our binoculars. The Safari Endeavour has a proud "open bridge" tradition -- just knock first, and you're generally welcome to hang out with the captain. As I marveled at the view, the expedition leader told me, "Here, take the captain's seat." I said, "It's not every day you get to sit in the captain's seat."
One of the crew replied, "Actually, yes it is."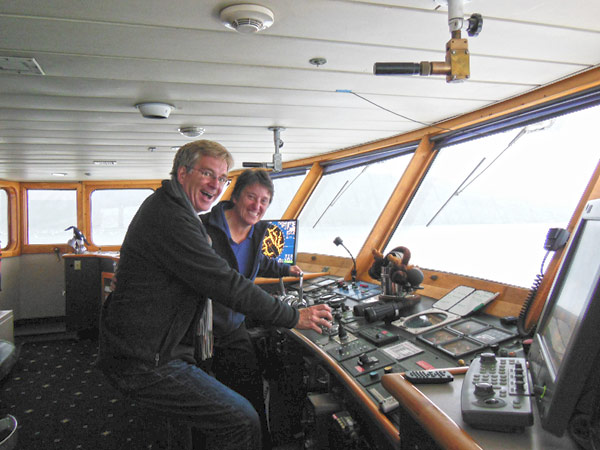 On the bridge with Captain Jill.
While it's on every cruiser's wish list, an Alaska cruise can't promise whales breaching. But when those majestic marine mammals do burst out of the sea and happily skyward, you can bet the call goes out...and everyone's on deck. I went to sleep with visions of breaching whales dancing in my head.
Just after our first sunrise at sea, a voice on our stateroom intercom wakes us up with a cheery, "Good morning. Humpback whales are breaching on the port and starboard." I pull open the curtain and there they blow, right out my window!
Within minutes, we're on the bow deck, coffee mugs and cameras in hand, ready for the action. We're at Point Adolphus in Icy Strait, over a deep trench where two bodies of water converge -- bringing together lots of plankton, which attracts tiny bait fish, which attract whales. (While we're here on vacation, the whales are here to fatten up for their long migration to Hawaii.)
It's a classic Alaska scene: Rays of sun break through the clouds and glint on a single trawler in the distance. Between us and that stately old fishing boat, the glassy sea is alive with leaping whales. It's breakfast time. The gulls, the fishermen on the trawler, and the whales are all out. With whales showing off, the peek-a-boo porpoise and jumping salmon are ignored.
Before doing their leaps, the whales set the water rumbling with repeated slaps of their pectoral fins. Are they stunning fish, sending out sounds to other whales, or just entertaining us sightseers? They slap and slap repeatedly, like a little kid throwing a fit. Then the whale dives, its T-shaped tail (fluke) slipping up high and gracefully -- and then, like a champion diver, out of view.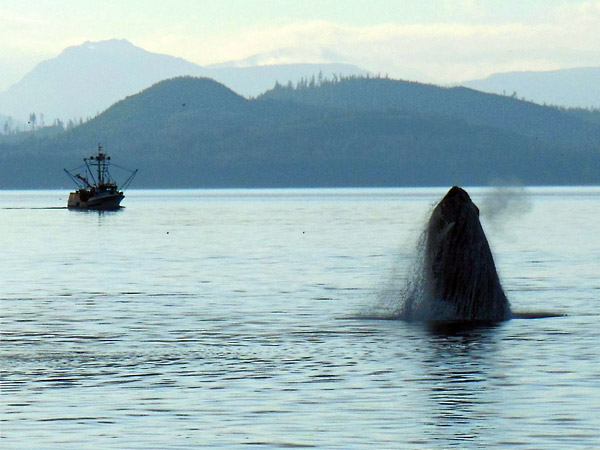 Waking up to a breaching whale.
Three whales spout geysers of water, enlivening the vast Icy Strait like squirting clams enliven a mudflat at low tide. They exhale, like clearing a snorkel in surroundsound. Our guide explains that over countless generations, the nostrils migrated to the top of his head, as that's where the breathing is easiest -- a great example of evolution.
Then, suddenly, as if looking for a partner to chest-bump with, the whale breaches, exploding joyfully out of the water. The motor drives of the fancy cameras all around me seem to clap each time the whale performs.
Marveling at this display of nature provides the same thrill as admiring a room full of Bernini statues -- but here, it all happens in a fleeting glimpse. Culture is what man creates. Nature is God's work. Enjoying and appreciating each is good living.