All over Europe, great cities are adding great new buildings to their skylines. And great cities are taking old industrial zones -- left derelict when shipping moved out to more modern quarters -- and gentrifying them.
I've noticed that what we call "the wrong side of the tracks" is, in Europe, often the wrong side of the river (think London, Rome, Florence, and Sevilla). Amsterdam is digging up its center to build a new north-south subway line which will move much of the transportation clutter across the IJ, a body of water that is neither river nor exactly a lake -- to its (until now) undeveloped North Bank. And this side of the river -- which will get a huge new boost when the new transit hub opens -- is on its way to becoming a smart, new people zone. Free ferries shuttle mostly bikers back and forth from immediately behind Amsterdam's big central train station.
Now when you look over the river you see a striking new building -- the Film Museum on the Ij. Here's my new guidebook listing: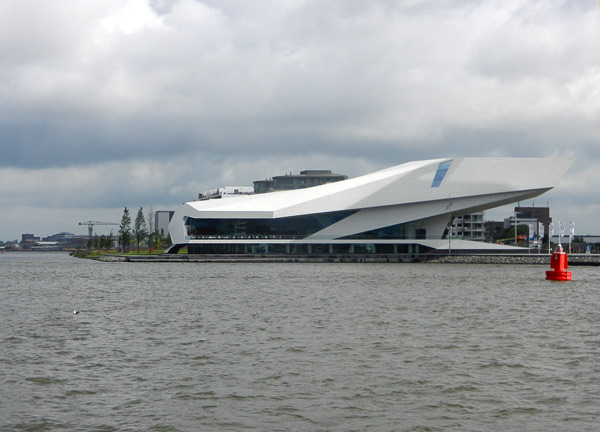 This striking new building on Amsterdam's skyline is a complex of theaters in an edgy structure overlooking the IJ. (IJ is pronounced "eye.") That makes this the Eye on the IJ.
The big news for the skyline of Amsterdam is the arrival of the new Film Museum on the IJ, nicknamed "The Eye." This striking, sleek modern building heralds the coming gentrification of the north side of the IJ, immediately across from Amsterdam's Central Station. The building is a complex of four theaters playing mostly art films with a particular theme that changes throughout the year. There's also a monthly program of silent films with live musical accompaniment and exhibitions on film-related subjects, a free permanent exhibit in the basement, a gift shop, and a trendy café with great riverside seating on its terrace. Helpful attendants at the reception desk can get you oriented (Free entry, movies-€10, exhibit-€10, credit/debit cards only; daily 10:00-24:00, exhibits open daily 11:00-18:00; from behind the Central Train Station catch the free ferry labeled "Buiksloterweg" across the river and walk 200 yards, www.eyefilm.nl).
Correction: This post originally identified the IJ as a river. It isn't a river, not exactly anyway.