I'm here to update my Berlin guidebook chapter and also to scout for a new TV show. The city is as vibrant and exciting as ever. But it's too ripped up for TV. Massive projects combined with massive delays and uncertain funding mean the city will be a construction site for the rest of the decade (at least). That's no problem for a traveler visiting. It's just a huge disappointment for a TV producer who wants to show the city both looking good and appearing as it will in the future. Construction on a new subway line means much of Unter den Linden -- Berlin's main drag -- is torn up. The Humboldt-Forum project and the new entry to the Pergamon Museum will make Berlin's Museum Island a construction zone for years to come. But all of that adds to the zest and energy that makes Berlin one of Europe's hottest destinations. Locals are bragging that it just surpassed Rome as the third most-visited city in Europe.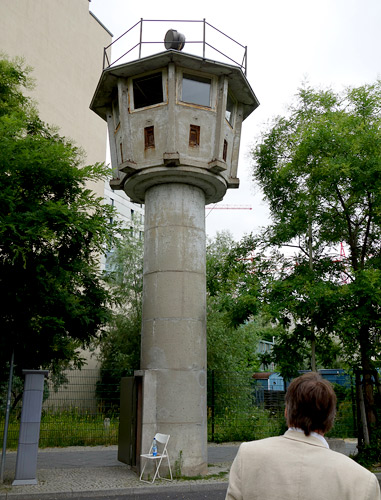 DDR (East German) Watchtower
This was one of many such watchtowers built in 1966 for panoramic surveillance and shooting (note the rifle windows, allowing shots to be fired in 360 degrees -- that's both West and East). It was constantly manned by two guards who were forbidden to get to know each other (no casual chatting) -- so they could effectively guard each other from escaping. This is the last such tower still standing (about a block from Potsdamer Platz, on Erna-Berger-Strasse).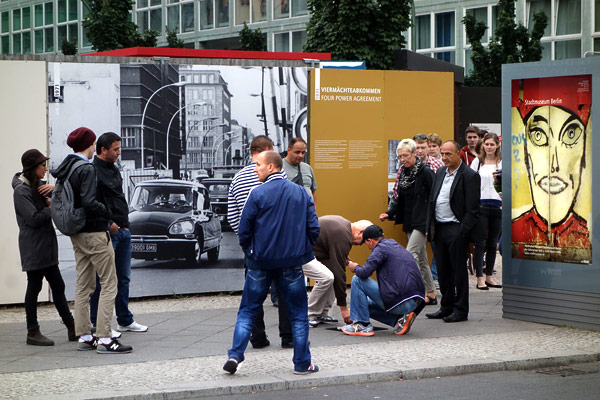 Shell Game
Believe it or not, there are still enough idiots on the street to keep the conmen with their shell games in business. Don't be foolish enough to engage with any gambling on the street. But it's fun to watch. They always have a crew of nervous no-necks posted to keep an eye out for approaching cops -- and for tourists like me photographing them. I had a guy on me within a minute of raising my camera.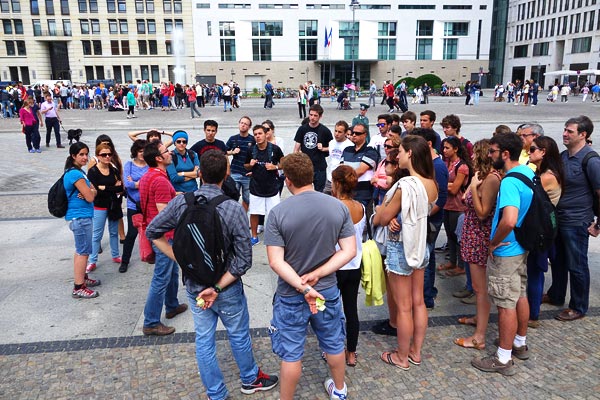 Berlin is the capital of "free" tours
You'll see companies advertising supposedly "free" introductory tours -- which originated in Berlin -- all over Europe these days. They are designed for and popular with students (free is good). The system is about the same everywhere: English-speaking students (often Aussies and Americans) memorize the script, then recite it before a huge crowd lured in by the promise of a free tour. What the customers don't know is that the company actually charges the guide about €3 per person, so the guide has to hustle for tips to make it profitable (and could actually lose money). To make it worth the guide's time, they expect to be "tipped in paper" (€5 minimum per person is encouraged). The "free" intro tour is then used to push other tours that cost. While the guides can be highly entertaining, few are serious historians -- those who'd prefer to go beyond the basic, memorized script typically move on to more serious tour companies before long. These tours are fine for poor students with little interest in real history. But as in many things, when it comes to walking tours, you get what you pay for. What's your experience with these "free" tours?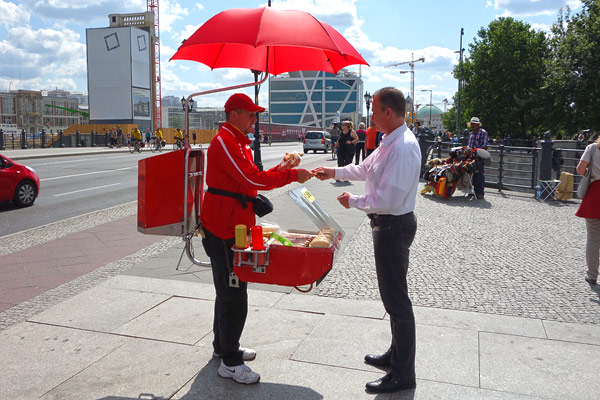 Walking Hot Dog Stands
In Berlin, look for the dueling human hotdog stands. Grillwalkers was the original. Grillrunners is the copycat company. Study the ingenious contraption: a harness to cook and sell tasty German sausages, cheap.