With each television shoot this year, what could have been an easy job became demanding and stretched me to the max because the weather went south on us.
Mentally and physically fried after three weeks of guidebook research and TV production in Paris, I escape the big city, taking the train to the Swiss Alps. (En route, I email my editorial staff back home, saying I'm skipping Interlaken and that they'll have to get someone else to update that city for our Switzerland guidebook. I need that Interlaken time to rest up.)
In Gimmelwald -- a high-altitude village quaint and quiet as an Advent calendar -- I check into the B&B of Olle and Maria Eggimann. Rustic and humble on the outside, perfectly cozy and charming on the inside, it feels made-to-order for the business at hand -- convalescing and recharging.
Parked in my top-story window, gazing out at the village drenched in pristine nature, it occurs to me I'm part of an alpine cliché. I marvel at how the best way to really enjoy the Alps is as a kind of cultural shock treatment -- zipping here directly from Paris.
From my perch, I survey the village. Chocolate log cabins are buttressed by a winter's supply of firewood lovingly stacked all the way to the eaves. Grassy fields radiate a vibrant green, as if plugged into the sun. Feeling part of the village -- standing sturdy yet small under monster mountains -- I marvel as nature puts my world properly in its place.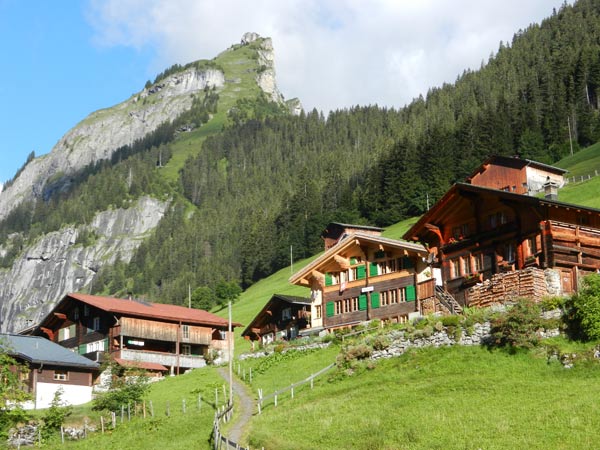 The view from my bedroom in Gimmelwald
Leaving my shoes in the mud room and stepping into Olle's slippers is like leaving my world and entering his. Now it's purely people-to-people -- the essence of travel -- and we talk.
Appreciative of the hospitality I always receive here, I encourage Olle and Maria (as I do with each visit) to come to the States and visit. Maria says, "Now you've asked three times. We say you need three invites from an American before they really mean it. Now that our children are on their own, perhaps we will come."
We talk about their experience as teachers in the village school. In the nearly 20 years they've been teaching here, the worldview gap between village kids and city kids has essentially vanished. A generation ago, village kids had more isolated views. Today they are as worldly as city kids -- but you still know who's who because city kids use umbrellas, while village kids just put up their hoods.
We talk of how running a B&B can try your patience. Olle recalls how one guest came to him distraught that her electronic noisemaker was burned out and wondered if they could loan her one. Olle asked, "What's a noisemaker?" It makes nice sounds like birds and waterfalls so you can go to sleep. The need for such a device had never even occurred to Olle and Maria. We opened the door and stepped out onto the porch to enjoy a pianissimo lullaby of bird call, rushing water, and the calming rustle of leaves in the breeze. The same guests also needed an iron and ironing board, as their clothes were wrinkled. When preparing to go up on the mountain lift to the top of the Schilthorn, they asked how long the ride would be, and then, "Is the gondola car heated?"