Prague is a beautiful, historic, and delightful-to-visit city. And if you, like me, are forever fascinated by slice-of-life stories from people who had to live through the Cold War in the Warsaw Pact, it's even more engaging. Throughout Eastern Europe, guides like my friends who lead me around Prague know how to weave their personal memories of communism into their time with you.
One of my guides talked of the generation gap in the Czech Republic. When she traveled recently to the Grand Canyon National Park in the USA, her older friends asked her excitedly, "What did you bring home?" In the old days, people just fantasized about being able to leave the country to bring home a boom box or a Western camera. To travel just for the experience didn't make any sense to them...and, in some cases, still doesn't.
Another guide reminisced about 1989 and how, with the arrival of freedom and the fall of the Iron Curtain, Russian language teachers suddenly had to teach English. There were no textbooks, and Russian teachers took cram courses in English so they could teach their students sentences like "Deez eez my bruder" ("This is my brother"). The fun thing for schoolkids those first few years was that they knew more English from watching Rambo movies than their teachers did from taking the cram courses.
Another guide talked of how, in her youth, she could only dream of drinking a nice cold Coca-Cola. She said, "We couldn't drink Coke, but we could collect the cans tourists threw away. I had five cans. My friend had ten."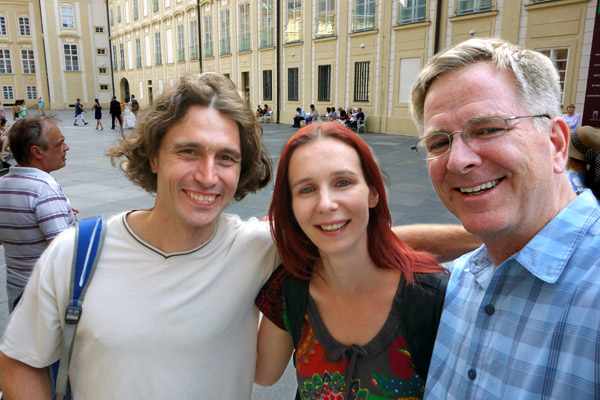 One of our most popular and impactful tours in our Best of Eastern Europe tour. And many of our Eastern Europe guides -- like Honza and Katka, shown here -- come from Prague and are beloved by our groups. Honza Vihan is the co-author of my Prague guidebook, and I'm thankful to collaborate with him. With Honza's on-the-ground, local insights, I'm confident that our book is the best available on the Czech capital.