Flying home, I'm pleased with what we learned and what we have to share. The montage to introduce our one-hour Holy Land special goes like this: "While Jewish Israelis and Muslim Palestinians have overlapping claims and struggle to share it peacefully, this land has a rich and fascinating heritage. We'll visit Jerusalem, considered by both Israelis and Palestinians to be their historic capital; feel the modern pulse of urban Israel; eat and drink with Jews; and follow in the footsteps of Christ. In Palestine, we'll harvest olives; visit a local home; see the Tomb of Abraham; learn to wear a scarf with style; follow pilgrims to the place of Jesus' birth; bob in a very salty sea; hike to an ancient monastery deep in the desert; and feel the energy of an emerging economy. Along the way, we'll learn about walls, settlements, and the challenges facing the region." Reading that again, I can see the vivid images we'll edit together.
While there are no easy answers, actually coming here and experiencing the Holy Land firsthand is the best way to gain context and understanding. Lots of people in the USA seem to think they already know the answers. They've learned about it on TV, or from other Americans.
I remember when I first went on a political trip. It was back in the 1980s, to Nicaragua and El Salvador. Seeing me off, my Dad (suspicious of communism) said, "Don't be duped." Now, after 30 years of satisfying my curiosity about our world and its challenges by traveling and talking to people, it's clear to me: The people most in danger of being duped are those who stay home.
I hope that when our program airs (which we expect to happen in spring of 2014, nationwide on public television), you can enjoy, as we did, "The Holy Land: Israel and Palestine Today." Thanks for following my trip.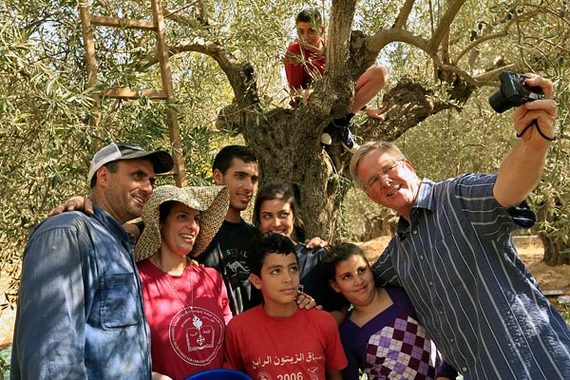 One of my favorite sequences in the program is a montage of clips showing me connecting with various locals. The theme: Good travel is all about meeting people, talking with them, and learning. In the last few weeks, I've learned what Muslims think of Jesus while sitting on a carpet with an imam; talked about raising kids while sipping coffee with Israelis who live in a settlement overlooking the West Bank; and visited with a Palestinian refugee as he clutched the key his parents took with them when their fled their village in 1948, thinking the move would be temporary. I've roasted coffee with a Bedouin, talked with soldiers in guard towers, and gained insight into why a proud and independent young woman would choose to wear a hijab.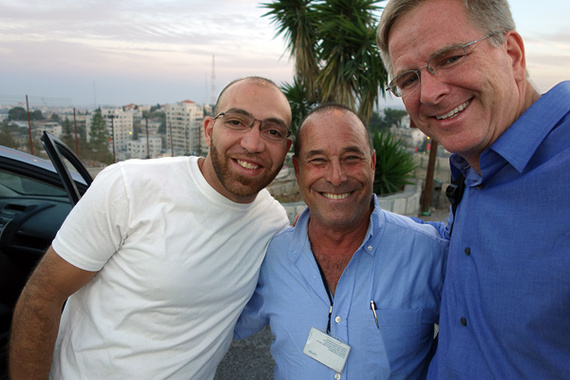 Our guides were hugely helpful both in Israel and in Palestine. If you are traveling to the region and need help, they are all self-employed, licensed, and happy to schedule time with any visitor: Benny Dagan (dagantrl@inter.net.il) and Abie Bresler (center in photo above, abresler@zahav.net.il) work in Israel. And Kamal Mukarker (left in photo above, kamal_mukarker@hotmail.com) and Husam Jubran (hjubranus@yahoo.com) are ready to be your guides in Palestine. Thanks to Benny, Abie, Kamal, and Husam for some great travels.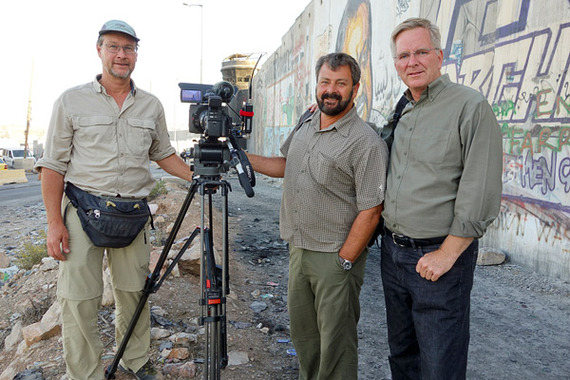 We finished our Holy Land special with this close: "In this land -- so treasured by Jews, Muslims, and Christians -- I'm reminded that the prophets of each of these religions taught us to love our neighbors. And the lessons learned traveling here in in the Holy Land can inspire us all to strive for that ideal. I'm Rick Steves. Keep on traveling. Shalom, Salam, Peace."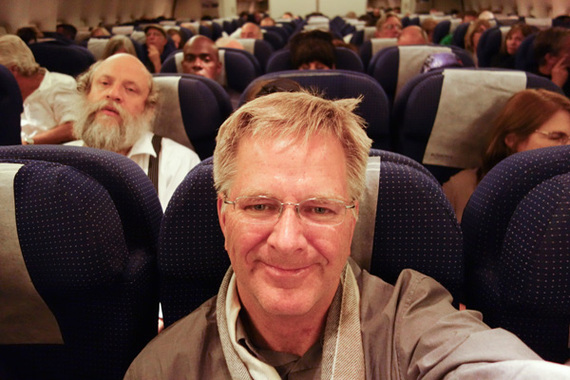 I had a miserable trip...it changed my pre-conceptions. People whose language always sounded to me like terrorists conspiring are actually gentle souls with big challenges. It seems to me there are two sure things: Violence doesn't work, and neither the Jews nor the Palestinians are going to move. The only workable road is one of peaceful co-existence.
To celebrate my homecoming today, I am giving a live, free slideshow lecture at 7pm P.S.T., Thursday, November 21st, in Edmonds, Washington. You can attend in person (registration required)...or watch the live webcast from anywhere in the world (no registration required). Learn more at Rick Steves - Holy Land: Israel and Palestine Today.