I've been thinking lately about how so many people play it safe with their lives. They follow the conventions, avoid making mistakes or taking risks...and end up with precious little to write home about. Meanwhile, free spirits (with or without much money) embrace life, play by their own rules, and chase their dreams -- even when more sober loved ones say, "Get real."
I love being inspired by people who take life by the horns and make it an adventure. There's a perfect storm of that going on in my family right now. During this next week, I'm setting off on my 20 cities in 20 days Road Trip USA (giving lectures in smaller cities from Seattle to Tallahassee -- stay tuned for my reports from the road starting March 3rd), my sister Jan is revving up her pups for the Iditarod dog race (she'll be blogging from the icy tundra), and my niece Nicolina is in Rio de Janeiro, Brazil, inspiring poor kids with her own art-based project.
My work is all about Europe. But more fundamentally, it's about living life with abandon through travel -- whether vacationing in France, road-tripping across the US, combing your love of snow and dogs into a 1,000-mile-long sled race in Alaska, or painting public spaces in South America. So throughout this next month, we'll be featuring a trio of adventures: my road trip updates here on Huffington Post and my sister's and niece's blogs on my website.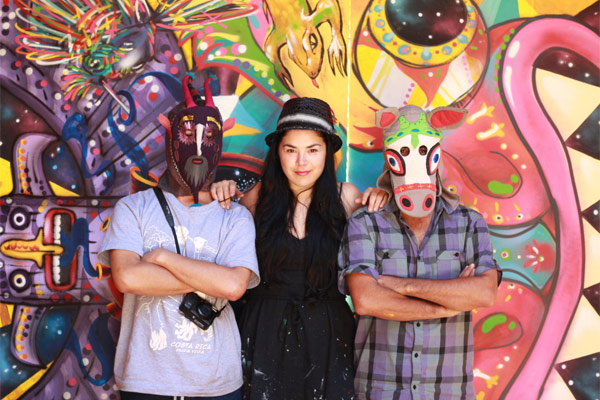 Today, I'd like to introduce you to my niece, Nicolina. She's the far-out, idealistic, nonconformist flower child of our family. A street artist who goes by just one name, she's part of an artistic community in New York City. These days, she's on an open-ended adventure in South America -- creating travel experiences not with guidebooks or tour buses, but with a free spirit, almost no money, and paintbrushes.
Nicolina works with street kids (currently in Rio), providing them with the outlines of anatomically correct hearts and cheering them on as they fill these hearts with their hopes, aspirations, and dreams. It turns out her brainchild is inspiring and empowering for kids who need hope in otherwise very hard and often dreary lives.
Nicolina has agreed to report three times a week on her blog about her "Brazil Through the Back Door" adventure. Click over to ricksteves.com (look for the "Nicolina ART" link on the right side of the homepage) and join me in following the adventures of Nicolina.