I am really into "second cities" these days. For generations, several European Industrial Age powerhouses (Antwerp, Hamburg, Glasgow, Bilbao, and so on) were what we would call "rust belt," as their elegant "first city" counterparts enjoyed the luster of the Information Age. But over the last decade or so, the rust has become an accessory, bohemian can be chic, and places where people once joked "the shirts are sold with the sleeves already rolled up" are in vogue and bursting with creative energy. The obvious example in Portugal is Porto, three hours north of Lisbon by train. Here are some photos from my fascinating time in Portugal's second city.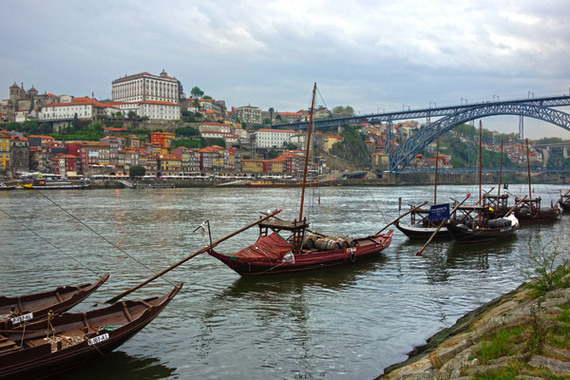 Ribeira View with a Port Buzz Lens
Porto ages happily on the Douro River, along with the most of the world's port wine. The harborfront, called the Ribeira, faces Porto's sister city, Vila Nova de Gaia, just across the river, where traditional boats that hauled the wine to the port lodges for aging and distribution decorate the scene. After visiting a couple of port lodges for a tour and tasting (as is the ritual for visitors to Vila Nova de Gaia), this view across the Douro of Porto's Ribeira looks even better.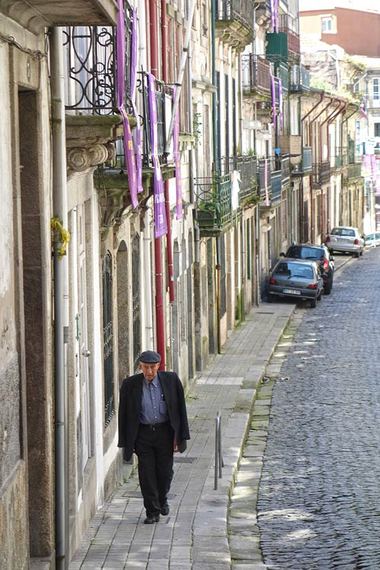 Porto Life Cobbled Together
When exploring the back streets of Porto, depth, light, well-worn people, and once-dazzling facades ferment into a nice glass of port for the eyes.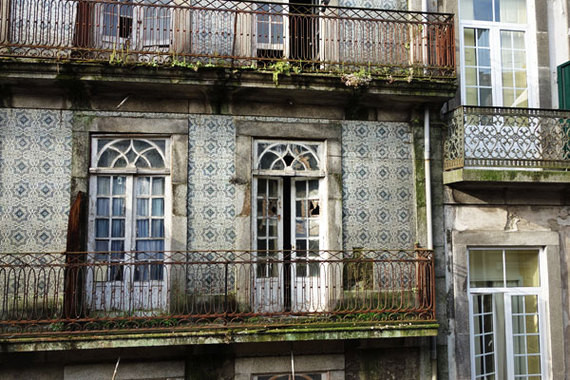 A Room with a View
My choice of hotels, restaurants, cafés, and bars in a city like Porto are places where the patina of the past comes with a little broken glass and rusty edges. Opening the window of my hotel room, I saw a view some would complain about. But this is why I come to Porto. Authenticity and heritage are the swizzle stick of my Porto experience.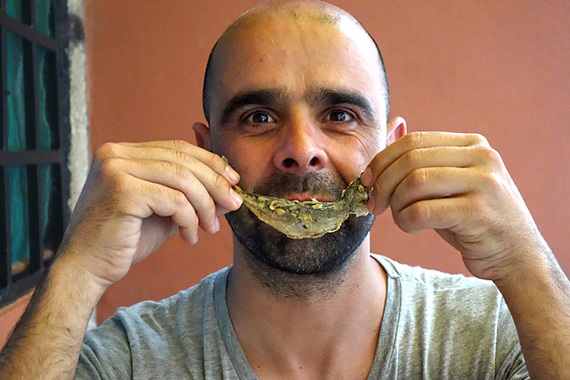 Something Fishy About His Smile
Hardworking tour guides (like Ricardo Brochado) know how to make your stroll through their hometown memorable. Porto is a city with a steady sea breeze, a seagull soundtrack, and sardine smiles.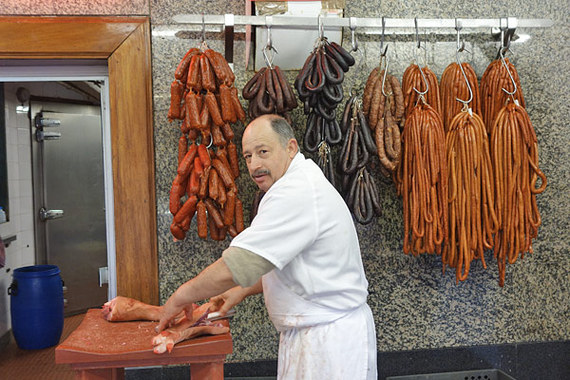 Sausage Man in Porto
Old Industrial Age markets (like Bolhão in Porto) are busy with activity under 19th-century glass-and-steel rooftops. You can be on a diet, but your camera will eat this up -- sausage man and all -- with gusto.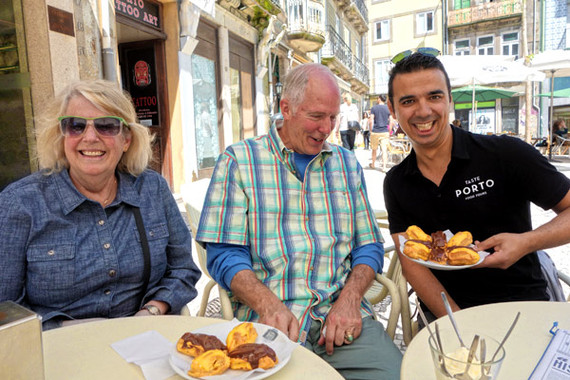 Porto Food Tour -- For an Edible Education
All over Europe, food tours are trendy. They cost between €50 and €100, go at an early lunch or early dinner time, last around three hours, come with over a mile of walking, and include four to eight stops. The style varies: Some are standing and sharing a plate of little bites, while others feature more sit-down dining experiences. All will fill you up, and should be considered a meal as well as a tour, wrapped up in one (making the splurge easier to justify). Here, André of Taste of Porto Food and Wine Tours brings on dessert.