After a week in Israel, it's time to cross into Palestine. My goal is to show Palestine as a place that's exciting and educational to explore. We'll hit the tourist attractions, as well as address the obvious political issues. And, while we want to respect the past and present of this land -- just as we do with any country we make a show about -- we're being careful not to get drawn into big debates or to take sides. Instead, we're aiming for what you might call "dual narrative" journalism: Giving voice to reasonable and rational people from both sides of the thorny issues, to let viewers make up their own minds.
We have decided not to include Gaza in our work. Frankly, I'm not comfortable traveling to that Hamas-controlled area, and wouldn't necessarily recommend it as a "tourist" destination. Instead, our take on Palestine focuses on the West Bank.
Of course, for some ardent supporters of Israel, simply going anywhere in Palestine discredits us. In fact, even using the name "Palestine" will alienate many people. Sadly, these are the people who, I believe, need to travel here the most.
I debated what to title the show. Many conservative Jews and Evangelical Christians, believing this is the land promised to the Jews, use the biblical name "Judea and Samaria." The non-loaded "Palestinian-Occupied West Bank" or "Palestinian Territories" would be the cautious choice. But in recent years, many West Bank leaders are demonstrating a commitment to non-violence and, in some cases, acknowledging that Israel has a right to exist. The United Nations, seemingly swayed by this moderation, recently voted to grant Palestine (with that name) "non-member observer state" status. And I've decided to follow the example of the international community. I am naming our show with a proud and unapologetic "Palestine: Yesterday and Today."
I'm anticipating some turbulence as we produce and air this show. Thankfully, I'm on public television, which provides our nation journalism and media that do not need the blessing of corporate advertising. (It would be extremely difficult to get most American corporations to buy advertising on a program dealing with this fiery issue.) We've never done this before, but we'll include this little disclaimer: "The difficult issues Israelis and Palestinians are grappling with over this contested land are beyond this scope of this travel program. And, I know, just talking about this place upsets some people. But, as a travel writer, I'm OK with that."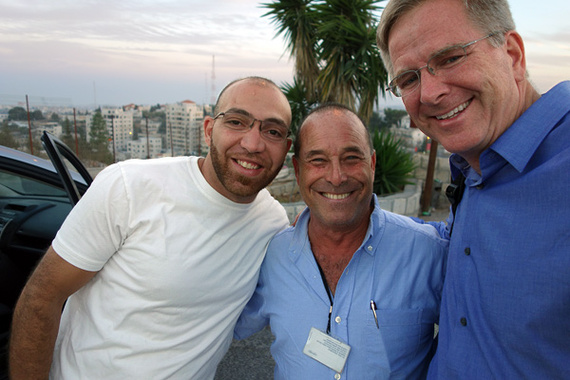 It's difficult for Israelis and Palestinians to connect in any way. Most young people from one side of the divide have no chance to meet their counterparts from the other. They are completely reliant upon media, parents, and schooling to shape their opinion of the young generation of the people they are destined to share their historic homeland with. I enjoyed introducing my Israeli and Palestinian guides to each other at any chance I got. This photo is taken at a restaurant parking lot in a zone in the West Bank under Israeli control. As people with both Israeli and Palestinian license plates can come here, it was a handy place for my Israeli guide, Abie (in the middle), to hand us over to our Palestinian guide, Kamal (on the left). As both of them are interested in "dual narrative" tourism, they swapped cards. (After our show airs, I plan to feature a page on my website to promote the work of all our guide friends. And at the end of this series of postings, I'll list the contact info for all of our guides.)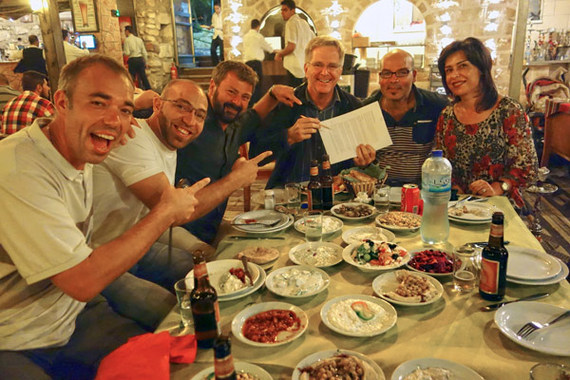 Just as on my scouting visit in April, our first night was in Bethlehem's wonderful Tent Restaurant. All the players gathered: my crew (producer Simon Griffith and cameramen Karel Bauer and Dean Cannon), our two Palestinian guides (Kamal Murkurkur and Husam Jubran), and officials from the Palestinian tourist ministry (who were supportive of our work even though they had no budget to cover any of our expenses other than to provide a car). Waving the script while drinking a Palestinian beer, we were all jazzed for an adventure. (By the way, while Muslims don't drink alcohol, Taybeh is a Christian-owned brewery and Kamal is a Christian Palestinian. Husam, a Muslim, prefers to suck on his hookah.)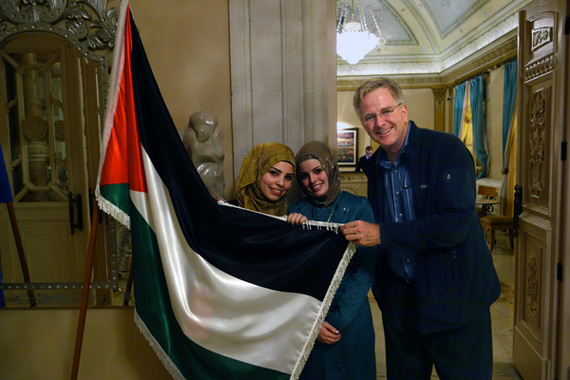 Palestine is a poor country, and the main activity is going out to eat dinner, to sip a fancy fruit juice or coffee, or to suck a hookah. While there's no waterfront for family outings in the West Bank, hotels have swimming pools that are popular. And for fancy events or family festivals, former palaces survive today as hotels (like this Sheraton Hotel) to provide a nice venue. These beautifully attired women were happy to pose with an American next to their country's flag.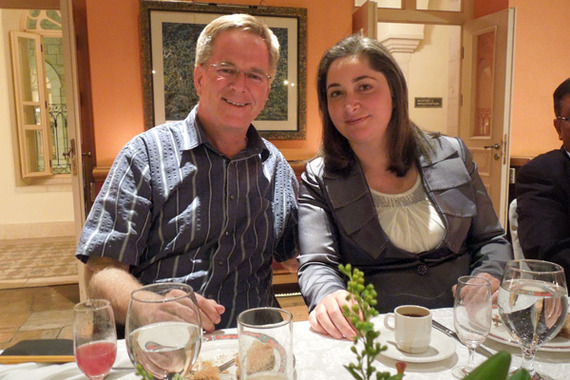 My dinner with Rula Ma'ayah, the Palestinian Minister of Tourism -- a smart, earnest, and hardworking young Christian Palestinian woman -- was full of insights. When she arrived, everyone lavished attention on her, referring to her as "her excellency." It was interesting to spend an evening with a cabinet minister of a little country whose job was tourism, but whose work was so full of political considerations. The conversation was even better than the food. Rula told us fun anecdotes about being President Obama's private guide during his recent visit and being all alone with him and Palestinian President Mahmoud Abbas at the Church of the Nativity (on the site where Jesus was born). Although instructed not to be political, she chose a political bit of scripture to read...and got a discreet thumb's-up and a wink. During our visit, Rula was on a torrid schedule. She was off to Malaysia the next morning, as promoting tourism from Muslim states is most productive for Palestine. She explained one of her big challenges: Israel allows Palestine to have no airport, and residents of Muslim countries that don't recognize Israel can't fly into Tel Aviv's Ben Gurion airport (just an hour's taxi ride to most major Palestinian cities), so most visitors must fly into Amman in Jordan. But the Israeli-controlled border between Jordan and Palestine (near Jericho) routinely shuts down without warning and for no apparent reason. This means that Muslims from the outside world find it next to impossible to make plans to attend any meeting, event, or convention within Palestine.