I was just at the NAFSA: Association of International Educators convention in Houston -- a gathering of 8,000 university administrators, teachers, and advisors who coordinate the foreign study industry in the U.S. (both for inbound foreigners, and for Americans going out to the rest of the world). I enjoyed the honor of giving a 90-minute plenary talk to a huge and packed auditorium, sharing my take on the importance and value of foreign study -- now more than ever.
That experience -- combined with my recent 20-cities-in-20-days road trip, and my upcoming commencement address at the Evergreen State College in Olympia, Washington -- has connected me with the excitement of exposing the next generation to the wonders, complexities, and challenges of our world firsthand.
One thing I always encourage young travelers to do is to keep a journal. Along with writing countless postcards (which were ultimately gathered together to make running accounts of my early travels), I diligently filled "empty books" with 200 pages of tiny handwriting from each of my first ten adventures in Europe and Asia. These days, kids blog. My kids, Andy and Jackie, have each enjoyed blogging, as has my niece, Nicolina, on her recent street art mission in Brazil.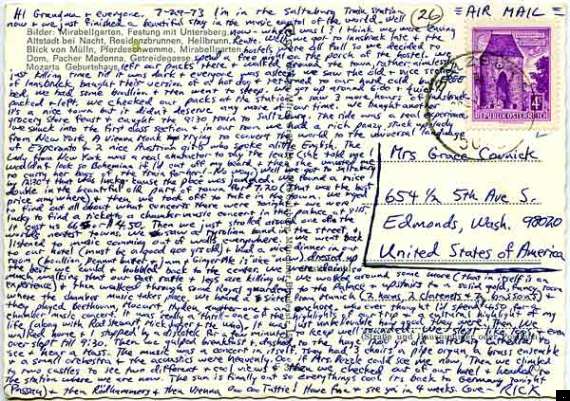 At age 18, I wrote this postcard to my grandmother from Salzburg. Austrian beer halls were filled with one-legged reminders of WWII, Franco ruled in Spain, it took about nine hours to travel from London to Paris, bars were filled with smoke, pizzerias were considered ethnic restaurants in northern Italy, a two-month Eurail pass cost about $200, travelers would gather at AmExCo offices to share information and collect mail from loved ones back home, and cell phones, euros, and ATMs were unknown. But the magic of European travel was the same then as it is today.
During my March lecture tour, I met John Paul Gairhan, a 15-year-old in Conway, Arkansas, who was excited to be planning his first European adventure. John just began his trip, and following his blog reminds me of the thrilling mix of fun, fear, and fantasy of my first trip at his age. I promised John if he shared an insider's look at the thrill of a 15-year-old kid from Arkansas enjoying Europe for his first time, I'd send him lots of readers. So travel along with John on his blog.
Another highlight of my lecture tour was in Omaha, where I was ambushed by an enthusiastic band of high-school German students. I just received this email from their teacher:
Hi Rick,

I'm the German teacher at Millard North High School you met here in Omaha. I wanted to thank you again for all that you do. When I was in college, your travel books and videos were an extremely positive influence on me and how I organized my trips to Europe. More importantly, I was inspired by and followed your advice that wise travelers remove as many barriers as possible between themselves and the culture they came to visit.

Outside of the classroom, I don't think there's any better way to educate oneself but through travel. I became a German teacher just in the past year and I do my best to teach my students not only an appreciation for other cultures but also a strong wanderlust. I want them to see life as an adventure for which they must boldly write their own personal script.

Throughout the year, we've used your videos on Germany, Austria & Switzerland as a teaching tool. In fact, you've achieved a quasi-cult status amongst my students. I invited my students to attend your lecture here last March and thirty showed up. Although they were a bit raucous at times, you were kind enough to invite us all on stage for this photograph. Thanks again for coming to Omaha and speaking to our community.

Best Regards,

Jason Pitt and the German language students of Millard North High School
View image
Backstage in Omaha in March, I met this gang of high-school German students, who have a lifetime of travel adventures ahead of them.