My son, Andy Steves, runs his own tour company. His mission: to help American students in foreign study programs enjoy smart, experiential, and inexpensive three-day weekends. The students never have classes on Friday, and discount airlines make it easy to fly just about anywhere for $50 round-trip. So, Andy's company, Weekend Student Adventures, offers €200 three-day tours all over Europe. He's taken literally thousands of students on great trips in the past few years...to rave reviews.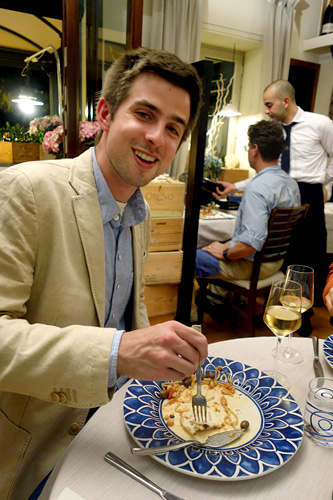 My son, Andy, spends more time than I do in Europe. But we rarely connect because his tours run during the school year and I'm normally in Europe in the summer. However, Andy just finished his tour season and was able to drop by and hang out with the crew and me while we filmed for four days on Italy's Cinque Terre. Though Andy had other things to do during the day, each evening he managed to show up...just in time for dinner. I was happy to have Andy dining with us for two nice meals on camera for this episode.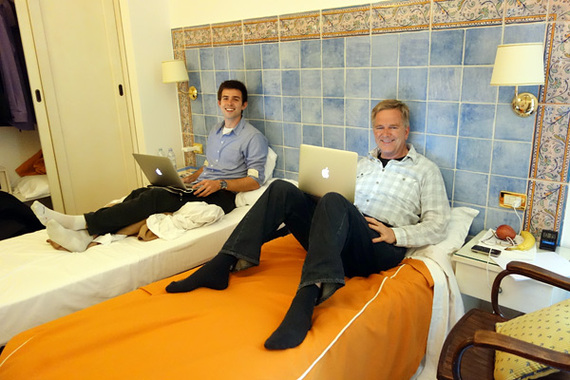 Andy has become a workaholic tour organizer...just like his Dad. Well, not quite as bad. But this moment, with both of us on our beds and hard at work on our laptops, with the wonder of the Riviera just a block away, struck me as interesting.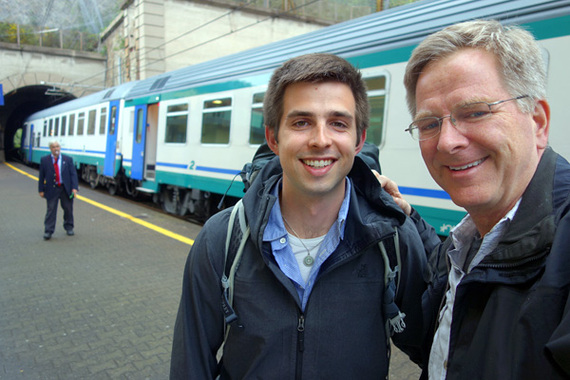 Seeing Andy off at the Monterosso train station was really fun -- and tear-jerkingly beautiful for his proud Dad. Andy is an amazing traveler who, I'm sure, knows his angle on European travel better than anyone.