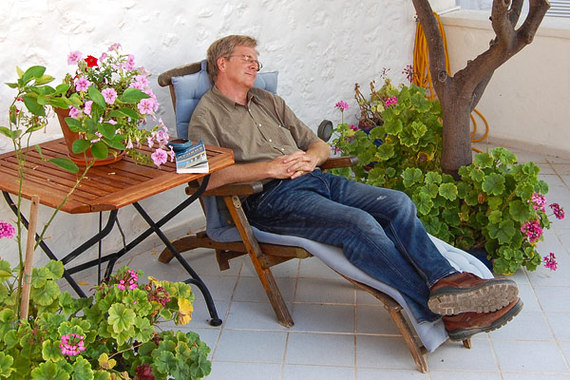 With the holidays behind us, now I set my sights on my 2014 travel dreams. Year after year, my major fault is trying to pack too much into my itinerary. This year, I'm determined to let a little R&R elbow its way into the mix. This photo captures a magic memory of doing absolutely nothing recently on a Greek island. I'll be sure to sweeten the 2014 mix with a little of that, along with lots of sightseeing thrills.

When it comes to traveling -- for me, at least -- every year creates a hard act to follow. As a young writer back in the 70s, I declared, "You can never exhaust Europe of what it has to offer." For more than 30 summers, I've been lucky to live that statement, and I'm thankful it's still so true.

In 2012, my focus was on Europe's blockbuster cities. That year, we produced 10 TV shows that pulled together the best of London, Paris, Venice, Florence and Rome. This past year, 2013, had me more on the fringes. While I enjoyed plenty of Italy, Spain, and France, I also got to broaden my field of vision with adventures in Egypt, Israel, Palestine, Russia, Scotland, and Iceland.

It's a tradition for me to start my planning by sitting down with our annual tour catalog. It's filled not only with three dozen "best of" itineraries, but also gorgeous photos of my favorite destinations and the smiling faces of our travelers embracing the good life on the road. It's a print version of window-shopping... or what Parisian shoppers call "window-licking." Paging through it, I enjoy great memories of 25 years of leading these exciting tours, and I get to try on the best European vacations I can imagine. (You can request your own copy.)

I'm tempted by Portugal's mix of hardscrabble cities, sweet port wine, inviting cobbles, wistful blue tiles, and weather-beaten faces. The people and places of Eastern Europe beckon, with a charm and confidence that happily knocks their tumultuous 20th century firmly into the past. Sicily, the island that cranks up Italy's playful chaos to a cultural torrent, is high on my list, too: I dream of being back in the markets of Palermo, savoring a montage of singing merchants, feisty old widows in black who gossip with little more than winks and hand gestures, and a cuisine that seems to say, "We Sicilians may be conquered time after time, but eating well is the best revenge."

While my wanderlust is pulling me in lots of directions, I also need to factor in my workload (poor me). I'll need to spend several weeks with my TV crew, producing six new shows: Amsterdam and the Netherlands, Prague, Berlin, and Italy's Veneto and Cinque Terre. I'll research guidebook chapters from Helsinki to Carcassonne. And, each year, I get to join a Rick Steves tour -- not as a guide (been there, done that), but as a tour member. While I'm tempted by so many of our tour itineraries, I'm really leaning toward the tour I used to lead 'round and 'round each summer back in the 1980s: our classic Best of Europe in 21 Days tour.

All these choices are so much fun! Where will your travel dreams take you in 2014?