I'm midway through my Road Trip USA 2013. In the last week, I've been pretty busy. I've given talks in Gaithersburg, Maryland (retirement community); Washington DC (travel show); Newark, Delaware (University of Delaware); Salem, Virginia (Roanoke College); Charlotte, North Carolina (World Affairs Council); and Urbana, Illinois (WILL Public Media, at University of Illinois). Next up is Westerville Public Library near Columbus, Ohio.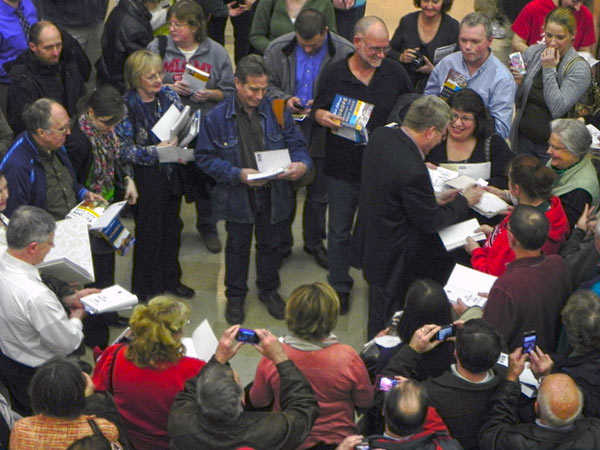 Travelers gather outside Rick's talk to get a guidebook autographed.
The trip began in Washington, DC, where Keith Stickelmaier, my assistant and driver, picked up our trusty Chevy Suburban. Each day Keith (a guide and tour salesperson from our office) decides how many hours we'll be on the road to determine our "wheels up" time. After driving an average of five hours, we check in to our hotel and report for duty with whoever's hosting us. Our Garmin GPS unit is amazing in determining, to within a couple of minutes, what time we'll arrive in each destination. We're playing it kind of close, but each day Keith (and his sidekick, Garmin) gets us there right on time. And each day comes with about six hours of public time -- meet-and-greet with VIPs, giving talks, recording pledge drives at the local TV station, and so on.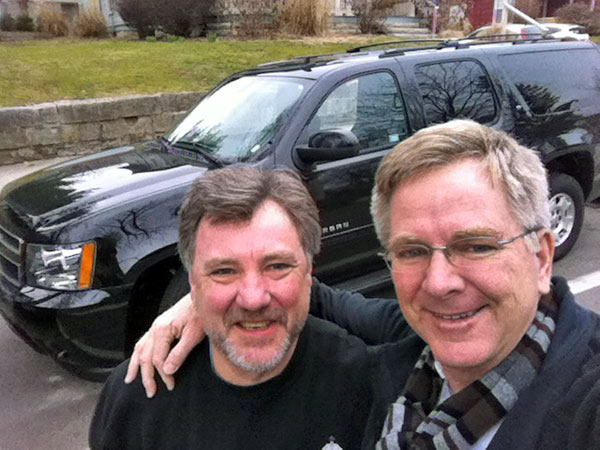 Keith and Rick
I can maintain that pace fine, but this morning I hosted a breakfast in Urbana with 70 big supporters of that community's public TV station...and I remembered how grumpy I am before my coffee kicks in.
To pass some of the time between Indianapolis and Columbus, I collected these memories of the trip so far:
After a delightful evening at the University of Delaware, in what locals proudly remind me is our nation's first state, our serious drive began. Stopping for a few minutes in Harper's Ferry, West Virginia, we got a dose of this area's rich history (especially from the Civil War era)...and how little time we have to dawdle. But we enjoyed the scenery of the gorgeous Shenandoah Valley en route to Roanoke College, in western Virginia.
Roanoke is a classic little 2,100-student liberal arts college with an enthusiasm for lacrosse and a Lutheran heritage. Because the evening talk filled up as soon as it was announced, I offered to give a second talk -- which I gave immediately after checking in to the haunted old guest mansion (Monterey House) that stands on campus. The school leaders are determined to keep their Lutheran heritage alive, and -- as a Lutheran -- I think that's one reason I was invited. At the VIP dinner, I was asked which theologian I've read that had the biggest impact on my thinking. That reminded me I need to do a little more reading.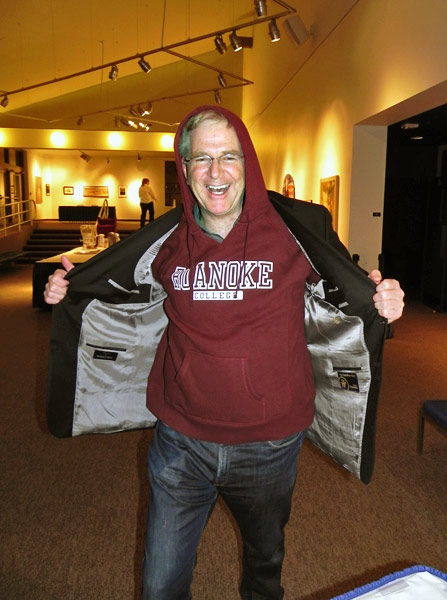 I got a nice thank-you sweatshirt -- my first hoodie -- at Roanoke College in Salem, Virginia.
The next morning, we drove to the southernmost stop on our tour: Charlotte, North Carolina. I requested a quick city tour upon arrival, and our guide, a very blond woman in a very white Hummer, picked us up for a wonderful two-hour loop through town. Charlotte, named for the queen of King George III, has a history going back before Revolutionary times. The highlight: visiting a small plantation at the edge of town for a fun peek at life back in the days of "The Unpleasantness" (as the Civil War was called in Dixie), when people routinely "fetched" things.
At my talk that evening in Charlotte, I was introduced as many things (including a divorcee), and my host requested that I not talk about marijuana. I love giving my talk to an audience where I'm not preaching to the choir. Over the 90 minutes of my lecture, I keep an eye on the body language of the men with arms crossed tightly across their chests, dragged there by their artsy spouses. As instructed, I didn't talk about drug reform. But the first question in the Q&A section was, "I understand you were a leader in the movement to legalize pot in Washington State. How is that going since the election?" Thinking it would be worse to say, "I've been instructed not to talk about drugs," I had no choice but to answer the question.
The low point for me that evening was mistakenly calling Charlotte "Savannah." Now I know how a confused politician feels, after that little blooper.
We had about 12 hours of driving time from Charlotte to our next stop, in central Illinois. After signing the last autograph in Charlotte, we set out for the Great Smoky Mountains and into Daniel Boone country. I couldn't stop singing "Daniel Boone was a man, yes a beeeeg man..." But I quickly realized, with some embarrassment, that I only knew the words of a racist variation I heard around the schoolyard in the 1960s.
After finding a sleepy little hotel in the wee hours, we grabbed some shuteye and carried on at sunrise. Emerging from the Smokies, we grabbed a great breakfast at a Waffle House and felt like real tourists, getting all excited about grits. "What do you put on this stuff?"
The day was spent driving -- nine hours to central Illinois through five states. Coming from the "Evergreen State," I couldn't help but notice that all the forests here are deciduous. In the winter, the bird nests are so easy to spot. What a drag for a little mother bird to make a nest for her babies hiding out in the leaves... and suddenly the trees are naked and any big predator can see them easily.
Each time we crossed a big river, I thought how it must have been strategic in colonial days, Daniel Boone days, and Civil War days -- but, unlike in Europe, they don't always have a road sign telling you which river it is.
At each off-ramp, I noticed a forest of colorful logos of eateries and gas stations boosted high in the sky -- like fish lures on stilts -- trying to catch drivers as they motor by. We passed a lonely sex mall called "Adult World XXX" in the middle of nowhere, whose neighbor had erected a 50-foot tall white cross to shame people dropping by for some dirty video entertainment.
Our routine: Subway sandwiches: Healthy and fast, a long one wrapped in two separate halves provides two meals for $8. As Keith drives, I keep up with office work, thankful for my little "Mi-Fi" gadget that lets me be online from the car. My writing project for this trip: organizing five years of Facebook/blog entries into a new book. I'm enjoying the amazing travel memories that shuffling through all this writing rekindles.
Thirty minutes before our first gig at the University of Illinois, we pulled into Urbana -- a town one local bragged is "uniquely un-unique." Actually, I thoroughly enjoyed a tuned-in and enthusiastic crowd of travelers who gathered to hear my talk and support their public TV and radio station, WILL, at the same time. I've been on WILL TV for 20 years. My last visit here was 15 years ago, for a pledge event. Seven years ago, when I started my radio program (which is now carried by over 200 stations), Urbana's WILL was the third station to pick me up. For that, I am grateful.
Coming up: Bloomington, Indiana (WTIU); St. Louis (KETC), where I say goodbye to Keith and start flying; Burlington, Vermont; Portsmouth, New Hampshire; a quick stop at WGBH in Boston; Cleveland; and Chicago to talk at the Rockford Public Library...before heading home to pack for Egypt.
At each stop, the wonderful people who host me wish us "safe travels" as we head out. I wish they'd just say "happy travels."