Orvieto is one of the most striking, memorable, and enjoyable hill towns in central Italy. And part of the charm is arriving by train or car (parking in the big, free lot just beyond the train station) and joining the locals to climb the town's natural fortress hill on a slick funicular. As you step out of the funicular station up top, like clockwork, the hardworking little bus A meets you and zips you deep into town (covered by the same ticket), depositing you right in front of my favorite Gothic cathedral in Italy. From there, you are in a delightful, perfectly preserved, and virtually traffic-free world -- within steps of great hotels, restaurants, and museums... not to mention a chapel slathered with dramatic Signorelli frescoes.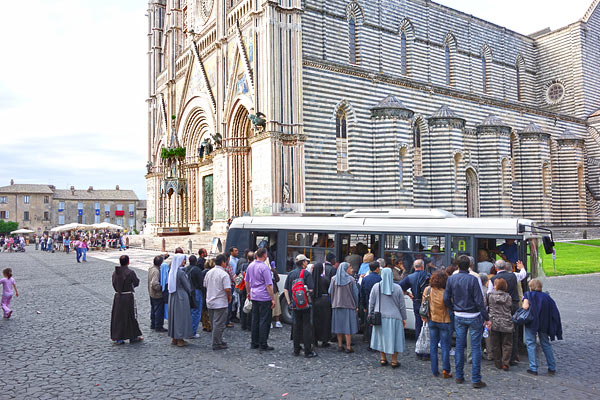 All day long, this bus shuttles loads of visitors enthusiastic about eating, sleeping, shopping, and sightseeing in Orvieto. There are lots of other great hill towns in Umbria and Tuscany, but none of them provides such a thoughtful welcome to the tourists who stoke the local economy.
But now, sadly, in a misguided attempt to cut costs, the town council of Orvieto is about to drop the handy shuttle bus from the funicular to Piazza del Duomo. By cancelling Bus A, they're condemning those arriving in Orvieto to either take a long walk through town with luggage, or take their chances with expensive taxis.
I've never done this before, but I'd like to ask anyone who has enjoyed Orvieto's "Bus A Welcome" to email any or all of the city officials here and briefly explain why you appreciate Bus A, and why canceling it would be a sad move for Orvieto. Thanks.
Orvieto Mayor: sindaco@comune.orvieto.tr.it
Orvieto Councilor of Transportation: g.luciani@comune.orvieto.tr.it
Orvieto Councilor of Culture: m.marino@comune.orvieto.tr.it