Trish and I went through the formalities on our ship so we could leave it in St. Petersburg, before the cruise ended in Copenhagen. We then caught a taxi at the terminal (fixed price, paid in advance at a booth in the terminal, at probably double the metered rate -- but at $30 for a 30-minute ride, I was satisfied), and went to my friend's apartment. Here are various images, experiences, and tips I'd like to share from our time in St. Petersburg. Photos by Trish Feaster, The Travelphile.com.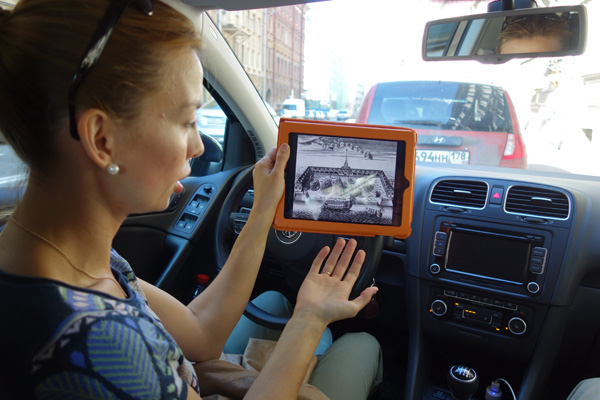 Enjoying four different private guides in four days, I experienced St. Petersburg as a city filled with discovery and meaning. With our first guide we walked...everywhere. St. Petersburg is exhausting on foot. This guide, Natalya, made sightseeing easy and instructive with a car and an iPad.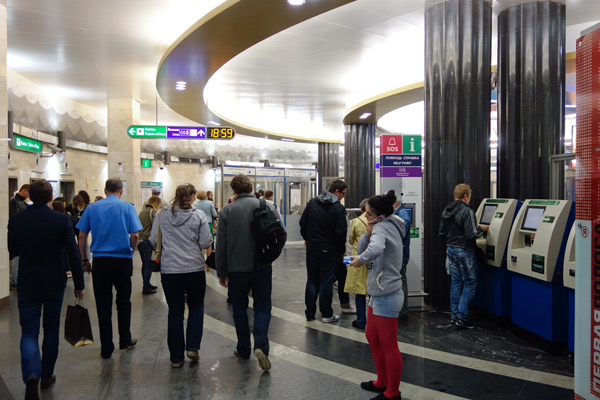 While distances can be great in St. Petersburg, I refashioned our guidebook chapter to feature sights based on subway stops. The subway in this city is a sight in itself. It is cheap, easy, and a fire hose of a people-mover.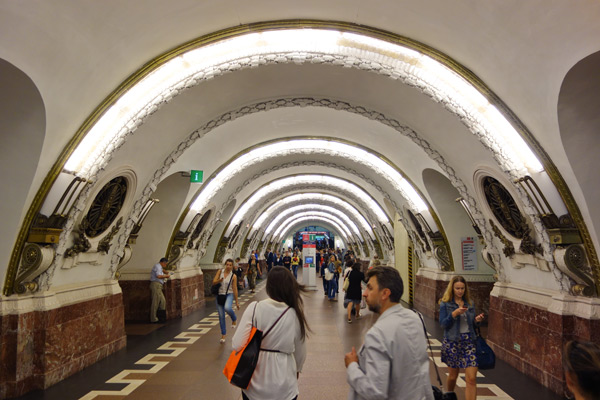 St. Petersburg's subway system, like Moscow's, is vast and treats commuters like VIPs with grand and stylish-in-Soviet-times halls like this. The system gives St. Petersburg a magnificent infrastructure that will move its workforce until the end of time.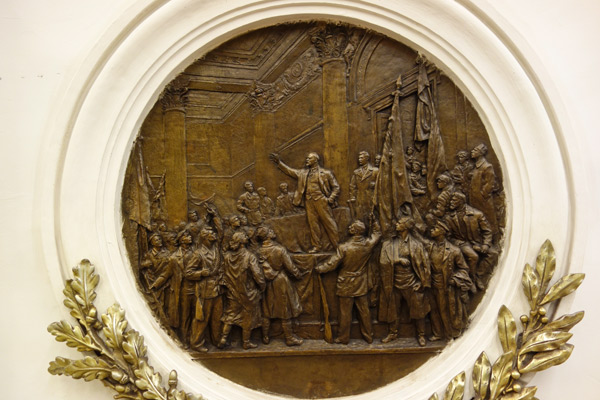 As the subway system was a triumph of the former Soviet Union, halls are decorated with Socialist Realism art like this bronze relief. Today, while the hammer and sickle are out of style, these souvenirs of the USSR era are kept as part of the culture's heritage. This particular scene shows Lenin stirring up his masses with his right-hand (hench)man, Joseph Stalin, standing dutifully behind him. After Stalin died in 1953, he was purged from Soviet society, so this is a rare image of him that you can still see in public today.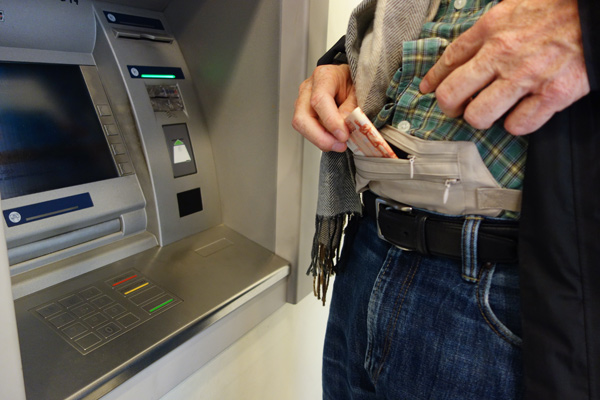 Russia is a dangerous place for your valuables. Throughout Europe, fast-fingered thieves can nip your valuables without you even knowing it. In Russia, the thieves are not so subtle -- when they hit, you'll know it. Being ripped-off here is somewhere between a pickpocketing and a mugging. Tourists can be targeted. While I don't always wear my money belt these days (shhh, that's a secret), I wore it in Russia.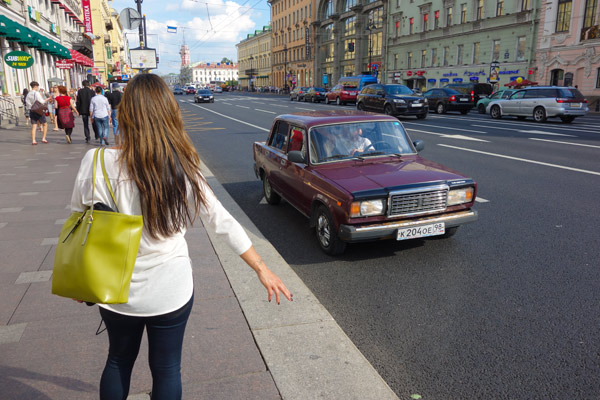 While probably not advisable for most travelers, locals take full advantage of St. Petersburg's "unofficial" taxi system. Getting a ride is like fishing. You look for an old beater car (usually a Soviet-era Lada) driven by a man (usually a Central Asian), and hold out your hand. He'll stop and you negotiate a price. Locals will pay 100 rubles ($3.50) and tourists will be lucky to get a ride for 200 rubles ($7). Hop in and pray you get to the place you agreed to be taken. We did this routinely with our local guides and I got pretty good at spotting beat-up Ladas driven by Uzbeks, saving us piles of walking. While hopping into a Lada on one occasion, I told my guide, "This is a good system." He corrected me, saying, "No, this is a good lack of a system."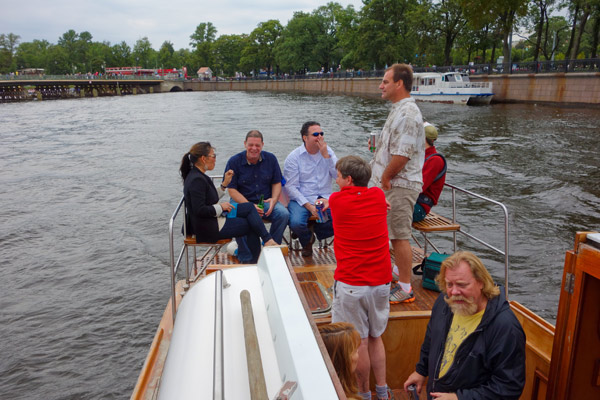 As my host was an ex-pat, we hung out with his circle of friends -- a fascinating, hard-core ex-pat group -- most of whom had been in St. Petersburg for 15 to 20 years and had seen lots of changes. It was fascinating to learn from them why they chose to live here, how things had changed, and how to work the system like locals. One ex-pat ran the Irish bar in town and owned a boat, which provided perhaps the group's favorite diversion. To just motor around the Neva River and enjoy the city's low and horizontal, Neoclassical skyline was a delight.