Here, high in the Swiss Alps in the village of Gimmelwald, I've learned to smell hay in a whole new way while investigating the traditional lifestyles and livelihoods surviving in Europe. Climbing through steep fields of freshly cut hay on a sunny late afternoon and getting to know a local farmer who climbs up and down all day without breathing heavily, gave a new dimension to a Swiss alpine village I've been visiting for over 30 years.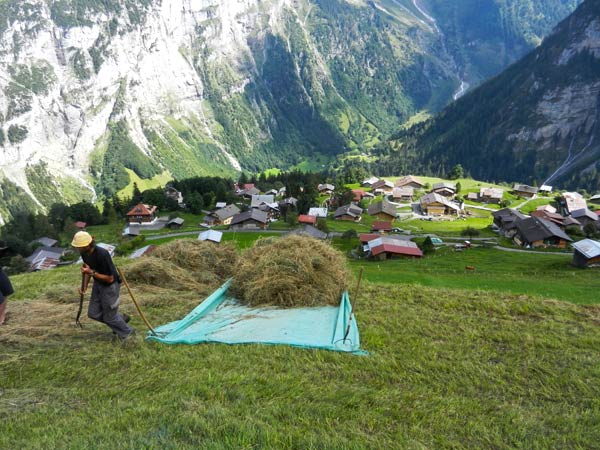 Farmer Peter piles hay onto a tarp tacked to the steep hillside by two pitchforks. The village of Gimmelwald was never developed like neighboring towns because its residents made sure it got rated "avalanche zone," so developers couldn't get building permits. Consequently, the town's buildings are generally inhabited by locals all year long, while buildings in nearby towns (like Wengen and Grindelwald) are owned mostly by wealthy big-city folks who come by just a couple of weeks a year. The consequence: There's no real community in the resort towns, while Gimmelwald feels lived-in.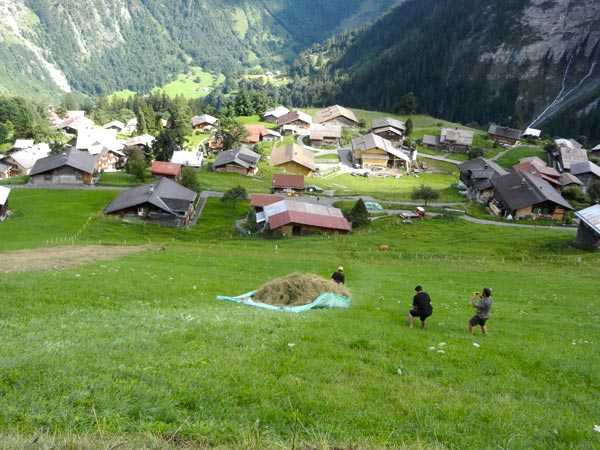 Farmer Peter and his boatload of hay bound down the steep slopes to an awaiting barn -- its doors open wide in anticipation.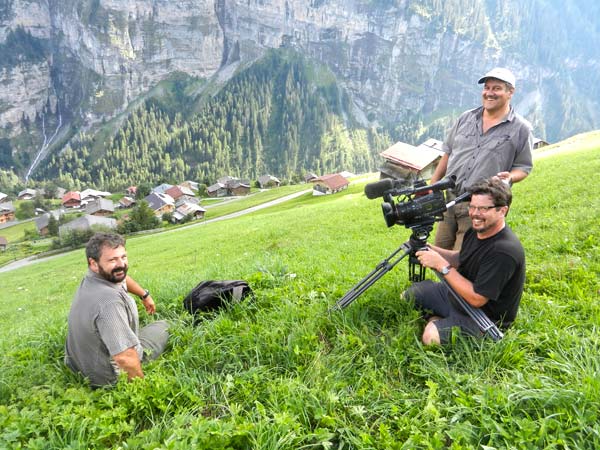 While I learn my lines, producer Simon Griffith sits in as my "body double" so cameraman Peter Rummel can frame and set up a good shot. Olle, our good friend from the village, stands by -- helping as he always does when we come to town. Moments later, I took Simon's spot and kicked off the third part of our three-part Travel Skills Special with one of my favorite on-camera show openers ever. It was fun because, rather than looking up at dramatic peaks cutting into blue alpine skies, this time we filmed down into a vast and fertile Swiss valley.
Thirty years ago, as a young tour organizer and guide, I kept my groups in the humble Gimmelwald youth hostel. One day I got a note from Walter Mittler, who invited me to the top of his village to tour his pension and to consider bringing my tour groups there. He convinced me, we moved "uptown," and Walter's Hotel Mittaghorn became a highlight of our tour groups' alpine experience for over two decades. I visit Walter, who was born in 1924 and still runs his little hotel, whenever I'm in town. This time when I called him and asked how he's doing, he said, "Everything still works."