Health care is the biggest global challenge. Three out of the eight Millennium Development Goals relate directly to health care, and at least three others are impossible without improvements in health. Yet when 60 percent of the population of Africa live in rural villages, how can we make sure health care reaches the people who need it so that we can even attempt to reach these goals?
Billions of dollars are invested each year in health care, but what use is a brand new vaccine if it never reaches the child?
The answer is transport. Well-managed, reliable transport. With a reliable motorcycle a health worker in rural Africa can reach up to six times as many people. This has the potential to transform people's access to health care.
But why isn't this the case already?
When Andrea and Barry Coleman visited Africa in the late 1980s they met health workers who could not do the job they were trained for, simply because they could not reach the villages where people lived. At the very same time they saw piles of motorcycles, broken and rusting behind health centres. These were the very vehicles that should have been saving lives, but no one had ever been trained how to maintain them.
From that time Riders for Health have been running motorcycles and ambulances for health workers in Africa. We are now reaching 14 million people across Africa and Riders' goal is to reach 25 million by 2017. Which is why we are asking people to support us in the CrowdRise Social Enterprise Challenge.
The money that Riders raises will go towards addressing this critical need: making sure that health workers have the reliable transport to get to where they are needed.
It is not a matter of buying expensive vehicles -- this has failed so many times in the past -- it is about making sure that the most appropriate vehicles are looked after properly so they never break down.
This might sound straightforward. Everyone is used to taking their car to be serviced every year at the local garage but in rural Africa, there isn't a dealership on every corner or even in every province. So Riders' technicians visit health workers where they work, replacing parts before they break, so that the health worker is never off the road.
But for programs like this to be effective and sustainable they must be embedded in local communities. This is why each of Riders' programs is led and staffed by local people. We employ local technicians, and our apprentice schemes give young men and women the skills they need to take control of their own future.
It is also why each program is designed to be financially sustainable in the long term. Our partners, usually the ministry of health, cover the costs of running their vehicles on a not-for-profit basis.
By paying a small charge for every kilometer that the vehicles travel, the partners can ensure they have the most appropriate vehicle -- not just the most expensive -- and that they know exactly how much they will cost to run. They will be able to budget properly and confidently and, most importantly, they will know that the vehicles will never break down.
The result is that health workers can visit more villages and more people receive the health care they need. A health worker with a bike can see up to six times more people and because they no longer have to walk for hours between villages. They can spend twice as long with the people they care for.
It means that women get the care they need when they are pregnant, and can get to hospital when in labor. It means that children can get the vaccinations they need to keep them well. It means communities are healthy and can be productive.
Transport is the foundation of transforming the health of people in Africa, and by donating to Riders for Health through the CrowdRise challenge, we can get more health workers on the road and saving lives.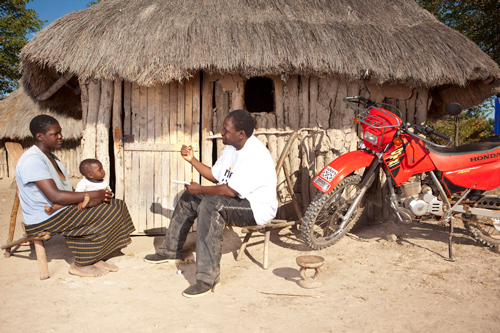 An Environmental Health Technician in Zimbabwe talks to a mother at home (Riders for Health/Tom Oldham)