When thinking of a visit to Texas, one might easily conjure up a stop in Dallas or Austin, but one city that is not to be overlooked as well, San Antonio. It is a city that offers not only an easy weekend trip, but there is also enough to do to fill an entire week as well. With everything from topnotch cuisine choices to time spent on the popular River Walk to learning about Texas history or just taking the time for some R & R complete with spa and golf, no matter your reason for a getaway, San Antonio covers all the bases when it comes to keeping visitors happy.
And what better vehicle to explore the busy city of San Antonio than the 2014 Ram 1500, a full-size pickup with an over-the-top power train and a good clean ride inside as well.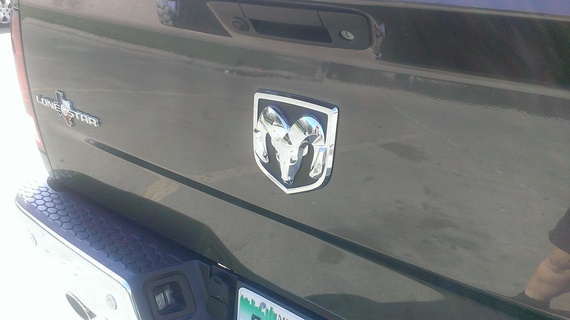 New in 2014, the Ram 1500 offers a turbocharged diesel V6 engine, but the 4.7-liter V8 is no longer available. The Ram 1500 has been getting consistently better over the years and 2014 adds to that list of progressive tweaks with the new turbo diesel engine that will give drivers better fuel mileage and a better towing capability.
Competition here is with the Chevrolet Silverado 1500 or the GMC Sierra as well as the Toyota Tundra and the Ford F-150.
The 2014 Ram 1500 has a variety of body styles with a regular cab seating of three and offered in either the 6-foot-4-inch or 8-foot cargo bed. There is also an extended cab called the "Quad Cab" with seating for up to six people, but on this it is the 6-foot-4 bed offering only. On the crew cab you get more leg room in the back seat and a choice of the 5-foot-7 or 6-foot-4 bed.
As for trim levels within these body styles choose from the Tradesman, HFE, SLT, Sport, Laramie and Longhorn.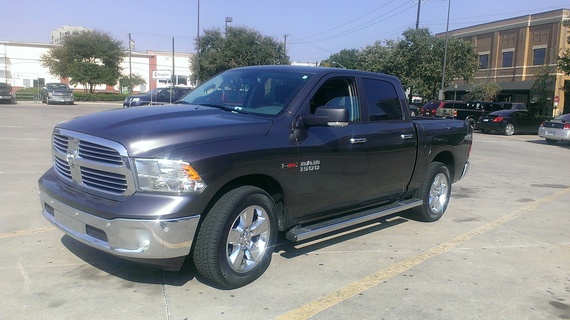 Under the hood, the Tradesman, HFE and SLT has a 3.6-liter V6 engine with 305 horsepower and 269 pound-feet of torque and an eight-speed automatic transmission. The eight-speed also comes with a rotary "e-shift" knob on the instrument panel and two-wheel or four-wheel drive is available. For 4WD there are two options with a low-range transfer case and one option being part-time or an on-demand Auto 4WD.
On the upper trims and available on the other Rams too if desired there is a 5.7-liter V8 engine with 395 horsepower and 410 pound feet of torque. You can have this with an automatic transmission and either six or eight-speed.
Also on the Ram 1500 you can choose the 3.0-liter turbocharged diesel V6 engine with 240 horsepower and 420 pound feet of torque with an eight-speed automatic transmission.
For safety expect four-wheel antilock disc brakes, stability control, hill start assist, trailer sway control, front seat side and full-length side curtain airbags and an integrated trailer brake controller that is an optional. As well, there is a rearview camera with front and rear parking sensors and, depending on trim, this is either standard or optional.
When driving the 2014 Ram 1500 it's an easy feeling with no problem getting where you need to go fast and smooth except with a bit slower acceleration on the diesel option. Towing definitely gets high marks on this Ram and overall expect a quiet ride. When four wheeling there are two off-road settings allowing for an increased 1.2 or two inches above the standard height if needed as well as a drop in the suspension when driving on the freeway for fuel efficiency and a better drive overall.
As you make your way around town for food, history and R & R, try these stops along the way for a trip that you won't forget.
Cuisine
San Antonio's River Walk is an urban retreat in downtown San Antonio and a major attraction for visitors. Offering an assortment of food, museums and shops winding along the San Antonio River, there are over 50 restaurants to be enjoyed along the way with outdoor patios and a chance to sit back and enjoy the local culture. Want even more, a sunset river cruise from Downtown's museum area to the Pearl Brewery, which is 125 years old and still a popular San Antonio mainstay, means seeing the main attractions while the boat's captain offers historical facts..
History
"Remember the Alamo" is a popular phrase that many a Texan knows and in San Antonio you can see the Alamo on four acres located on Alamo Plaza representing 300 years of Texas history. The area where the Alamo is located pays homage to the small group of Texans who held out for 13 days against Santa Ana's much larger army and, while the Alamo fell, it was certainly not forgotten. Today it is a symbol of sacrifice that these men made for Texas liberty. You will also find exhibits about Texas history and even better, admission is free. Other historical sites include Mission Trail also along the San Antonio River where the first mission was established in 1718 and the Basilica of the National Shrine of the Little Flower that dates back to 1931.
Relaxation
While not in San Antonio proper, JW Marriott is just minutes outside the city and encompasses 600 acres of rolling hills, creeks and an ideal place for spa, golf and a wonderful Sunday brunch. For a spa experience there is the 26,000 square-foot Lantana Spa with 30 treatment rooms, a complete fitness center and a heated, lagoon pool with a Spa Bistro.
The golf course at JW Marriott is one of the Hill Country bests with two PGA Tour, 18-hole Tournament Player Club golf courses designed by two of the most legendary names in golf; Pete Dye who designed the Canyons Course and Greg Norman who designed the Oaks Course.
The property is also adjacent to a 100-acre bird sanctuary with access to hiking and biking trails and the opportunity for Segway tours, painting classes, a resort discovery hour for kids and a rock wall that is both kid and adult-friendly.
For more information about San Antonio visit www.destinationsanantonio.com.
NOTE: This author does not and will never take any money from any automotive brand or destination/restaurant/activity, etc. in exchange for coverage, the views are strictly the author's opinion.