Loving the 2015 Cadillac Escalade is easy since there will be a lot to love for this amazing driving experience. You can get eight passengers inside, but the back row of seats is more kid than adult friendly. With the 4WD Premium version I drove, I could have lived in there since it's so comfortable and appealing.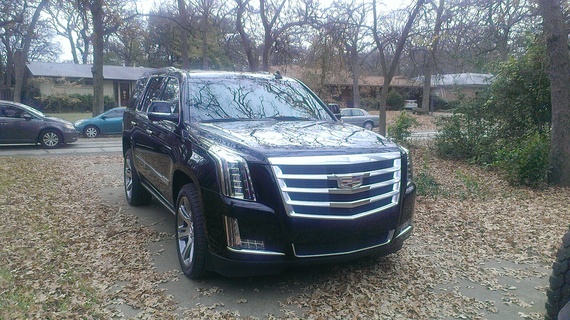 The 2015 Cadillac Escalade has been redesigned for 2015 and with that you still get the luxury that Cadillac offers plus an exterior with a more distinct square look as well as updated interior styling that includes a few new safety perks like a center front seat airbag and power-operated third-row seat, which will fold flat if needed.
Competition in this luxury SUV market includes the Lexus LX 570, Lincoln Navigator and the Infiniti QX80.
On the base Escalade you get 20-inch chrome wheels, a magnetic ride control with Sport and Comfort modes, LED headlights, automatic wipers, front and rear parking sensors, running boards, hands-free power liftgate, power-folding and driver-side auto-dimming mirrors, keyless ignition and entry, remote start, tri-zone automatic climate control, heated power tilt-and-telescoping steering wheel, power-adjustable pedals, leather upholstery, heated and ventilated eight-way power front seats and rear seats with split power-folding third-row seats. Of course, you also get the CUE touch-operated infotainment interface and there is also a rearview camera, navigation system, a 16-speaker audio system and five USB ports.
For the Luxury trim you get 22-inch wheels, a sunroof, automatic high beams, power-folding second row seats, head-up display, enhanced alarm system, blind-spot monitoring system, lane-departure warning system and a seat that vibrates to warn of hazards. As well, you get a wonderful rear entertainment system with a Blu-ray player, adaptive cruise control and power-retracting side steps with an approach light, which is optional.
Under the hood the 2015 Cadillac Escalade has a 6.2-lilter V8 engine that will give you 420 horsepower and 460 pound-feet of torque with a six-speed automatic and rear wheels, but you can opt for four-wheel drive too.
In the safety department this Cadillac has all the standard features like antilock disc brakes, traction and stability control, but also the rearview camera, front and rear parking sensors, front seat side and side curtain airbags as well as an airbag between the front seats. OnStar comes standard with automatic crash notification, on-demand roadside assistance, remote door unlocking and stolen vehicle assistance. On the Luxury trim there is also the blind-spot monitoring system, lane-departure warning, rear cross-traffic alert system, forward-collision alert system and the safety seat alert system.
Inside the 2015 Cadillac Escalade since the cabin was redesigned you get a real classy feel with top-of-the-line material and an interior design that remains the reason Cadillac is such a feel good vehicle for brand loyalty. The Escalade's CUE infotainment takes front and center for the driver and front-seat passenger and after a few hits and misses it's mostly easy to navigate. The reaction time for the buttons can take a bit longer than instant so I was never sure if I had actually touched the buttons correctly, it gets easier as you drive it as it is more intuitive.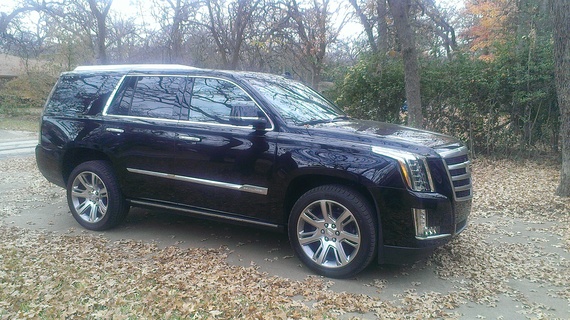 On this Escalade too, you get 15.2 cubic feet of storage space behind the third row, but a whopping 94.2 cubic feet if you take out the second and third rows. As well, the seats in the far rear fold at the simple touch of a button on the trunk so it's a quick exercise in tucking the seats away if needed. I also liked the hands-free liftgate that can be put into motion with the mere sweep of your foot under the rear bumper providing you have the key with you.
Behind the wheel, I knew I was driving a large Cadillac Escalade, but I never felt like it was too big, always just right. There is plenty of power and accelerating is immediate. On this Cadillac you feel in control of your destiny and it takes the turns and bumps with nary a sound or a second thought, so easy in fact, it won't take long to be completely spoiled.
Should You Need to Know: When the 2015 Cadillac Escalade is properly equipped it can tow up to 8,300 pounds.
Miles Per Gallon: On the 2015 Cadillac Escalade 4WD Premium I drove I got 15 miles per gallon in the city and 21 miles per gallon on the highway.
Cost: On the 2015 Cadillac Escalade 4WD Premium I drove the price tag was $89,360.
For more auto tips and information follow Rita @RitaCook13.
NOTE: This author does not and will never take any money from any automotive brand or destination/restaurant/activity, etc. in exchange for coverage, the views are strictly the author's opinion.