For the ride of your life in a destination that is both stunning and mystical, visit Scottsdale, Arizona and drive the ultra earth-friendly 2014 Ford C-Max Energi.
The perfect destination for a sacred weekend experiencing some of the best spas in the country and getting in touch with nature and your own soul, the Ford CMax Energi is a good match since it's a plug-in hybrid wagon that combines fuel economy with electric capabilities.
Competitors include the 2014 Chevrolet Volt, Toyota Prius Plug-in, Ford Fusion and the Honda Accord Plug-in Hybird - all are equally matched as well as good green options for driving about town on electric only capabilities.

Unchanged this year other than a few minor tweaks, the 2014 Ford C-Max Energi offers a good electric range for driving. Since most cars in this class come in from 10 to 40 miles on purely electric before taking on the hybrid feature, this Ford keeps up with the competition with not only a larger lithium-ion battery pack, but you can expect 19 miles on electric only power.
The 2014 Ford C-Max Energi comes in only one trim level and that is the SEL with a variety of add-on package depending on your needs.
Under the hood there is a 2.0-liter four-cylinder gasoline engine with 141 horsepower and 129 pound-feet of torque and that is combined with the electric motor, a 7.6 kWh lithium-ion battery pack. Together, these two combined will kick out 188 horsepower through the front wheels with a continuously variable automatic transmission.
Inside the 2014 Ford C-Max Energi it's a comfortable fit for all the passengers with high-end material used throughout and the dash nobs and dials easy to navigate. Take note, this vehicle offers a very large dashboard therefore offering a one-of-a-kind interior look and feel.
Indeed, it's like magic just like the fuel gauge, which will seemingly never move since you never really need it thanks to the electric/battery options that offer a nod to a clean Mother Earth. For about $37,000 you can you can get 19 miles on the electric power before needing a charge, which only takes two-and-a-half hours to fully recharge using a 240-volt charging station.
And as you're driving around the two best resorts I found for visiting included The Boulders Resort and Omni Scottsdale Resort and Spa at Montelucia. Both resorts have undergone changes since I last visited and both recently hosted me for two nights each offering unique spa experiences ranging from one-of-a-kind intuitive readings to unusual treatments for face, body and mind.
The Boulders Resort was named after the 12-million-year-old granite boulders that encompass the landscape and you really can feel the energy of the earth among the magnificent splendor of the rock formations that create this magical landscape. There are seven restaurants, two championship golf courses, eight tennis courts and, of course, the 33,000 square-foot Waldorf Astoria spa at the resort and The Boulders Resort spa takes the sacred theme to the next level with an eclectic spa menu including the Astrological Soul Reading, Acupuncture services and specifically the two treatments I indulged in while visiting.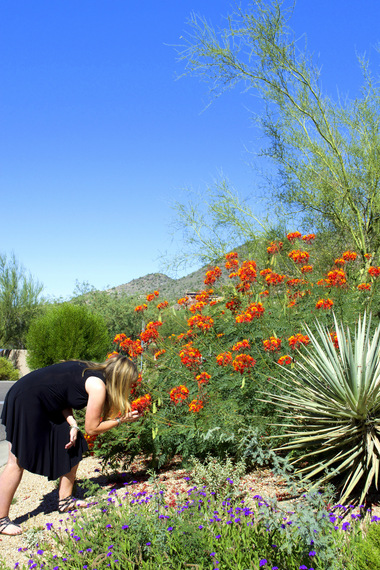 The 80-minute Aromatherapy Awakening Massage was not only relaxing, but fortifying. First I chose from five distinct smells, each with a different meaning, I chose Desert Zen. The therapist then massaged the Desert Zen oil into my body for overall relaxation and good vibes.
There is also a shamanic ceremonialist healer at The Boulders offering two treatments on the spa menu that combine natural regional ingredients with Native American traditions. The Shaman, Razel Wolf, was trained in the Twisted Hair Medicine Path for nearly 25 years and is a long-time student and practitioner as a "shamanic ceremonialist." Explaining it to me she said that the Twisted Hair "shamanic" tradition is aligned with the five worlds of grandmother earth: the mineral, plant, animal, human, and ancestor.
I received an individual reading from Wolf using her 20 Powers Talking Trees runes, which is an ancient and universal set of symbols with each rune having its own magical significance.
I had never seen anything like these runes and Wolf and I specifically spent time looking at my soul force, as well as my relationships and health/finances. The Talking Tree Reading engages the soul and is a good chance for a person to learn about how the universe speaks in a language of symbols.
For dinner I found the perfect menu at the Spotted Donkey Cantina that is located at the nearby Pedregal marketplace. The resort offers golf cart rides to the Spotted Donkey where you will find western flavors and signature margaritas, indeed the perfect place to relax for the evening after a day in the Arizona sun.
My second stop on my sacred Scottsdale journey was at the Omni Scottsdale Resort and Spa at Montelucia in the foothills of Camelback Mountain with 293 guest rooms amid 35 acres of desert landscape.
The signature restaurant, Prado, is award-winning with a laid back, cool vibe where you can order large or small plates from a menu offering international cuisine inspired by Old World Europe, but created with simplicity and local ingredients.
Other standouts include a set of 16th-century palace doors made from pine wood with an Andalusian background and an old chapel bell. This coupled with splendid fire pits by night for the ultimate relaxation creates an ambiance of pure enchantment.
And then there is the Joya spa, an oasis of calm with a modern take on the interpretation of the Hamman preparing the mind and body for indulgence. Checking into Joya Spa you will climb the stairs walking through a hallway and shortly coming to a place where you are asked to make a choice from a small selection of colored stones. After choosing a stone you make a wish before placing it down and moving on to the next small room, which is the highlight of the spa, a large crystal full of energy and power glowing in a selection of colors and creating an intention for all who enter the doors of Joya Spa.
For my first treatment I chose something I have never seen on any menu before, a Lip Print Reading. During the hour while I sat in the reading with Certified Lipsologist Pam Fox, a beautiful soul and one of only about five people in the world who reads lip prints, I found out quite a bit about my past, present and pending future. I first applied a tube of very red lip stick and then kissed the paper a variety of times so that she could get an overall impression of my moods, personality and energetic levels. A fascinating experience, Fox explained what the shape of my lips are telling me, some of the issues I am going through presently and how to deal, as well as telling me I had angelic lines and a number of guardian angels surrounding me.
I next had an excellent facial, but browsing the Joya Spa menu there are so many options not only of the traditional spa variety, but also the sacred and intuitive that taking advantage of these unique treatments found nowhere else comes highly recommended. Also coming highly recommended is the Sacred Sleep/Healing Dreams treatment that takes a person through the sacred doorway of the sleep cycles putting one in touch with the creative power of dreams.
A sacred week in Scottsdale and a vehicle with a nod to Mother Earth and the tranquil moments all around truly fed my soul.