Stockholm, Sweden was the reveal destination several weeks ago of the all-new Volvo XC90 with one of the big announcements being that a limited number, 1,927, First Edition cars would be available via digital commerce at www.volvocars.com/us.
Why the 1927, it's Volvo's nod to the fact that it was founded 87 years ago.
The limited number became available on September 3.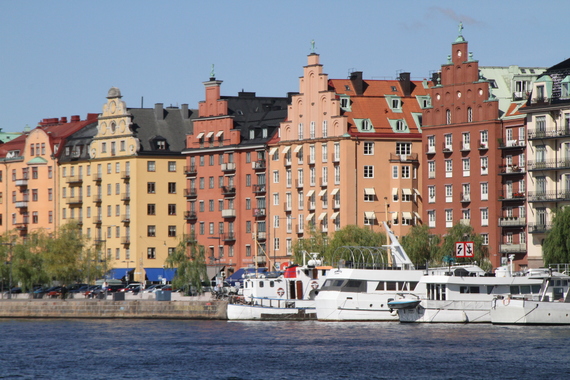 "Those who want to be among the first ones to own the best SUV in the world have to act fast, said Alain Visser, Senior Vice President, Marketing, Sales and Customer Service of Volvo Car Group. "The huge interest in the all-new XC90 indicates that the First Edition will sell out quickly."
The online only First Edition is just one example of Volvo Cars' revitalized approach to marketing activities and outstanding personal service.
So what else does the XC90 have to offer consumers looking for the best of the best?
The First Edition cars will have uniquely numbered tread plates, a distinctive badge on the tailgate, a leather key fob with the First Edition logo and be powered by a high performance gasoline engine from Volvo Cars' new four-cylinder Drive-E power trains.
The four-corner air suspension includes Four-C, an electronically controlled damping system and there are also choices of five modes, including one where the driver is free to tailor the settings to personal taste.
Indeed, it does everything but drive itself.
The exterior in black will also highlight amber leather seats. Complementing the Onyx Black exterior will be eight-spoke, 21-inch Inscription wheels combined with an interior that not only features the Amber nappa leather seats, but also a Charcoal leather dashboard and Linear Walnut wood inlays.
Super comfortable seating includes power-operated heated and ventilated front seats and the outer seats in the second row will have heating while the two third row seats are power-operated.
Technological advances include a tablet-like touch screen in the center on the Volvo XC90 and customers can expect an in-car control system minus the buttons and a powerful Bowers & Wilkins audio system with 1,400 watts Class D amplifier and 19 speakers.
What about safety?
Well, Volvo has always paid attention to safety and the commitment to customers by 2020 is no owners killed or seriously injured thanks to new technologies that have taken a significant step closer to Volvo's vision with an emphasis overall on three focus areas to help Volvo Cars to reach Vision 2020: safety, connectivity and autonomous drive.
"With the XC90, we take the first step towards self-driving cars. A new function that automatically follows the vehicle ahead in stop-and-go traffic will provide a radically simplified, semi-autonomous driving experience," said Lex Kerssemakers, Senior Vice President, Product Strategy and Vehicle Line Management of Volvo Car Group.
Indeed, a pretty hefty ideal, but the XC90 begins that commitment with a run-off road protection feature and auto brake at intersection capability. City Safety, which is the umbrella name for all of the Volvo Cars' auto brake functions, is also standard and collision prevention and mitigation is now possible with vehicles, cyclists, pedestrians in front of the car, day or night.
The fully-equipped XC90 T6 AWD First Edition seven-seat SUV will have a price tag of $65,900.
For those who missed the First Edition though don't fret, after all, the XC90 was three years in the making and part of an $11 billion investment program so there will be plenty to go around. The XC90 is marking the beginning of "a new chapter" in Volvo's history, capturing its future design direction, incorporating its own range of new technologies and utilizing its new Scalable Product Architecture (SPA) technology.
"This is one of the most important days in our history. We are not just launching a car, but
re-launching our brand," said Håkan Samuelsson, President and CEO of Volvo Car Group. "This day marks a new era for our company. The XC90 paves the way for a portfolio of exciting new cars to come in the following years."
Take note too this Volvo will be the first to carry the company's new more prominent iron mark logo, which has the iconic arrow aligned with the diagonal slash across the grille. Together with the T-shaped LED daytime running lights, the iron mark introduces a cool new face for Volvo's forthcoming generation of cars and notice too, the hood with a new topography, "the beltline and the sharpened shoulders connecting with the tattoo-like, new rear lights are other important design signatures that will be mirrored across the range" and wheel sizes come in a range up to 22 inches.
With the 316 horsepower, two-liter turbocharged and supercharged AWD engine, customers can expect dynamic duo of performance and fuel-efficiency. The top of the range XC90 Twin Engine plug-in hybrid combines a two-liter, four-cylinder supercharged and turbocharged petrol engine with an electric motor with a combination of power and clean operation with around 400 horsepower with carbon dioxide emissions of around 60 g/km and note too, Volvo is proud to say this is the world's first seven-seat plug-in hybrid.
Inside, you can expect the luxury that Scandinavia has come to be known for with a pure and uncluttered interior that still radiates sophisticated confidence and formality that luxury SUV customers expect.
The all-new XC90 is available with a range of accessories making it possible for the owner to create a truly personalized car. There are two major exterior styling themes: The Urban Luxury package combines a color coordinated body kit with polished stainless steel details, such as front deco frames, front and rear skid plates and side scuff plates. The 21-inch exclusive polished wheels complete the elegant look.
The Rugged Luxury kit enhances the ruggedness of the XC90 SUV with tech matte black exterior trim, stainless steel skid plates, running boards with illumination and integrated exhaust pipes. This version is supplemented by unique 22-inch wheels.
While the full details on the pricing will be announced at a later date, expect that a well-equipped XC90 T6 AWD will have a starting price of $48,900 and will come standard with such features as Navigation, 19" wheels, a power laminated panoramic sunroof, state of-the-art car connectivity and is expected to deliver best-in-class power and fuel efficiency.