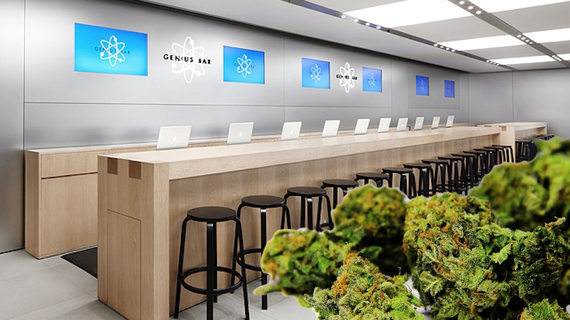 "A gleaming white Apple store of weed." That's Andy Williams' vision for his Denver marijuana dispensary. Williams is a 45-year-old ex-industrial engineer with a dream. A dream to bring pot to the masses. This Wednesday his dream comes true as Colorado becomes the first state in the nation to allow recreational marijuana sales.
Williams purchased a large warehouse several weeks ago, which will ultimately house 40,000 square feet of cannabis. Two floors will be dedicated to pot-growing, with windows offering visitors a glimpse into the growing process. "It's going to be all white and beautiful."
About a dozen stores will start selling recreational weed on New Year's Day, but there's so much more potential. With marijuana legal in Colorado (and Washington), the door is open to marijuana testing companies, that check weed for potency as well as harmful mold. In addition, gardening classes offer courses on how to grow at home, and even tourism companies are getting in on the action, with visits to glass-blowing shops to show smoking pipes being made.
One has clients willing to spend up to $10,000 for a week in a luxury ski resort and a private concierge to show them the state's pot industry.

Dixie Elixirs & Edibles, maker of pot-infused foods and drinks, is making new labels for the recreational market and expanding production on everything from crispy rice treats to fruit lozenges.
Interstate 70 in Denver had so many pot-growing warehouses that it was dubbed the "Green Zone." At one point, Denver had more marijuana dispensaries than Starbucks! Now, that's a world I want to live in.
There's definitely fortunes to be made by ambitious retailers who wish to suckle at the legal recreational pot teat. Think of it as manifest destiny for the millennium era: "We are building an impressive showcase for the world, to show them this is an industry." Pot has been banned since 1937, which is actually ridiculous. Hell, George Washington, one of America's founding father's grew it!
[AP]
---