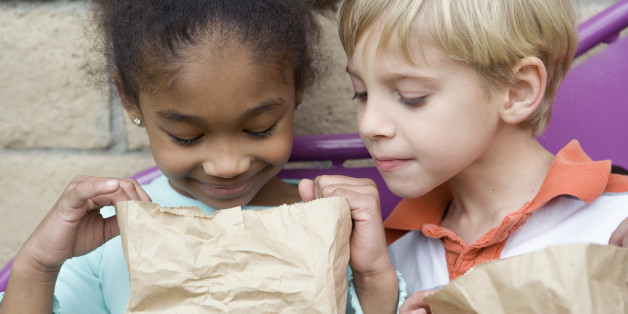 Like many busy working parents, I have purchased lunch near my office every day for years. In advance of the New Year, I began bringing my own lunch once or twice per week for various reasons, health and expense among them. It's a small resolution, but I think it's a good place to start.
My resolution is not unlike the choice parents are faced with every day for their kids -- brown bag or school lunch. Many of those same parents, along with school nutrition observers, were shocked by a much-buzzed-about study published in the Journal of Nutrition Education and Behavior in November that found brown-bagged lunches for elementary school children to be less healthy than school lunches, which are designed to meet nutrition standards set forth by the 2010 Healthy and Hunger-Free Kids Act. As a parent, I did a double take to make sure my wife and I are paying close attention when we do send our kids to school with a home-packed lunch. Perishability, palatability, and minimizing tradability all converge in the lunch box decision tree. As the CEO of an organization working to create healthier schools, I openly exclaimed, "Score one for school lunch!"
If your read this study and chided yourself for not including kale chips in your child's lunch box or felt less guilty about packing lunch money, you're not alone. We all share the same desire to constantly "do better" at our jobs as parents. When it comes to school lunch, good progress is being made, but there is more to be done when it comes to creating healthy school environments.
Surely, good arguments exist against making New Year's resolutions, but I have a suggestion for how multitasking parents can combine achievable resolutions this year around parenting, health and volunteerism to help their own kids as well as others: Resolve to help your child's school become a healthier place for all kids to learn.
Some sobering facts: one third of our nation's kids are overweight or obese, severely obese kids miss school four times as often as kids of a healthy weight, and more than 50 percent of students do not attend physical education (PE) classes in an average week. As America continues to fall behind other nations in education, concurrently we've seen obesity rates increase. According to the 2014 State of Obesity Report issued by Trust for America's Health & the Robert Wood Johnson Foundation, obesity rates remain constant among children, and more than one-in-ten become obese by the ages of 2 to 5. The good news is evidence shows students who eat healthier and are physically active learn better. Furthermore, studies show these practices put into effect in schools positively impact student behavior, concentration, self-esteem and academic performance.
In addition to folks like classroom teachers, PE teachers, principals, school nurses and food service staff, parents are essential to moving the needle on wellness in schools, by helping to galvanize other parents to get involved and reinforcing healthy habits learned in school and at home. Navigating the system to affect change can seem overwhelming to any parent, but there are simple ways to get started right in your child's school.
1. Become a school sleuth. Find out what's going on at school, whether through dinner table conversation or talking with other parents or teachers. Is there PE and regular recess? Are kids rewarded with food and treats in class or punished by missing out on physical activities? Are they fundraising with candy and other unhealthy foods? Having an understanding of what's happening, or not happening, at school gives you a starting point.
2. Take five minutes for fitness. That's all it takes to activate the brain and channel students' energy into focused attention. Suggest, and even help lead, dance and physical activity brain breaks during class or at the start of the school day to get kids' bodies energized and brains stimulated. Brain breaks can incorporate learning, such as counting while doing jumping jacks, and can be age and grade-adjusted.
3. Start a mini food revolution. If cooking is your thing, organize an activity for students to taste test healthy foods. Enlist local community partners to donate produce and other goods. If you have a green thumb, gather forces to start a school garden, which can not only get kids active outdoors but can also double as a learning lab for math and science classes. Some schools have even extended their school gardens as a means for family and community involvement and raising funds for the school through the local farmers market.
4. Take yourself back to school. Learn how school systems work and get to know your school district's wellness policies. Free resources like the Parent Tool Kit from Action for Healthy Kids, Rudd Roots Parents and the National PTA offer insights and real world guidance and support. While introducing individual initiatives is a great way to make headway, ultimately every school should have a wellness team in place to implement the school's wellness policy and help it become a true health and wellness-promoting environment.
At the heart of resolutions is the desire to solve a problem. Let's make 2015 a year to be resolute in combating childhood obesity and improving the health and academic success of all our nation's students.