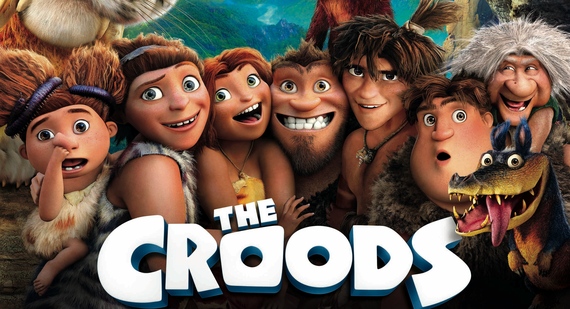 Making an animated film brings into play a whole host of considerations not on the field while making a live action movie. The story evolves differently, the process of recording actor performances can be extended and informs the animation, technological machinations are endless, and an infinitude of choices can either free or paralyze a filmmaker.
Co-Writer/Directors, Chris Sanders (How to Train Your Dragon, Lilo & Stitch, Mulan, The Lion King, Aladdin, Beauty and the Beast) and Kirk DeMicco (Space Chimps, Racing Stripes, Quest for Camelot) chatted with me after a recent screening of their film, The Croods, which has been the highest grossing film of 2013, based on original material.
I've put a few clips below where they talk about the way Emma Stone's real life face, and its seemingly magical powers, influenced the animation of her character; the origins of the popular character "Belt" and his catch phrase, and the designing of their fantastical, prehistoric creatures. The full length Q&A is also below.
These guys were great fun and love talking about a terrific process, so I hope you enjoy.
Follow Rob Feld and the Day for Night series on Twitter and on Facebook.
Emma Stone Animating THE CROODS from Day for Night talks on Vimeo.
The Origin of "Belt" from Day for Night talks on Vimeo.
Origin of the Species from Day for Night talks on Vimeo.
frameborder="0" webkitallowfullscreen mozallowfullscreen
allowfullscreen>
The
Croodest of Cavemen; DeMicco and Sanders, making THE CROODS from href="http://vimeo.com/gothamarts">Day for Night talks on href="https://vimeo.com">Vimeo.
Here's the FULL Q&A: