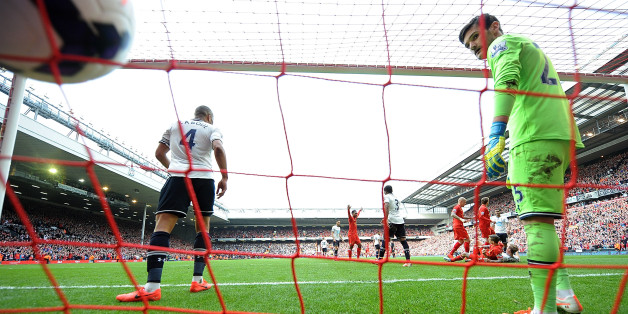 March is the cruelest month.
Twelve months ago, Tottenham's season began to unravel with a couple of back passes at Anfield and a pathetic performance at the San Siro in the Europa League. This season, Spurs began the month with an uninspiring 1-0 home win over Cardiff City that proved Roberto Soldado can still score the occasional open-play goal. Successive derby disasters against Chelsea and Arsenal, a stirring comeback against Southampton, and another soul-crushing loss to Liverpool have confirmed how manager Tim Sherwood will be remembered for (what will surely be) his brief tenure at the helm.
For the away match with Chelsea on March 8, Sherwood had supporters scratching their heads with a lineup that saw Kyle Walker at right wing and Aaron Lennon playing a central role behind striker. The thing is, it worked in the first half, at least in terms of possession, as Chelsea found the visitors controlling possession and denying their potent hosts scoring opportunities. But Spurs fans could be forgiven for seeing what was to come. Tim's strategy collapsed like a house of cards in the second half when--not unlike the September match between the two clubs, when AVB was still in town--a single substitution from Jose Mourinho changed the flow of the game and undid Tottenham's good work. Yet it was really Spurs center half Jan Vertonghen who pulled the crucial piece from the Jenga tower when he compounded a physical mistake (a slip) with a mental one (a desperate back pass to the middle) that gifted Chelsea's first goal. A phantom red on Younes Kaboul--later to be overturned by the FA, just like Danny Rose's against Manchester City--led to a second goal and a short-handed Spurs side left to hang on for the last half hour. Demba Ba scored twice in two minutes near the end to make it 4-0, the last goal coming courtesy of Kyle Walker's mystifying back pass headed from near-midfield. Hugo Lloris, one of the world's best keepers, was left to wonder how many more assists his teammates would notch for opposing attackers.
The familiar refrain of "If not for a couple of mistakes" would be uttered. But Spurs are not a club known for getting breaks, and this season a 1-0 deficit seems insurmountable against Top 4 competition.
And so the following week's North London Derby felt like it was over almost as soon as it had started. When a turnover at midfield found left back Danny Rose stranded on the sideline, Tomas Rosicky charged through and put a stinger past Hugo Lloris in the second minute. Much like the NLD at the Emirates back in August, Spurs held the balance of play for the match and an underwhelming Gooners squad found themselves hanging on in the end. But Spurs rarely looked a serious threat to score.
A near miracle at White Hart Lane on March 23 against Southampton teased supporters with hope. The visitors looked to be of a higher class in the first half--they most certainly are on the attacking end--and benefitted from (wait for it...) goals off two mistakes by right back Kyle Naughton, a recurring theme for the club that leads the Premier League in goals yielded on defensive errors. But there was Christian Eriksen to pounce on a mistake from Southampton's own right back Nathaniel Clyne to draw Spurs within one before the break. In the second half, Soldado's diligence single-handedly created a scoring chance, and his pass in front of goal found Eriksen for the tying tap-in. The Dane is clearly Tottenham's most polished attacker, yet strangely, he remains an irregular starter under Sherwood. But credit to Tim; his second-half substitution of the nearly forgotten Gylfi Sigurdsson for the consistently inconsistent Moussa Dembele proved to be the winning move. Eriksen directed a ball to the Icelandic midfielder, who dramatically drilled a low liner from outside the box past keeper Artur Boruc in added time.
The win, along with Arsenal's subsequent dropped points at home to Swansea City, might have sucked some Spurs supporters into eyeing the race for a Champions League spot once again. I've long since stopped seeing this club as a serious contender to finish Top 4 this season, and Sunday's matchup at Anfield had the feeling of a foregone conclusion.
And once again, Spurs conceded early and often, with more than one goal gifted. Luis Suarez, reportedly a Tottenham target back in January 2011, makes all the difference for this Liverpool club, who somehow managed to keep their wantaway star over the summer. He was all over the field on Sunday, stealing a poor pass from Michael Dawson to Kaboul to dart through for a goal, assisting on another, and tracking back tenaciously on defense in this 4-0 show of dominance that saw Liverpool move to the top of the table.
This has been a rebuilding season for both Tottenham and Everton, but it's the smaller club from Goodison Park that finds itself positioned to challenge Arsenal for that last Champions League spot. In recent seasons, Spurs could punch above their weight but would get undone by points dropped to lesser clubs. But as Sherwood sits in the stands, he presides over a club that has become bound by its spot in the pecking order. Teenaged midfielder Nabil Bentaleb--favored by Sherwood over potential game-changers like Sandro and Dembele--looks perfectly fine against bottom-half clubs but out of his depth against the big boys. And Tim has yet to realize what seems obvious to the rest of us--that Eriksen needs to be Tottenham's playmaker in the no. 10 role.
Spurs are at a crossroads between memory and desire. Who shall set their lands in order?
Will it be Louis van Gaal?