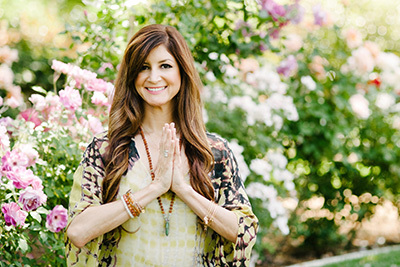 This is an interview with Gina Garcia, a former television journalist and California Capitol correspondent. She is a 500-hour certified Baptiste Power Vinyasa Yoga teacher and founder of the 501(c)3 non-profit Yoga Across America (YAA). Whenever I am in touch with Gina she is traveling, teaching in high schools around the country, and to our wounded warriors.
Rob: What originally motivated you to do this work and what continues to motivate you? How, if at all, has that motivation changed over time?
I felt a calling to share yoga during my first yoga teacher training. I'd been practicing yoga for years, but there was a huge shift during that training. I'd been given a new tool to share this practice and connect with people. It started with my close friends, in my living room. When we outgrew my house, we moved to the park. What started out as teaching to a few friends turned into sharing this practice with people from all walks of life. Anyone who wanted to practice at the park was welcome. FREE Yoga in the Park!
Yoga in the Park started in 2009 with a few friends, and now averages between 150 to 350 people every Saturday morning. We rent a space in winter, inside the park clubhouse, so we can practice together year-round.
From the park came all kinds of callings. I founded Yoga Across America (YAA) shortly thereafter, a non-profit that shares yoga in underserved communities across the country. We have two main initiatives. The first is Yoga in the Classroom, which allows us to share yoga with high school students in 62 high schools and 14 states across the country. This is part of our national strategic partnership with HealthCorps, founded by Dr. Mehmet Oz and his wife Lisa.
Our other main initiative is "Yoga for American Soldiers and Service Members." We launched this initiative when the suicide rate in Iraq was higher than the fatality rate from war injuries. Yoga Across America shares yoga with all branches of the military, veterans and wounded warriors. In the last six months we have shared yoga with more than 3,000 service members.
Is there a standout moment from your work with name of organization or specific population?
When I was a TV news reporter, I covered many stories about homeless people. I was never able to wrap my brain around why almost everyone I interviewed was a veteran. My older brother is a West Point graduate who served in the Gulf War, and my father is a veteran. Connecting with my own family roots empowered me to reach out to all veterans.
The first day of classes was difficult for me. I was in Los Angeles, sharing yoga and meditation throughout the day with wounded warriors. About 100 of them were part of a warrior transition unit program, preparing to return to either active duty or civilian life. This group, service members in transition, has the highest suicide rate.
The energy that day was heavy. Young, wounded men and women with lost looks on their faces. A steady stream of veterans making their way outside to smoke a cigarette. War stories. Lots of war stories. The 22-year-old young man who was getting ready to lose his leg -- it was injured in Iraq. The 30-something-year-old man who'd already lost his leg. When the event was over, I got in my car and cried for an hour. My throat chakra was hurting from holding it in all day.
But that day was a breakthrough for me. I've since gone through yoga for trauma trainings and am able to teach from a place of experience, knowledge and authenticity.
What advice would you give to anyone who is going to teach veterans?
Sharing yoga with veterans requires special training. There are many triggers to post- traumatic stress (PTS) and traumatic brain injury (TBI), which we regularly encounter with veterans. Teaching a class in a yoga studio is absolutely nothing like teaching a roomful of wounded warriors. Even with active duty military, it's important to hold the space and show up responsibly.
What did you know about the population you are working with before you began teaching? How has it changed?
My work with veterans has evolved over the years. I don't need to hear their stories about war. I don't get lost in my own stories about them. Together, we do yoga: breath work (pranayama), physical yoga postures (asanas) and meditation. We let go and connect through this practice, this gift that we get to share together. We focus on what's real: bringing awareness to the physical body reminds us that we are alive. Combining movement with breath awareness allows us to experience being alive. And quieting our minds allows us to create peace from within.
We've all experienced trauma in some way, whether it was Johnny spitting in our face when we were 6 years old, losing someone close to us too early, or fighting in a war. Trauma connects us all. It shows up differently in different people. But it's there.
I'm humbled, inspired and blessed to share yoga in underserved communities across the country. With the suicide rate among veterans at an all-time high, sharing yoga with these men and women is a gift for everyone. This is not about anyone's view on war, it's about humanity. Connecting through this practice allows me to share from the heart. When I hear a service member tell me "I found my freedom," or "Yoga saved my life," I experience the power of this practice in its purest most beautiful form. It's a journey of support, healing and love, and our veterans deserve it.
What are some of your ideas or hopes for the future of "service yoga" in America in the next decade?
Teaching and serving is one of the best ways to get out of your own way. Americans can be self-centered, me-centric, worried about having more than their neighbors, and therefore live from a place of fear. My hope is that this way of thinking and living shifts, to become more community-centered, we-centric, and concerned with whether your neighbors have enough. Service yoga is one step in this direction, and another way to make the practice accessible to everyone, everywhere. I hope that more partnerships with non-profits are formed, that more people and organizations actively start supporting this work, so that it can continue shaping lives and communities.
How has this work changed your definition of service? Your definition of yoga? Your practice?
Yoga is about union, eradicating the ego, connecting and accepting. And then letting go. My work has shown me that everyone wants the same thing -- to love and be loved. My work is to provide a space where everything is OK, where it's OK to feel, where it's OK to be injured, where it's OK to work through trauma. It means being there for my fellow humans. My practice has changed in many ways. The biggest change is realizing that sharing yoga, serving through yoga... this is my yoga practice.
What other organizations do you admire?
Mindful Yoga Therapy for Veterans, the Give Back Yoga Foundation, 4Point4, HealthCorps, and Africa Yoga Project.
Editor: Alice Trembour
Photo: Courtesy of Carmen Salazar Photography
Need help? In the U.S., call 1-800-273-8255 for the National Suicide Prevention Lifeline.
Are you a yoga teacher who wants to serve veterans who are recovering from trauma? Join us at the Sedona Yoga Festival in February for a two-day Mindful Therapeutic Yoga Practices for Veterans pre-conference training, and learn trauma-sensitive teaching skills from experts like Give Back Yoga co-founder Beryl Bender Birch, Prison Yoga Project founder James Fox, and Mindful Yoga Therapy for Veterans founder Suzanne Manafort.
Help the Give Back Yoga Foundation to offer free yoga and meditation resources to veterans nationwide. Order a copy of the toolkit for veterans, or donate to our campaign to reach 10,000 veterans this year, and 30,000 by 2015.