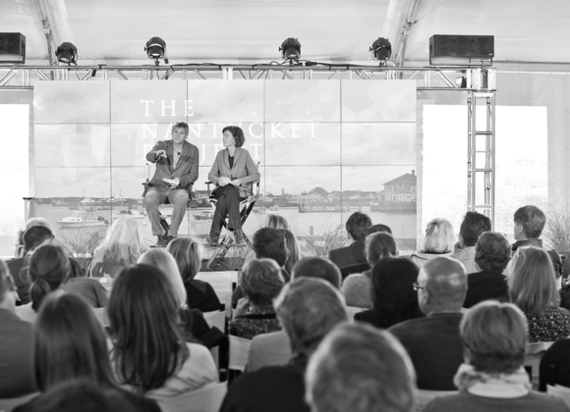 The Nantucket Project 2013
I have attended and written about many conferences, and whatever the subject, they all seem to follow the same format -- speeches by famous coaches, former presidents and great athletes, all who have been paid enormous amounts of money for their time. Photos with these speakers are often a perk for attendees, who afterwards can show off a picture of themselves with a celebrity they don't really know.
I didn't realize an alternative existed until I attended The Nantucket Project last year and wrote about the experience on these pages in "Change and Growth Despite Washington". Since then I've gotten to know TNP co-founder Tom Scott, who described the conference a "college experience for grown-ups." Tom Scott looks very much like Ashton Kutcher and doesn't sound like quite anyone I've ever met. Prior to TNP, Scott began his career after graduating from Brown University when he launched "the first floating convenience store," servicing boats in Nantucket harbor by supplying them with various sundries and services.
"I was 23 or 24-years-old and someone called me an entrepreneur and I thought that meant shyster," said Scott. These were different times and Scott was not a numbers crunching geek -- he had majored in American Civilization and wasn't even aware of what VC (venture capital) meant. "I didn't know about fund raising or market caps -- I was totally unaware of these kind of expressions, but back then I wasn't alone. I don't think many people knew because the notion of entrepreneurship was not big in the eighties." Scott may not have had a way with Yiddish, but he certainly had more than enough chutzpah to launch Nantucket Nectars, a successful venture which he eventually sold and opened possibilities for other projects like TNP along with the Master's degree in Divinity and Political Science he will soon receive from Yale.
Scott's eclectic background and business methods may explain why TNP is also unique. After spending a weekend at TNP and an afternoon with Scott I'd be hard pressed to define his political affiliations or viewpoints, which I view as something very positive. The bipartisan atmosphere at TNP was -- to say the least - a pleasant departure from the typical political name calling I often encounter and I look forward to more intelligent discussions again this year.
Among the presenters are Joel Baden (Professor of the Hebrew Bible) from Yale, NBA player Shane Battier, Ken Lerer, Meredith Whitney, crisis management advisor Judy Smith as well as musicians, filmmakers and perhaps a poet or two.
Yes, some of the attendees have conquered the world and made a billion dollars or more, but that's not the focus of TNP. I found the atmosphere very collegial and actual discussions took place rather than pedantic sound bites or overbearing lectures. "It's mean to be a Circ du soleil of ideas, said Scott. "I have a relatively balanced view of the world -- I'm not extreme about anything." He certainly invited guests of different opinions last year, like John McCain and Larry Summers, but no blood was shed and the food was really good, which is definitely atypical for a conference, so I'll give Scott and co-founder Kate Brosnan additional credit for that.
I reminded Scott that at last year's TNP he read a quote from an old Yale commencement speech by then president Charles Seymour: "Seek the truth and endure the consequences." Scott elaborated that in today's world of spin doctoring many choose to alter the truth with the hope of making it more palatable to a particular party or ideology thereby creating extreme partisanship. "Are you trying to get to the truth or are you trying to win?" asked Scott.
Perhaps when there's too much "I" in win it's not always a good thing.
TNP takes place in Nantucket September 26 - 28 2014