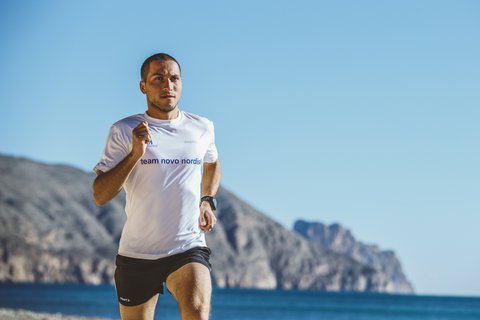 (Benny Madrigal - Type I Diabetic)
Diabetes doesn't care if you are young or old, rich or poor, happy or sad, short or tall, weak or strong. It doesn't make any difference. No matter who you are, diabetes can take you down. What's important is how you deal with it once you've been diagnosed.
Benny Madrigal was 22 years old when he learned he had Type I diabetes. "Being diagnosed with diabetes at that point in my life was the last thing I ever expected to hear," said Benny. "I had been an athlete since I was in the third grade and the diet I followed was better than most other people I knew. I was a college senior on a full scholarship for track & field when I began losing weight and not feeling well. Finally, when my vision became blurry I knew something was really wrong and I went to the emergency room." Benny's pancreas had failed. His blood sugar was so high that he spent nine days in the hospital.
After getting back on his feet, Benny was told he could no longer function at the same high level athletically, but he chose to ignore this advice and was determined to continue running competitively. He followed a good diet, checked his blood regularly and learned as much about living with diabetes as possible. "I listen to my body and if I make a bad choice my body is going to let me know," said Benny. His diligence has paid off because his event times have actually gotten better since his diagnosis. "I feel like I'm more in control now that I'm in tune with my body," he said. "I believe I have the potential to run even faster. I have plenty of good years left in me."
Benny is a special education teacher in California and is also a member of Team Novo Nordisk, a group of diabetic athletes sponsored by the pharmaceutical company that specializes in diabetes care. As part of this team, he competes in Triathlons and recently ran in the Boston Marathon. "We want to inspire, educate and empower people who are affected with diabetes. It's not just me, there are 100 other athletes on our team who are doing this so people can see it's not impossible. We're not telling people to run a marathon, we want them to find something they really like and then do it. Whether it's dancing, biking running or swimming -- the more passionate you are about something the less it's going to feel like a job!"
When it comes to eating Benny's not a saint. "There's nothing I stay away from completely," he said. I'm careful about the size of my portions. If I have a piece of birthday cake, it's never going to be a big slice. Just enough to get the taste buds done." Benny reads as much as he can about diabetes and how to live a healthy life. "When I see what other successful people with diabetes are doing, I know that I can too," he said. "I want to keep doing what I love to do. I don't ever plan on stopping."
I am a type 2 diabetic and meeting someone like Benny has inspired me all the more and I feel even better when I can help spread his message and story to others. Like him, diabetes has changed me for the better. I am far more diligent and thoughtful about what I eat and drink and how I live my life. I am more fit and far healthier at age 59 than I was at 50.
Benny and I spoke at length about the importance of spreading the word to other diabetics. His best advice for me: "The better you take care of yourself, the better you can take care of others."
Benny's go to website for diabetes is: https://www.cornerstones4care.com/