For as long as I can remember, my two friends who attended the University of Wisconsin-Madison, have been telling me that there is nothing comparable to spending a Badger football weekend at their alma mater. The weekend of October 27th also happened to be the Madison Homecoming as well as an event celebrating Halloween known as Freakfest, so I was offered multiple opportunities to be 18 again.
I'd been up to my neck with presidential politics, so an opportunity to escape New York City for a weekend of football and Halloween revelry in Madison was an easy sell. I landed in Wisconsin on Thursday night, and my taxi driver insisted that I visit Essen-Haus (a traditional German restaurant and drinking hall), where locals and tourists alike are expected to consume a "boot" of beer. The Essen-Haus actually serves an enormous glass boot (filled with the beverage of your choice) probably large enough to fit Shaquille O'Neal, so I needed some assistance to finish one. Two plates of sausages and sauerkraut (plus the most delicious pretzels and mustard I've ever eaten) accompanied a few more boots, and my friend John described the experience as a "graduate course in beer and encased meats."
I awoke the next morning at the Hotel Red, directly across the street from Camp Randall Stadium and next door to Mickie's Dairy Bar, where locals wait in line for a hearty breakfast. I found the only unoccupied seat at the counter and ordered a massive breakfast that I hoped would absorb the contents of the boots. All of the fixtures and signage at Mickie's date back as far as the 1950s and other than the energetic staff, nothing has changed much from that era, except perhaps the prices, but not by much. Scrambled eggs with toast cost only three dollars, and my perky waitress Allie always refilled my water and coffee without my asking and half way through my meal queried me: "How's everything tasting?" Breakfast was delicious and large enough to feed three people, so I spent the next hour at Capital Fitness, a local gym, for a cardio workout. After exercising I still had enough dairy products coursing through my system to sustain a large maternity ward, (people in Wisconsin drink milkshakes for breakfast) but my friends informed me that it was time to begin pre-game festivities.
There is a level of sports mania in the Midwest that is unequalled in the rest of the country, but Madison is also an intellectual oasis (60,000 students) with an urban population (236,000) that still maintains a small town sensibility. Madison offers a substantial number of art galleries, museums and performance spaces. People continually approached me with a friendly, "Hi, how are ya?," and I got to see a marching band comprised entirely of tubas parade through the streets. Many of the musicians had some pretty slick spin moves, reminding me of Carmelo Anthony in the low post. As I wandered around taking notes I was invited to tailgate with the owner of an electrical supply company who when I asked what he and his group were drinking replied, "Everything!" He had assembled an elaborate tailgate party, with comfortable seating along with plenty to eat and drink.
After devouring a rib eye steak sandwich, a concoction with brandy and club soda and piece of carrot cake, I got to meet Karl Scholz, Chairman of the Economics Department. Professor Scholz and I discussed everything from Nobel Prize winning economists to the Green Bay Packers, and he really nailed down what makes Madison so unique. "It's unusual that you find such a large mix of students who go on to run Fortune 500 companies, join the Peace Corps and also have fun," said Scholz. Kenny Dichter, CEO and founder of Marquis Jet is a Madison alumnus, and many graduates of the Computer Science School have launched a wide range of successful ecommerce companies.
I moved on to another tailgate party and met Mark Celichowski, who explained that his Madison undergraduate and law degrees qualify him as a "Double Badger." Celichowski prepared me for the "jump around," which may be the most unique happening in organized sports. It seems that back in 1997, when the Badgers were playing Purdue, the public address system started playing "Jump Around," by House of Pain. Everyone in the student section (in the north end of the stadium) began to jump around, so much so that the stadium shook. Since then, it's become a tradition, and for a minute between the 3rd and 4th quarters most of the 85,538 people attending the game seemed to be jumping around, because the stadium shook like a Los Angeles earthquake.
As for the game, Wisconsin and Michigan State were very well matched but the Badgers led most of the game by a score of 7 to 3. With a little more than six minutes left, the Badgers kicked a field goal, but suddenly, with less than two minutes left the Spartans found themselves on the Badgers five yard line and scored a touchdown (run by Le'Veon Bell) with 1:08 left in the game. The Spartans kicked an extra point and this brought about an overtime period. What had been a fairly pedestrian game had suddenly turned into a nail biter.
Michigan State won the overtime coin toss and elected to play defense. The Badgers kicked a 43-yard field goal, and now the Spartans were given an opportunity to score from the 25-yard line. The Spartans were able to put together 5 plays and won the overtime game with a touchdown pass.
Fans had little time to contemplate the loss, because 33,000 of them had to get in to costume for the Halloween Freakfest on Street Street. There were some remarkably creative costumes, but my favorite was a group of 10 people, each dressed as a different Star Wars character. They spent most of the evening posing for pictures and had they been in Times Square in New York City, they could have charged a fee for the photos and made a fortune.
My weekend in Madison was enjoyable, entertaining and exhausting. I've already made plans to return next year.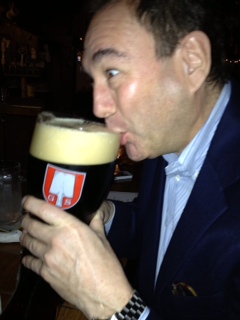 The author drinks a boot of beer.